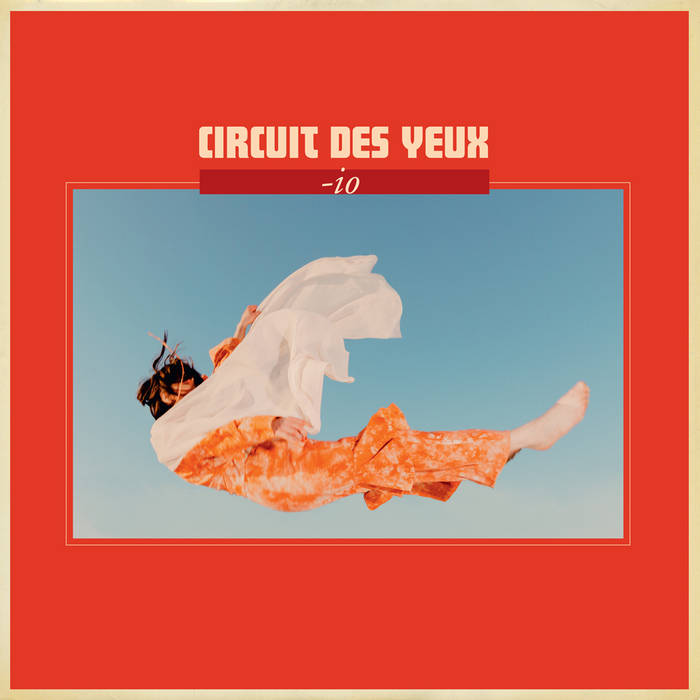 10/22/21 NEW RELEASES
CIRCUIT DES YEUX – io LP/CD (Matador)
This is the first release on Matador for Haley Fohr and her project CIRCUIT DES YEUX, having released a handful of records on local labels Thrill Jockey and Drag City. For "-io", Fohr creates an expressionistic, operatic statement of a record, with sounds that seem to draw influence from JOHN CARPENTER's synth horror soundtracks as well as past avant-pop stars like KATE BUSH, SCOTT WALKER and YOKO ONO. Written with a large orchestra in mind, Haley has come into her true form on this incredible album. There's a distinctly gothic feeling here as well, and it seems to be an appropriate choice for the falling leaves of autumn. RECOMMENDED.
JOHN COLTRANE – A Love Supreme: Live in Seattle LP/CD (Impulse)
For years it was thought that there was only one recorded live performance of John Coltrane's legendary "A Love Supreme" until the recent discovery of this 1965 recording from Seattle. This Amateur recording was made at the same time as the "Live in Seattle" album & features the classic quartet along with Pharoah Sanders, Carlos Ward & Donald Garrett. The performance is much more intense & wild than the album & hints at the deep dive into the journey of free expression that Coltrane was about to undertake. Though this isn't a professional recording, it sounds pretty darn good & it's truly a very exciting discovery. RECOMMENDED!
GROUPER- Shade CD (Kranky) vinyl coming soon, hopefully next week
Liz Harris aka GROUPER has been making some of our favorite records over the past 10-15 years & her 2021 album "Shade" is among her best. After a few mostly piano-centric albums, Harris returns to guitar based tunes & these songs have an almost early 2000s indie rock sound, reminding us of the great "Dragging a Dead Deer Up a Hill" & some nods at another great Portland artist Elliott Smith. No doubt this will be one of our favorite albums in 2021. As recommended as they get!
WALT MCCLEMENTS – A Hole in the Fence LP (American Dreams)
Epic & beautiful accordion pieces that combine elements of drone, film soundtracks & ambient music. Fans of ENO esque minimalism, Sarah Davachi,Kali Malone etc… should check this out.
HELADO NEGRO – Far In LP/CD (4AD)
Wonderful record from Brooklyn's Roberto Carlos Lange, who explores vast emotional territory with danceable stuff that draws from ambient pop, new wave and deep house. Some of this reminds us of ENO's "Before and After Science", some of PETER GABRIEL's "So", maybe a bit of the Studio Barnhus releases from AXEL BOMAN or KORNEL KOVACS. This record is centered in Lange's past growing up in South Florida to Ecuadorian immigrants, and on top of using Latin musical motifs and Spanish vocals from time to time, "Far In" strives to define that experience as holistically as possible. This is an infectiously great record that we'll be spinning here plenty. RECOMMENDED.
PARQUET COURTS – Sympathy For Life LP/DLX-LP/CD (Rough Trade)
No small feat to follow their popular breakthrough "Wide Awake!", but PARQUET COURTS manages this return with ease on "Sympathy for Life", building off the former's rhythms & atmosphere to make their most purely dance-y record yet. Lots of nods to late-era NYC disco and its incorporation of punk, as well as some light techno-y psych-rock in the HELDON or MANUEL GOTTSCHING vein. Yet even with the band's shifting chameleonic sound, the songwriting still remains centered in the angular punk that they began with, expanding on the music of groups like WIRE, MINUTEMEN and GANG OF FOUR, making obvious their lineage of influence, yet not trapping themselves in the style by charting out newer pathways for it thru dance, disco and funk. Folks, they haven't missed yet. HIGHLY RECOMMENDED!
SPIRITUALIZED – Let It Come Down LP (Fat Possum) limited color vinyl with new art
SPIRITUALIZED existed as a proper band for a few years but the exhaustive touring cycle for "Ladies & Gentlemen…" led to their break up. For the next SPIRITUALIZED album, Jason Pierce gathered over 100 different musicians (!!) to make this epic 2011 album. Inspired by Phil Spector's Wall of Sound production style, "Let It Come Down" is a massive sounding album & also a good indicator to sounds he'd be exploring on the next few albums.Like the previous Fat Possum reissues, this one features updated cover art. RECOMMENDED!
SUBURBAN LAWNS – Suburban Lawns LP (Superior Viaduct)
First ever domestic reissue of the classic 1981 album by the Long Beach, CA band SUBURBAN LAWNS. The band had a minor brush with fame when their video produced by Jonathan Demme aired on Saturday Night Live (yes they used to play videos sometimes on SNL back then). Tight & aggressive new wave tunes with vocals shared by singer Su Tissue & Frankie Ennui, their sound could be compared to B-52s & DEVO & THE SLITS. Any fan of early 80s new wave & post-punk needs this.
RECOMMENDED!
OTHER IMPORTANT NEW RELEASES & RESTOCKS
DEAN BLUNT – Black Metal 2 LP/CD (Rough Trade)
BODY MEAT – Year of the Orc 12" (Partisan)
PHOEBE BRIDGERS – Strangers in the Alps LP (Dead Oceans)
CLINIC – Fantasy Island LP/CD (Domino) limited blue vinyl
JARVIS COCKER – Chansons d'Ennui – Tip-Top: Inspired by Wes Anderson's The French Dispatch LP (Abcko)
DURAN DURAN – Future Past LP/CD/DLX CD (BMG)
EFTERKLANG – Windflowers LP (City Slang) limited clear vinyl
GOOD MORNING – Barnyard LP (Polyvinyl)
GUIDED BY VOICES – It's Not Them, It Couldn't Be Them, It Is Them LP/CD (GBV)
HAND HABITS – Fun House CD (Saddle Creek) vinyl coming in November
HISS GOLDEN MESSENGER – O Come All Ye Faithful LP/CD (Merge) limited tri-color vinyl
FREDDIE HUBBARD – Ready For Freddy LP (Blue Note) classic vinyl series
JOHN'S CHILDREN – There's an Eye in the Sky LP (Easy Action) featuring a young Marc Bolan!
MY MORNING JACKET – My Morning Jacket 2LP (ATO) indie color vinyl
ORQUESTA AKOKAN – 16 Rayos LP/CD (Daptone)
MAE POWELL – Both Ways Brighter LP (Park the Van)
ROLLING STONES – Tattoo You 2LP/5LP box set/2CD/CD (Abcko) 40th anniversary remaster with free lithograph while supplies last!
SUPERCHUNK – Here's to Shutting Up: 20th Anniversary LP/CD (Merge) limited orange swirl vinyl
WHITE STRIPES – White Blood Cells: 20th Anniversary LP (Third Man) peppermint pinwheel color vinyl
WYE OAK – Civilian + Cut All the Wires: 2009-2011 LP (Merge) limited green vinyl