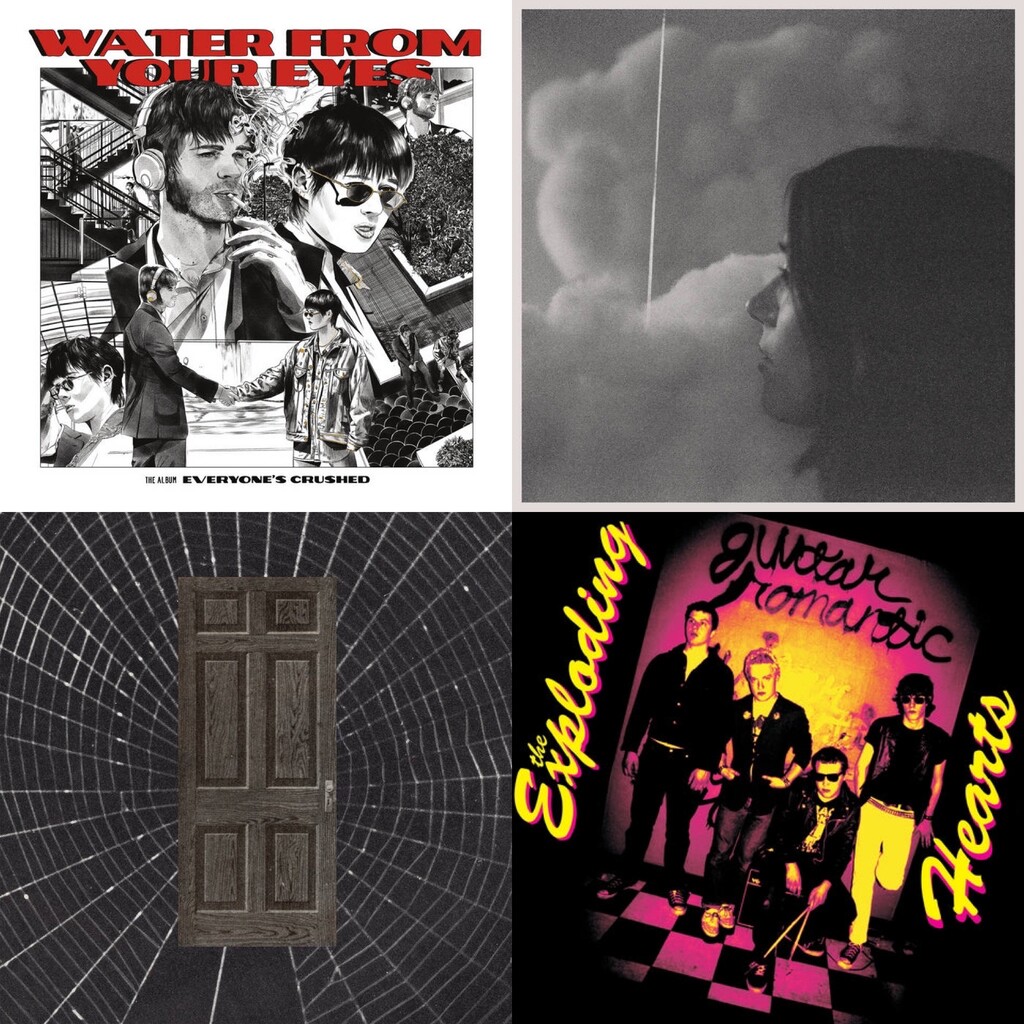 BAR ITALIA – Tracey Denim CD (Matador) vinyl scheduled for later this year
This Matador debut from London's BAR ITALIA evokes the 90s underground in its shoegaze-y moodiness, snarling guitar fuzz choruses and cut-and-paste sample work, all drenched in atmospheric reverb. Like hearing THE STONE ROSES in the murky shadows of SLOWDIVE. Superb stuff that comes RECOMMENDED.
BLACK COUNTRY, NEW ROAD – Live at Bush Hall LP (Ninja Tune)
Recording over three nights in London in December of 2022, "Live at Bush Hall" presents as a soundtrack to a YouTube concert documentary but really functions as another entry into the (un)official BC,NR catalog. In the wake of Isaac Wood's voluntary departure, singing has been taken up by committee, giving the experiments an invitingly twee atmosphere. Yet though this band is constantly shifting, BC,NR still retains the intrepid spirit of their previous albums, at once playful and imposing. On Ninja Tune and RECOMMENDED.
THE CHASM – Scars of a Lost Reflective Shadow LP (Dark Descent)
2023 album by THE CHASM, a death metal duo from Mexico that started way back in 1992! One thing we can promise you is that this record has ALL THE RIFFS. Seriously there are so many great ideas & riffs on here, they just never let up. Top-notch classic sounding death metal with really crisp production. Should make many best of 23 lists for sure.
RECOMMENDED.
CHRIS CONNELLY – Phenobarb Bambalam LP/CD (Wax Trax!) black, limited silver or 2LP deluxe vinyl
Chris Connelly's sophomore album from 1992 has been remastered & reissued courtesy of Wax Trax! A powerful collection of songs that straddle death rock, Bowie's darker side, post-industrial nastiness & angular KILLING JOKE style rockers. The 2LP edition features b-sides & live recordings from the era. YEAH!
EXPLODING HEARTS – Guitar Romantic: Expanded & Remastered LP (Third Man) limited color of VERY limited "exploded heart" color vinyl which is limited to 1 per customer, no phone orders or holds.
The legendary 2003 album by Portland's THE EXPLODING HEARTS has been expanded & remastered by Third Man for its 20 year anniversary. There are so many great songs on this with nods to 70s power pop, 80s punk ala BUZZCOCKS, UNDERTONES & THE CLASH while simultaneously sounding like nothing else in 2003.
RECOMMENDED.
THE FUCKING CHAMPS – III (reissue) LP (Drag City)
Originally released in 1997 under the name C4AM95 aka CHAMPS. They changed their name to FUCKING CHAMPS in 2000 for their Drag City debut so it's no surprise that this reissue is now available via Drag City now under the FUCKING CHAMPS name. This record blew a lot of people's minds back then with its combination of DON CAB esque math rock mixed with power metal "guitarmamonies" & playful arrangements. We're very happy to be able to carry this one again & we hope D.C. plans reissues of their other great albums. RECOMMENDED.
HANNAH JADAGU – Aperture LP/CD/TAPE (Sub Pop) First pressing Loser Edition color vinyl
"Aperture" is the debut album by the young songwriter Hannah Jadagu currently based in NYC. Jadagu's songs have a sort of effortless quality to them with bedroom pop style songs with bright & crisp recordings. Think Hazel English, Chicago's LALA LALA, early Captured Tracks bands etc…Great stuff.
GIA MARGARET – Romantic Piano LP/TAPE (Jagjaguwar)
After releasing her debut album Chicago's Gia Margaret lost her voice due to illness. While she recovered she turned to making instrumental music & released the stunning ambient album "Mia
Gargaret." Now she's back with her 2nd (mostly) instrumental album & her first for Jagjaguwar. This is a lovely mix of minimalist chamber style piano pieces overlayed with field recordings & wonderful synth parts. There's also a brief but fantastic guitar piece. The one vocal song "City Song" reminds us of BON IVER or MICROPHONES & It's quite cinematic & beautiful. We're all in. RECOMMENDED.
MIDWIFE & VYVA MELINKOLYA – Orbweaving LP/TAPE (The Flenser)
Reckless fave Madeline Johnston (MIDWIFE) & Angel Diaz (Vyva Melinkolya) have teamed up for this fantastic 2023 album. If you're familiar with MIDWIFE then you'll have a good idea what this sounds like, minimal slowcore/shoegaze with bits of half-speed drone & sludge. Think JESU, NADJA, JESUS & MARY CHAIN 45s on 33 etc…RECOMMENDED.
WATER FROM YOUR EYES – Everyone's Crushed LP/CD (Matador)
In spite of the HEAVEN 17 invocation on the cover, the electro-pop on "Everyone's Crushed" is anything but docile. Jagged guitar and electronic drum lines crash and clang, fitting together like shards of glass being reconstructed, all tied together by Rachel Brown's dry disassociated vocal delivery. Fans of DRY CLEANING and PALM will find lots to love here. On Matador and VERY RECOMMENDED!
OTHER IMPORTANT RELEASES
AJJ – Disposable Everything LP/CD (Hopeless) indie only color or black
RAY BARRETTO – Que Viva La Musica LP (Craft)
BEACH HOUSE – Become LP/CD/TAPE (Sub Pop) RSD EP available on black vinyl
BIG STAR – #1 Record LP (Ardent) metallic gold/purple vinyl
THE BLACKWOOD APOLOGY – House of Leather LP (Sundazed) red vinyl, remastered
CALIFONE – Villagers LP (Jealous Butcher) reissued
CHARLIE XCX – True Romance LP (Asylum) reissued on silver vinyl
CINDY – Why Not Now? LP (Mt. St. Mt.)
LUCY DACUS – Historian LP (Matador) red vinyl, 5th anniversary ed. w/ alternate artwork
DILLINGER ESCAPE PLAN – One Of Us Is the Killer LP (Sumerican) silver vinyl
EELS – Blinking Lights & Other Revelations LP (Vagrant)
MATT ESPY – Hawksworth LP (Drag City)
STAN GETZ & CHARLIE BYRD – Jazz Samba (Acoustic Sound Series) LP (Verve)
GHOST – Phantomime LP/CD (Loma Vista)
GOAT – World Music 10th Anniversary LP (Rocket Recordings) classic back in print
BILLY GRAY – Nowhere to Go (But Out of My Mind) LP (Americana Anthropology)
IMMORTAL – War Against All LP/CD (Nuclear Blast)
JUICE WRLD – Goodbye & Good Riddance (Deluxe Edition) LP (Interscope)
KHRUANGBIN – Live at Stubb's LP (Dead Oceans)
CAROLE KING – Home Again: Live From the Great Lawn, Central Park LP/CD (Legacy)
KING GIZZARD & THE LIZARD WIZARD – Infest the Rats Nest Live LP (Nudie) white vinyl
KASSA OVERALL – Animals LP (Warp) clear vinyl
LEMONHEADS – Come On Feel The Lemonheads LP (Fire) 30th anniversary deluxe ed.
DAVE MATTHEWS BAND – Walk Around the Moon LP (RCA)
MELVINS – Bulls & the Bees Live LP (Ipecac)
MELVINS – Houdini Live LP (Ipecac)
MELVINS – Tres Cabrones LP (Ipecac)
MILD HIGH CLUB – Timeline LP (Stones Throw) reissue
THELONIOUS MONK WITH JOHN COLTRANE – THELONIOUS MONK WITH JOHN COLTRANE LP (Craft)
MOURNFUL CONGREGATION – Exuviae of Gods Part Two LP/CD (20 Buck Spin)
PARANNOUL – After the Magic CD (Top Shelf)
ARLO PARKS – My Soft Machine LP/CD (Transgressive)
TITO PUENTE – Mambo Diablo LP (Craft)
PAUL SIMON – Seven Psalms LP/CD (Owl Records)
SPARKS – Girl Is Crying In Her Latte LP (Island)
BARBARA STANT – My Mind Holds On To Yesterday (Numero)
STEELY DAN – Countdown to Ecstasy LP (Geffen)
SUARASAMA – Timeline LP (Drag City)
SUN RA – Space is the Place LP+Blu-ray+DVD/CD+Blu-ray+DVD (Modern Harmonic) film plus soundtrack with bonus tracks
SWERVEDRIVER – Petroleum Spirit Daze 12" (Outer Battery) gold vinyl, reissue
TAYLOR SWIFT – Midnights LP (Republic) "Love Potion" purple color
DAVID SYLVIAN & STEPHAN MATHIEU – Wandermude LP (Groenland) remastered, clear vinyl
SZA – S.O.S. LP (RCA)
TANLINES – The Big Mess LP (Merge) limited color or black vinyl
THEY ARE GUTTING A BODY OF WATER / A COUNTRY WESTERN (split) – An Insult to the Sport 10" (Top Shelf) limited color vinyl
TINARIWEN – Amatssou LP (
TOMEK – Fairlight & Funk LP (Modern Harmonic) green vinyl
VARIOUS ARTISTS – Canto A Lo Divino LP (Mississippi)
WOLF EYES – Dreams in Splattered Lines LP (Disciples)