On Friday, December 13th at 5:45pm, our Wicker Park Reckless is proud to present a FREE, LIVE in-store performance by Hausu Mountain recording artist WOBBLY, to celebrate his new Hausu Mountain release, 'Monitress'.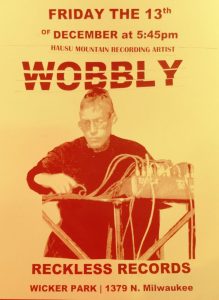 San Francisco-based multimedia artist, composer, and improviser Jon Leidecker makes music under the pseudonym Wobbly. He currently records and tours with seminal experimental group Negativland, and with the Thurston Moore Group. Over the course of a varied musical practice that began in the mid-1980s, Wobbly has collaborated with artists including Matmos, Dieter Moebius (Cluster), Tania Chen, Fred Frith, Tim Story, and David Toop.
Monitress is Wobbly's first release with Hausu Mountain. Outside of his wide slate of collaborations and a number of self-published digital releases, the long-gestating album represents the first physical release of a Wobbly solo work since 2002. To create the takes that populate the album, Leidecker developed a process that exploits an arsenal of software on devices like iPads and iPhones. Mobile applications generate MIDI information from the external audio that Wobbly feeds into them, and then he retranslates and synthesizes that data into mutated semblances of songs. In practice, Monitress explodes into every direction at once. Wobbly's pieces highlight hyper-detailed rhythmic grids built over spastic, bludgeoning drum tones, unpredictable chromatic lead lines, and swathes of cybernetic noise texture. Though created primarily with randomizing and disfiguring processes, Monitress feels unquestionably human and openly humorous, as Wobbly's approach to process-based composition and improvisation remains rooted in a sense of playfulness and bliss far from the surgical sterility that often characterizes music in this zone.