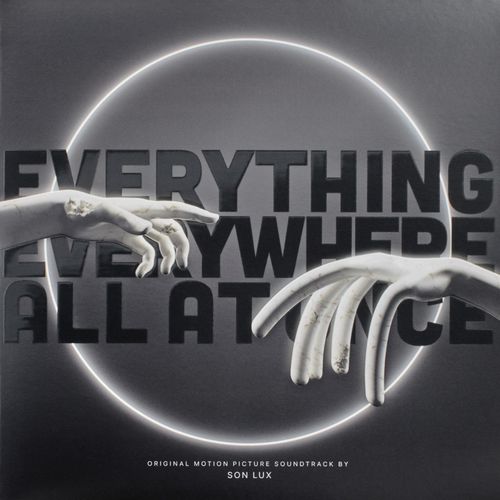 RECKLESS RECORDS 8/4/23 NEW RELEASES
>> THE BLACK DOG – Spanners & Bytes 2LPs (Warp) *Remastered – Sold separately
Essential reissues of some early Warp material from THE BLACK DOG featuring Andy Turner and Ken Downie of PLAID. Beautifully remastered and RECOMMENDED!
>> FLORRY – The Holey Bible LP (Dear Life)
Philadelphia's FLORRY makes folky alt-country in the vein of MJ LENDERMAN, FRIENDSHIP and locals acts like TOBACCO CITY, all with quirky, goofball lyricisms to balance the robust instrumentation. RECOMMENDED!
>> VARIOUS – Everything Everywhere All at Once (Soundtrack) 2LP (Secretly Canadian)
The soundtrack to the 2023 Best Picture (and maybe one of the best movies ever made, period? Let's talk about it…) Everything Everywhere All at Once is finally available on vinyl. SON LUX's original score is just as ambitious & creative as the flick, with contributions from MITSKI, DAVID BYRNE, MOSES SUMNEY, and the voice of Raccacoonie himself, RANDY NEWMAN. There's also some gorgeous flute compliments of none other than ANDRÉ BENJAMIN aka Benjamin André aka 3 Stacks aka ANDRE 3000. Of course this is HIGHLY RECOMMENDED!
OTHER IMPORTANT NEW RELEASES, REISSUES & RESTOCKS
ACTIVITY – Spirit in the Room LP (Western Vinyl) *Clear Vinyl
AGELESS SUMMONING – Corrupting the Entempled Plane LP (Dark Descent)
GG ALLIN & THE MURDER JUNKIES – Brutality & Bloodshed For All LP (Alive) *Reissue – Clear Orange Vinyl
ATMOSPHERE – Sad Clown Bad Dub II 2LP/CD (Rhymesayers) *Remastered – First time on vinyl
BACAO RHYTHM & STEEL BAND – How We Do b/w Nuthin' But a G Thang 7″ (Big Crown)
ELVIN BRANDHI & LORD SPIKEHEART – Drunken Love LP (Hakuna Kulala)
BUSH TETRAS – They Live in My Head LP (Wharf Cat) *Red Vinyl
JOHN CALE – Words For the Dying LP (All Saints) *Reissue – Ltd. Clear Vinyl
CARDI B – Invasion of Privacy 2LP (Atlantic) *Atlantic 75 Reissue – Ltd. Clear Vinyl
TERRI LYNE CARRINGTON – TLC & Friends LP (Candid) *180g, Remastered
CLOUDLAND CANYON – Cloudland Canyon MR-091 LP (Medical)
THE DEAD C – The Operation of the Sonne LP (Siltbreeze) *Reissue
THE DEAD C – Tusk 2LP (Siltbreeze) *Reissue
THE DEAD C – The White House 2LP (Siltbreeze) *Reissue
THE DEAD TONGUES – Unseen Passage LP (Psychic Hotline)
THE DELGADOS – Hate LP (Chemikal Underground) *Reissue – Curacao Vinyl
DINNER PARTY – Enigmatic Society LP (Empire) *Ltd. Black/White Splatter or "Highlighter" Yellow Vinyl
DIPPERS – Clastic Rock LP (Goner)
THE DOUBLE – Relaxin' in the Jungle 7″ (In The Red)
MICHAEL DIXON & J.O.Y. – You're Everything b/w You're All I Need 7″ (Numero Group)
HAMZA EL DIN – Al Oud: Instrumental & Vocal Music of Nubia LP (Real Gone) *Reissue – Ltd. Clear Vinyl
EL MICHELS AFFAIR & BLACK THOUGHT – Hollow Way b/w I'm Still Somehow 7″ (Big Crown)
IAN ELMS – Good Night LP (Dark Entries) *Reissue
THE EXPLOITED – Punk's Not Dead 7″ (Cleopatra) *Reissue – Red Splatter Vinyl
THE EXPLOITED – USA 7″ (Cleopatra) *Reissue – Red Vinyl
FLOWER TRAVELLIN' BAND – Satori LP (Life Goes On) *Reissue
THE FRONT BOTTOMS – You Are Who You Hang Out With LP/CD (Fueled By Ramen) *Black or Ltd. "Neon Coral" Vinyl
FUN BOY THREE – Fun Boy Three LP (Chrysalis) *180g, Reissue – Translucent Red Vinyl
FUN BOY THREE – Waiting LP (Chrysalis) *180g, Reissue – Translucent Blue Vinyl
GIRL IN RED – Beginnings LP (Awal Recordings) *Red Vinyl
GOV'T MULE – Dark Side of the Mule 2LP (Evil Teen)
GRATEFUL DEAD – Dick's Picks Vol. 1 4LP (Real Gone) *180g, Remastered – 30th Anniversary, #'d
GUSTER – Keep It Together LP (Nettwerk) *Reissue – Ltd. Green Vinyl
A HANDFUL OF DUST – The Drum is the Shaman's Horse LP (Feeding Tube)
HOLY WAVE – Five of Cups LP (Suicide Squeeze) *Gold Vinyl, Ltd. 1500
HOT MULLIGAN – Why Would I Watch LP (Wax Bodega) *Blue Vinyl
ALEJANDRO JODOROWSKY – The Holy Mountain (Soundtrack) LP (Think Indie) *180g, Reissue
LITTLE SIMZ – A Curious Tale of Trials + Persons LP (Age 101) *Reissue
LUNA – The Days of Our Nights LP (Real Gone) *Reissue – Orange Swirl Vinyl
MADLIB – Rock Konducta Pt. 2 LP (Think Indie) *Smoke Vinyl
MAMMOTH WVH – Mammoth II LP (BMG) *Exclusive Canary Yellow Vinyl
NATHAN MICAY – To the God Named Dream 2LP (Lucky Me) *Ltd. Clear Vinyl
MINISTRY – AmeriKKKant LP (Nuclear Blast) *Grey/Black/White Splatter Vinyl, Ltd. 1300 ✶ ✶ ✶ ✶
JACKIE MITTOO – The Keyboard King at Studio One 2LP (Soul Jazz) *20th Anniversary
NAGFLAR – Vittra LP (Century Media) *180g, Remastered – Ltd. Transparent Blue Vinyl
AUGUSTUS PABLO – Roots, Rockers & Dub 2LP (Think Indie) *50th Anniversary
>> PANDA BEAR – Tomboy LP (Domino) *2023 Reissue
PHISH – A Picture of Nectar 2LP (Jemp) *Grape Apple Pie Vinyl
PONDEROSA TWINS PLUS ONE – Bound 7″ (Numero Group) *Sampled by KANYE WEST on "Bound 2"
QUELLE CHRIS – Being You is Great! I Wish I Could Be You More Often LP (Mello Music Group) *Multicolor Vinyl
SLW CC WATT – Purple Pie Plow LP (Kill Rock Stars) *Featuring Mike Watt (MINUTEMEN) & Samuel Locke Ward (JAD FAIR) – Lime Vinyl, Ltd. 500
CARL STONE – Electronic Music From 1972-2022 3LP (Unseen Worlds)
TEENAGE WRIST – Still Love LP (Epitaph) *Ltd. Eco-Mix Grey/Black/White Splatter Vinyl
TORTURE RACK – Primeval Onslaught LP (20 Buck Spin) *Now available on Color Vinyl
TRICOT – A N D LP (Top Shelf) *Reissue – Black & Pink Vinyl
TRICOT – T H E LP (Top Shelf) *Reissue – Grey & Clear Vinyl
THE VICTIMS – Girls Don't Go For Punks 7″ (In The Red)
TOM WAITS – Closing Time 2LP (Anti-) *50th Anniversary, Half Speed Mastered – Clear Vinyl
DUSTIN WONG – Perpetual Morphosis CS (Hausu Mountain)
WORM – Foreverglade LP (20 Buck Spin) *w/ poster – Sea Blue Splatter Vinyl
VARIOUS – Jacques Tati Swing! 2LP/CD (Born Bad) *Import
VARIOUS – Playing For the Man at the Door: Field Recordings From the Collection of Mack McCormick 1958-1971 3CD (Smithsonian/Folkways) *w/ 128pg book – Featuring LIGHTNIN' HOPKINS, MANCE LIPSCOMB and more
VARIOUS – Prends le temps d'ecouter: Tape Music, Sound Experiments & Free Folk Songs by Children from Freinet Classes 1962-1982 LP/CD (Born Bad) *Import
VARIOUS – Real Steel & Real Steel II LPs (Revolver) *Vol. 1 & 2 sold separately
VARIOUS – Singapore Nuggets: The Ladies LP (Akenaton)
VARIOUS – Walt Disney Studios Presents Haunted House: Chilling Thrilling Sounds LP (Think Indie) *Color Vinyl
**Titles preceded by >> have descriptions available in store or at https://reckless.com