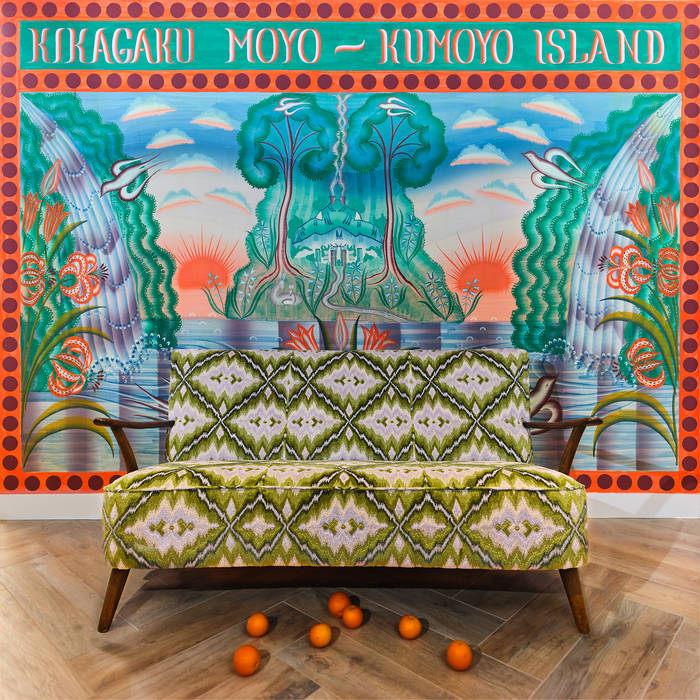 RECKLESS RECORDS 8/26/22 NEW RELEASES
KIKAGAKU MOYO – Kumoyo Island LP (Guruguru Brain) *Available at Wicker Park now – other shops next week!
The 5th album Kumoyo Island by the great Japanese psychedelic band KIKAGAKU MOYO is supposedly their final album. They've been on a farewell tour for most of 2022 & that's great news for anyone that hadn't been lucky enough to see them before as they're one of the best live bands of the past decade in our opinion. For their last record, the band returned to the studio where they made their first record & the results are stunning. Driving, rhythmic songs with repetitive vocal patterns that get stuck in your head right away. These guys manage to pay their respects to flowery psych rock of the past without sounding like copycats & this might be their most unique sounding album yet. We're truly sorry to see this band go but at least we have this last album. RECOMMENDED.
LEVIATHAN – Shadow of No Light 8xCS Box Set (Profound Lore)
Eight early LEVIATHAN demos originally released between 1998-2002 with some touch-up remastering from the original sources. These demos are important documents of the first wave of American black metal & it's very cool that they're available again on the cassette format. Supposedly already out of print at the label & RECOMMENDED.
LOCRIAN – New Catastrophism CD (Profound Lore)
New Catastrophism is the first album from the Chicago group LOCRIAN in 7 years. Four lengthy tracks that display the group's talent for creating brooding dark ambient/post industrial landscapes that occasionally dip into MONO meets MOGWAI post-rock melodies. RECOMMENDED.
SALVIA PLATH – Melanchole LP/CD (Danger Collective)
This album by the New Zealand artist Daniel Johann aka SALVIA PLATH was originally released on Bandcamp in 2012 then as a limited LP run in 2018. It's been remastered for this 2022 reissue. Lo-fi & somewhat dark lo-fi bedroom pop that sounds like a lost 90s Siltbreeze or Drag City record. Imagine a mix of early PAVEMENT, Roy Montgomery, MICROPHONES etc… RECOMMENDED.
KAITLYN AURELIA SMITH – Let's Turn It Into Sound LP/CD (Ghostly) *Black or Ltd. Color Vinyl
Kaitlyn Aurelia Smith continues to evolve her sound on Let's Turn It Into Sound. Quirky synth-pop that probably most reminds us of 80s Japanese greats like YELLOW MAGIC ORCHESTRA, Mariah etc…with some almost drum & bass breakdowns from time to time & even some hints of Japanese video game music. There are some occasional hints of her new age stylings but this one definitely lives in more of an art pop realm. RECOMMENDED.
OTHER IMPORTANT NEW RELEASES, REISSUES & RESTOCKS
AEVITERNE – The Ailing Facade LP (Profound Lore)
LEE BAINS + THE GLORY FIRES – Old-Time Folks 2LP (Don Giovanni)
BELIEF – Belief LP (Lex)
BLACK DEATH CULT – Diaspora LP (Profound Lore)]
BLEED – Somebody's Closer LP (20 Buck Spin)
BLONDIE – Against The Odds 1974-1982 LP/CD (Numero Group) *Available as 4LP or 3CD Box Set w/ hardbound book!
BLONDIE – Live 1999 2LP (Ear Music) *Ltd. White Vinyl
KATE BUSH – Hounds of Love LP (Rhino) *2018 Remaster – FINALLY back in stock!
CALIFONE – Roots & Crowns LP (Thrill Jockey) *2022 Reissue
J. COLE – KOD LP (Interscope) *Finally back in stock!
DELICATE STEVE – After Hours LP (Anti-)
DENDRONS – 5-3-8 LP/CD (Innovative Leisure)
DIGABLE PLANETS – Blowout Comb 2LP (Modern Classics) *2022 Reissue – Ltd. "Dazed & Amazed Duo" Color Vinyl
DOJA CAT – Hot Pink (RCA) *Pink Vinyl – Finally back in stock, for a limited time!
DOKKEN – Greatest Hits (Cleopatra) *Ltd. Splatter Vinyl
DREADKNOUGHT – The Endless CD (Profound Lore)
THE DRUMS – Portamento LP (French Kiss) *2022 Reissue – Ltd. Ultra Clear Vinyl
STEVE EARLE & THE DUKES – Jerry Jeff LP (New West) *Ltd. Clear Vinyl
LUPE FIASCO – Drill Music in Zion 2LP/CD (1st & 15th) *Black or Ltd. Indie Exclusive Blue Vinyl
CHRIS FORSYTH – Evolution Here We Come LP/CD (No Quarter)
FUGEES – The Score 2LP (Sony) *Reissue – Finally back in stock!
EZRA FURMAN – All of Us Flames CD (Anti-)
CHARLIE GABRIEL – 89 LP (Sub Pop) *1st Run, Translucent Gold Vinyl – Now available on LP!
WALKER HAYES – Country Stuff 2LP (Monument)
HELL FIRE – Reckoning LP (Riding Easy)
IKEBE SHAKEDOWN – Ikebe Shakedown LP (Ubiquity)
JETHRO TULL – Aqualung LP (Rhino) *2022 Reissue – 2011 Steven Wilson Stereo Remix
VALERIE JUNE – Under Cover LP/CD (Fantasy) *Ltd. Magenta Vinyl
MARCUS KING – Young Blood LP/CD (Easy Eye Sound)
LADYHAWKE – Time Flies LP (BMG)
KENDRICK LAMAR – Mr. Morale & The Big Steppers 2LP (Interscope) *FINALLY available on LP!
LITTLE FEAT – Waiting For Columbus 2LP (Warner) *Remastered – Ltd. "Tomato" Red Vinyl
LOS COTOPLA BOYZ – Mamarron Vol. 1 (AYA) *Ltd. Blue/Yellow Vinyl
DEMI LOVATO – Holy Fvck LP (Island) *Now on vinyl, plus signed CDs available at Wicker Park!
MADLIB – Medicine Show No. 3: Beat Konducta in Africa LP (Madlib Invasion) *Ltd. Deep Purple Vinyl
BRET McKENZIE – Songs Without Jokes LP/CD (Sub Pop) *Loser Edition Color Vinyl
MOBY – Play 2LP (Mute) *2022 Reissue
THE MONKEES – Headquarters LP (Friday Music) *55th Anniversary Mono Reissue – Ltd. Red Vinyl
ALANIS MORISSETTE – The Storm Before the Calm 2CD (Thirty Tigers)
MUSE – Will of The People LP/CD (Warner)
OASIS – Be Here Now 2LP (Big Brother) *25th Anniversary Edition – Ltd. Color Vinyl
NEW YORK DOLLS – Red Patent Leather: Live 1975 LP (Culture Factory) *Ltd. Red Vinyl
JOHN PRINE – Aimless Love LP (Oh Boy)
SILK SONIC – An Evening With… LP (Atlantic) *FINALLY available on LP!
SORCERY – Stunt Rock (Original Soundtrack) LP (Riding Easy) *Ltd. Color Vinyl
REGINA SPEKTOR – 11:11 LP (Sire) *Remastered – 20th Anniversary Reissue
TEEN SUICIDE – honeybee table at the butterfly feast LP (Run For Cover)
THEE SACRED SOULS – Thee Sacred Souls LP (Daptone) *Black or Ltd. Icy Blue Vinyl
TURNSTILE – Glow On LP (Roadrunner) *FINALLY back in stock!
WET – Pink Room LP (Secretly Canadian)
WINDHAND – Levitation Sessions 2LP (Reverberation Appreciation Society) *Ltd. Indie Exclusive Color Vinyl
WORMROT – Hiss LP (Earache)
VARIOUS – Brown Acid: The Fourteenth Trip LP (Riding Easy)