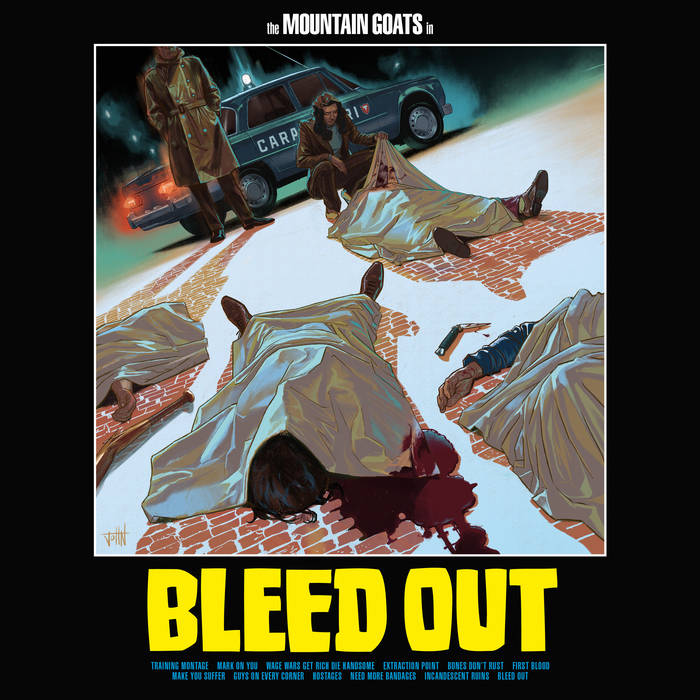 RECKLESS RECORDS 8/19/22 NEW RELEASES
HOT CHIP – Freakout/ Release 2LP/CD (Domino) *Black or Ltd. Brown Vinyl
UK dance-rockers HOT CHIP return to Domino for their eighth album, looking to find balance between anxiety and ecstasy through their trademark synth-pop sound in the wake of the COVID pandemic and political unrest. Still a classic throwback even with more contemporary undertones.
THE MOUNTAIN GOATS – Bleed Out LP/CD/CS (Merge) *Indie Exclusive Yellow Vinyl w/ posters & postcards while supplies last!
This 20th (twentieth!) album from John Darnielle & co. draws inspiration from Hollywood action and neo-noir films of the 60s, 70s & 80s, weaving stories about bloody shootouts around songs with a bit of a snarling edge to them. The group now includes BULLY's Alicia Bognanno as a producer and full-time band member, and her production is slick without being obtrusive. While these songs have more ambitious structures, ultimately they retain that classic MOUNTAIN GOATS feeling, now filtered through this hyper-specific prism. On Merge yet again and RECOMMENDED.
RUSSIAN CIRCLES – Gnosis LP/CD (Sargent House) *Black or Ltd. Transparent Orange Vinyl
Chicago instrumental trio RUSSIAN CIRCLES returns for their first release in three years for perhaps their darkest, heaviest record yet. While the band still takes time to explore their compositions in the grand, sweeping post-rock style they are known for, Gnosis emphasizes pummeling, blackened punches of noise that puts them in closer territory to groups like THOU and BLOOD INCANTATION. This is absolutely vicious stuff here from this group. RECOMMENDED.
ELI WINTER – Eli Winter LP (Three Lobed Recordings)
Chicago's ELI WINTER brings on a massive list of folks as collaborators for this self-titled release, (YASMIN WILLIAMS, RYLEY WALKER, DAVID GRUBBS and JAIMIE BRANCH to name a few), creating a bright, knotty piece of late summer pastoralism that both evokes experimental psych folk a la WALKER or STEVE GUNN and the gentler side of Chicago post-rock like GASTR DEL SOL or even THE SEA & CAKE at their most "analog". An absolutely fantastic release here that comes HIGHLY RECOMMENDED!
OTHER IMPORTANT NEW RELEASES, REISSUES & RESTOCKS
THE A'S – Fruit LP (Psychic Hotline)
THE ARCHIES – The Archies LP (Cleopatra) *2022 Reissue – Black, Pink & White Splatter Vinyl
BATHERS – Summer Lightning LP (Last Night From Glasgow) *Remastered – Ltd. White Vinyl
BEASTIE BOYS – Check Your Head 4LP (Capitol) *Deluxe 30th Anniversary Edition w/ Bonus Tracks
BELPHEGOR – The Devils LP (Nuclear Blast) *Ltd. Wine Red Vinyl
LUCHO BERMUDEZ Y SU ORQUESTA – The Coastal Invasion: 1946-1961 2LP (Radio Martiko)
THE BERRIES – High Flying Man LP (Run For Cover) *Ltd. White Vinyl
ERIC CHURCH – & (Ampersand) LP/CD (EMI)
COBRA STARSHIP – Hot Mess LP (Fueled By Ramen) *2022 Reissue – Ltd. Silver Vinyl
DEATH BELLS – Between Here & Everywhere LP (Dais) *Clear Vinyl, Ltd. 600
DELILUH – Fault Lines LP (Tin Angel)
DIIV – Oshin 2LP (Captured Tracks) *10th Anniversary Expanded Edition – Ltd. Blue Marble Vinyl
DIIV – Sometime/ Human/ Geist 7″ (Captured Tracks) *3×7″ – Ltd. Eco-Mix Vinyl
EARL SWEATSHIRT – Some Rap Songs LP (Columbia) *Back in stock!
ANDY FRASCO & THE U.N. – Wash Rinse Repeat LP (Secretly Canadian)
MORT GARSON – Plantasia LP (Sacred Bones) *Sacred Bones 15th Anniversary – Ltd. "Caladium" Pink & Green Vinyl
GHOSTFACE KILLAH – Ironman 2LP (Get On Down) *Reissue – Ltd. Blue & Cream or Ltd. "Chicken & Broccoli" Vinyl
EARLY JAMES – Strange Time To Be Alive LP (Easy Eye Sound) *Ltd. Color Vinyl
FELA KUTI – Roforofo Fight 2LP (Knitting Factory) *Fela 50th Anniversary Series – Ltd. Lime & Yellow Vinyl
LEAF HOUND – Growers of Mushroom LP (Repertoire) *50th Anniversary Reissue – Ltd. Green Vinyl
LIGHTNING BOLT – Oblivion Hunter LP (Thrill Jockey) *2022 Reissue – Ltd. Rainbow Splatter Vinyl
DEMI LOVATO – Holy Fvck CD (Island)
ROBERT AIKI AUBREY LOWE – Candyman (2021 Soundtrack) 2LP (Waxwork) *Color Vinyl – FINALLY available on LP!
MADONNA – Finally Enough Love: #1's Remixed LP/CD (Rhino) *Available as a single or 3CD box set, 2LP Black Vinyl, or 2LP Indie Exclusive Color Vinyl
ONEIDA – Success LP/CD/TAPE (Joyful Noise)
PANIC! AT THE DISCO – Viva Las Vengeance LP/CD (Fueled By Ramen) *Black or Ltd. Coral Vinyl
PEEL DREAM MAGAZINE – Agitprop Alterna LP (Slumberland) *2022 Repress – Black Vinyl
PELICAN – Australasia 2LP (Thrill Jockey) *2022 Reissue
OSCAR PETERSON TRIO – We Got Requests LP (Verve) *Acoustic Sounds Series
THE PYRAMIDS – Aomawa: The 1970s Recordings 4LP (Strut)
R.E.M. – Chronic Town CD (IRS) *40th Anniversary Reissue
JOE RAINEY – Niineta LP (37D03D) *Black or Ltd. Color Vinyl
CHARLIE REED – Eddy LP (Earth Libraries)
EMMA RUTH RUNDLE & THOU – May Our Chambers Be Full (Sacred Bones) *Sacred Bones 15th Anniversary – Ltd. Blue & Purple "Galaxy" Vinyl
WAYNE SHORTER – Adam's Apple LP (Blue Note) *Classic Vinyl Series
SILVERSUN PICKUPS – Physical Thrills LP/CD (New Machine)
THE SOFT PINK TRUTH – Was It Ever Real? LP (Thrill Jockey)
SPELLLING – The Turning Wheel LP (Sacred Bones) *Sacred Bones 15th Anniversary – Ltd. Pink Vinyl
SQUALLS – Live From The 40 Watt LP (Strolling Bones) *Ltd. Turquoise Vinyl
SRSQ – Ever Crashing LP (Dais) *Seaglass Vinyl, Ltd. 500 Copies
BILLY STRINGS – Home 2LP (Rounder) *Back in stock!
TALL DWARFS – Unravlled: 1981-2002 LP/CD (Merge) *Available as a 2CD or 4LP set
THAT PETROL EMOTION – Babble 2LP (Last Night From Glasglow) * Expanded Edition – Ltd. Blue Vinyl
WAR – All Day Music/ Deliver The World/ War/ Why Can't We Be Friends/ World Is A Ghetto LPs (Rhino) *2022 Reissues, all sold separately
MUDDY WATERS & THE ROLLING STONES – Live Chicago 1981 2LP (Mercury) *Reissue – Ltd. Color Vinyl
WHY BONNIE – 90 in November LP (Keeled Scales) *Black or Ltd. Green Vinyl
WOMBO – Fairy Rust LP/CD (Fire Talk) *Black or Ltd. Cloudy White Vinyl
LINK WRAY – Link Wray LP (Future Days) *Remastered – Black or Ltd. Three Color Split Vinyl
WU-LU – Loggerhead LP (Warp) *Black or Ltd. Green Vinyl
LARRY YOUNG – Unity LP (Blue Note) *Classic Vinyl Series
NEIL YOUNG – Eldorado LP/CD (Reprise)
VARIOUS – Black Spirits: Festival of New Black Poets in America (Motown) *50th Anniversary Reissue
VARIOUS – Eccentric Deep Soul LP (Numero Group) *Black or Ltd. Splatter Vinyl