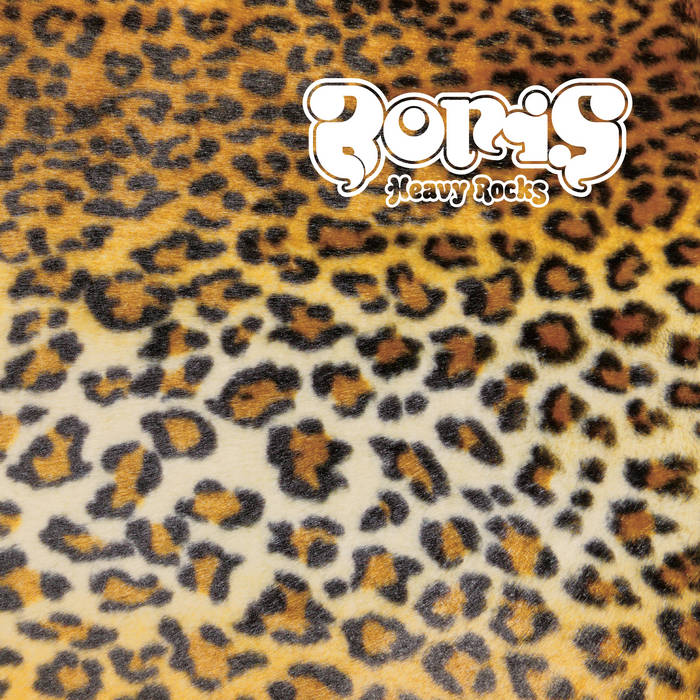 RECKLESS RECORDS 8/12/22 NEW RELEASES
BORIS – Heavy Rocks (2022) LP (Relapse) *White Vinyl – Ltd. 1000
The 3rd entry in BORIS' Heavy Rocks series puts a big leopard-print bow on their nearly three decades long (!!!) discography. Front-loaded with heavy thrash and proto-metal jams, it quickly bobs and weaves song-to-song but sometimes even verse-to-verse from many of the genres these iconoclasts have taken a swing at across nearly 50 albums: doom, shoegaze, garage, industrial…with a big tip of the hat to their past collaborators MERZBOW and SUNN O))) in the abstract noise passages that ominously rear their heads throughout. Another essential release from one of our favorite bands. HIGHLY RECOMMENDED!
DANGER MOUSE & BLACK THOUGHT – Cheat Codes LP/CD (BMG) *Black or Ltd. Red Vinyl
Following in the storied lineage of great MC & Producer team-ups like Madvillainy, Piñata, and Twelve Reasons To Die, Cheat Codes is a fantastic 2022 joint effort from DANGER MOUSE and THE ROOTS' BLACK THOUGHT. After a few years in the proverbial Late Night TV slash MOR wilderness, both artists up their already elevated game even higher here. The guest list is stacked – RAEKWON, A$AP ROCKY, EL-P, KILLER MIKE, Chicago's KID SISTER and more, plus an incredible MF DOOM verse from beyond the grave – but the coolest moments involve just hearing Thought go HARD in the pocket of some of Danger Mouse's best material since Demon Days. This is a tightly focused, wildly entertaining collab between two master craftsmen. HIGHLY, HIGHLY RECOMMENDED!
JUST MUSTARD – Heart Under LP (Partisan) * Now available on vinyl!
Excellent sophomore record from the Irish quintet JUST MUSTARD, relishing in the steely post-punk of their fellow countrymen (and labelmates) FONTAINES D.C. but with a heavy embrace of classic trip-hop and shoegaze a la PORTISHEAD and MORCHEEBA with a little touch of MBV. There's a lot of compelling stuff coming from the U.K. and Ireland right now in the way of punk and art rock, but this certainly stands out in a very crowded field. On Partisan and HIGHLY RECOMMENDED!
ORCHESTRE MASSAKO – Orchestre Massako LP (Analog Africa)
Killer 12″ from Analog Africa that focuses on the Gabonese musician and singer MACK-JOSS and his group ORCHESTRE MASSAKO – Started after the Gabonese army recruited MACK-JOSS to be the bandleader for their own national band. Throughout the 1970s, funds from Gabon were used to purchase recording equipment so the group could record singles, which were then pressed over in France and sent back to Gabon. This collects four of those singles (some of which feature the singer AMARA TOURE), a set of elliptical, swirling rhythms and minor key folk melodies that share some kinship to the music of Ghana. Fantastic stuff as always, and it comes HIGHLY RECOMMENDED!
OTHER IMPORTANT NEW RELEASES, REISSUES & RESTOCKS
IGGY AZALEA – The End of an Era LP (Empire) *Ltd. Tri-Color Vinyl
BAD BRAINS – Rock For Light: Punk Note Edition (ORG) *Remastered w/ alternate Blue Note-style art
BAD BUNNY – Un Verano Sin Ti CD (Rimas Music)
CATERINA BARBIERI – Spirit Exit 2LP (Light Years) *Import – Black or Silver Vinyl
BLACK MAGNET – Body Prophecy LP (20 Buck Spin) *Black or Ltd. Green Vinyl
BLONDIE – Vivir En La Habana LP (BMG) *Ltd. Edition Yellow Vinyl
BRAIN EATERS – Brain Eaters LP (Cleopatra) *Ltd. Splatter Vinyl
BROCKHAMPTON – Roadrunner: New Light, New Machine 2LP (RCA)
CIGARETTES AFTER SEX – Cigarettes After Sex LP (Partisan) *Reissue – Ltd. Clear Vinyl
COIL – Constant Shallowness Leads to Evil 2LP/CD (Dais) *2022 Reissue – Black or Ltd. Green Vinyl
DANCE GAVIN DANCE – Jackpot Juicer 2LP (Rise) *Yellow w/ Red & Black Splatter Vinyl
DANZIG – 6:66: Satan's Child LP (Cleopatra) *180g – Available w/ Original or Alternate Artwork
DANNY ELFMAN – Bigger. Messier. LP/CD (Anti-/Epitaph)
ERASURE – Day-Glo: Based on a True Story LP/CD (Mute) *Ltd. Edition Green Vinyl
FARAFINA – Faso Denou LP (Real World) *Ltd. Blue Vinyl
FAUST – Faust Tapes LP/CD (Bureau B) *2022 Reissue
GHOST FUNK ORCHESTRA – Night Walker/ Death Waltz LP (Karma Chief)
GHOST WOMAN – Ghost Woman LP (Full Time Hobby)
GIRLPOOL – Forgiveness LP (Anti-) *Black or Ltd. Color Vinyl
HUDSON MOHAWKE – Cry Sugar 2LP/CD (Warp) *Black or Ltd. Blue Vinyl
KIWI JR. – Chopper LP/CD/TAPE (Sub Pop) *Loser Edition Color Vinyl
MADLIB – Shades of Blue 2LP (Music On Vinyl) *Reissue – Back in stock!
KING WASIU AYINDE MARSHAL I – Talazo Fuji Music Party LP (Real World) *Green Vinyl
TERRACE MARTIN – Drones LP (BMG) *Ltd. Red Vinyl
MASTER MUSICIANS OF JAJOUKA – …Between The Mountains LP (Real World) *Orange Vinyl
TONY MOLINA – In The Fade LP (Run For Cover)
OSEES – A Foul Form LP/CD (Castle Face)
THE POLICE – Greatest Hits 2LP (Polydor) *180g – Abbey Road Half Speed Master
SHILPA RAY – Portrait of a Lady LP (Northern Spy)
S.E. ROGIE – Dead Men Don't Smoke Marijuana LP (Real World) *Purple Vinyl
THE ROLLING STONES – Hot Rocks 1964-1971 2LP (ABKCO) *2022 Reissue
SCONE CASH PLAYERS – Blast Furnace! LP/CD (Colemine) *Reissue – Ltd. Pink Vinyl
SOLID SPACE – Space Museum LP (Dark Entries) *Now available again!
MAX TUNDRA – Mastered By Guy At The Exchange LP (Domino) *Reissue – Ltd. Blue Vinyl
MAX TUNDRA – Some Best Friend You Turned Out To Be LP (Domino) *Reissue – Ltd. Green Vinyl
TZOMPANTLI – Tlazcaltiliztli LP/CD (20 Buck Spin) *Ltd. Splatter Vinyl
VARIOUS – Eccentric Soul: The Shiptown Label 2LP (Numero Group) *Black or "Chesapink" Vinyl