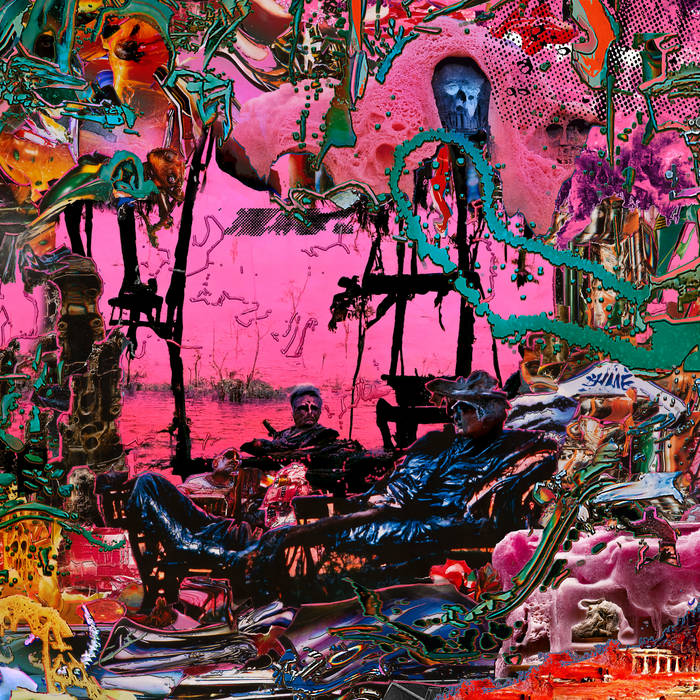 RECKLESS RECORDS 7/8/22 NEW RELEASES
ARP – New Pleasures LP (Mexican Summer)
Alexis Georgopolous returns as ARP, creating lush, subterranean pieces that touch on classical minimalism and the Fourth World excursions of JON HASSELL while maintaining a strong pop sensibility. Beautiful stuff that comes RECOMMENDED.
BLACK MIDI – Hellfire LP/CD (Rough Trade) *Ltd. Red or Black Vinyl w/ limited flexi 7″ while supplies last!
This third record from London's BLACK MIDI comes hot off the heels of 2021's Cavalcade, seeing the trio build off of the varied, proggy compositions and mid- 20th century crooner balladry of that previous record while embracing the intensity of their 2019 debut. Hellfire is overflowing with ideas and bursting with energy, evoking both 70s proggy art rock a la KING CRIMSON and the kitchen sink enthusiasm of a MIKE PATTON project. On Rough Trade and RECOMMENDED!
JENNYLEE – Heart Tax LP (Virgin) *Now available at a more affordable domestic price
After a few years off, Jenny Lee Lindberg has made a serious comeback with a new WARPAINT album & her 2nd solo album released almost simultaneously. We were really big fans of her first solo album & this one is also fantastic. The album opens with the amazing track "Stop Speaking" that features guest vocals from Dave Gahan of DEPECHE MODE (what??!!) that sounds like a half-speed TELEVISION track. Minimal almost dubby songs that dip into goth territory at times. REALLY GREAT STUFF!!
LYNYN – Lexicon LP/CD/CS (Sooper)
Lexicon is the 2022 album from Chicago artist Conor Mackey aka LYNYN, also a member of the band MONOBODY. Glitchy but melodic electronic music with nods at APHEX TWIN, SQUAREPUSHER, ARCA etc…
U.S. HIGHBALL – A Parkhead Cross of the Mind LP (Lame-O)
U.S. HIGHBALL is a duo from Glasgow. They've made a really unique sounding album that's sort of an updated take on 80s twee pop/early Rough Trade bands with some quirky drum machine programming & nice vocal harmonies. Imagine TV PERSONALITIES or early FEELIES with modern digital recording techniques.
OTHER IMPORTANT NEW RELEASES, REISSUES & RESTOCKS
BEABADOOBEE – Beatopia LP/CD (Dirty Hit) *Coke Bottle Clear Vinyl
GEORGE BRAITH – Extension LP (Blue Note) *Classic Vinyl Series
BRIGHT EYES – A Collection of Songs Written & Recorded 1995-1997 2LP (Dead Oceans)
BRIGHT EYES – Letting Off The Happiness LP (Dead Oceans)
CAMP TRASH – The Long Way, The Slow Way LP (Count Your Lucky Stars)
THE DANCE – Do Dada LP (Modern Harmonic) *Remastered – Orange Vinyl
THE DANCE – In Lust LP (Modern Harmonic) *Remastered – Green Vinyl
THE DANCE – Soul Force LP (Modern Harmonic) *Remastered – Yellow Vinyl
THE DREAM SYNDICATE – Ultraviolet Battle Hymns & True Confessions LP (Fire) *Ltd. Violet or Black Vinyl
ELF POWER – Artificial Countrysides LP (Yep Roc) *Limited Purple Vinyl
FEIERTAG – Dive LP (Sonar Kollektiv)
ELLA FITZGERALD & LOUIS ARMSTRONG – Ella & Louis LP (Verve) *Acoustic Sounds Series
HALSEY – If I Can't Have Love, I Want Power LP (Capitol) *Olive Green Vinyl w/ Alternate Artwork
HARUOMI HOSONO – Hosono House LP (Light in the Attic) *Pink Glass Color Vinyl
INTERPOL – The Other Side of Make-Believe LP/CD (Matador)
WAYLON JENNINGS – JD's LP (Reel) *RSD Essential Reissue – Grey Vinyl
DAMIEN JURADO – Reggae Film Star LP (Maraqopa)
LAUNDER – Happening 2LP/CD (Ghostly Int'l) *"Pink Noise" or Black Vinyl
LIZZO – Special LP/CD (Atlantic) *Ltd. "Grape" or Black Vinyl
DAVID LYNCH – Ghost of Love 7" (Sacred Bones)
MOLDER – Engrossed in Decay LP/CD (Prosthetic) *Color Vinyl
MY LIFE WITH THE THRILL KILL KULT – Sexplosion! LP (Wax Trax!) *Remastered on 2LP, Single Color or Black Vinyl
TAMI NEILSON – Kingmaker LP (Outside) *Ltd. Pink Vinyl
PAVEMENT – Westing (by Musket or Sextant) LP/CD (Matador) *2022 Reissue
MINNIE RIPPERTON – Come To My Garden LP (Reel) *Reissue – Ltd. Color Vinyl
SENSES FAIL – Hell is In Your Head LP (Pure Noise)
SHERELLE – fabric Presents Sherelle LP (fabric)
TWINK – You Reached for the Stars: The Best of Twink LP (Sundazed) *Remastered – Violet Vinyl
DON WILKERSON – Preach Brother! LP (Blue Note) *Classic Vinyl Series
YOUNG GUV – Guv III & IV 2LP (Run For Cover) *Yellow Vinyl
VARIOUS – Pacific Breeze Vol. 1 (Light in the Attic) *Back in stock!
VARIOUS – Pacific Breeze Vol. 2 (Light in the Attic) *Back in stock!