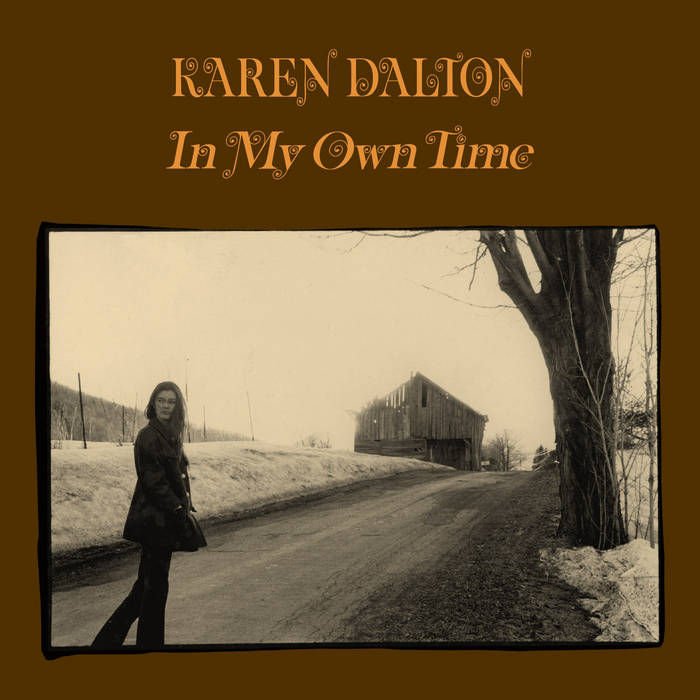 RECKLESS RECORDS 6/24/22 NEW RELEASES
KAREN DALTON – In My Own Time: 50th Anniversary Deluxe Edition LP (Light in the Attic) 2LP, 45RPM w/ bonus 7"s
Karen Dalton's second album didn't get the attention that it deserved when it was released in 1971 but over time it has come to be considered as a classic. You'd think her connections to others in the scene like Bob Dylan, Tim Hardin & Fred Neil would have cleared a path for Dalton's success but a variety of obstacles including music biz politics & Dalton's drug/alcohol abuse stalled any momentum she might have had. The album was reissued in 2010 & artists like Nick Cave & Joanna Newsom cited Dalton as an influence & that & other excellent reissues helped her legend grow. In 2021 a documentary was released & now this beautiful deluxe 50th anniversary edition is here with remastered audio, two bonus 7″s, extra tracks, booklet & beautiful foil-stamped art. RECOMMENDED.

JUST MUSTARD – Heart Under LP (Partisan) *Ltd. Blue Vinyl – Finally in stock!
Excellent sophomore record from the Irish quintet JUST MUSTARD, relishing in the steely post-punk of their fellow countrymen (and labelmates) FONTAINES D.C. but with a heavy embrace of classic trip-hop and shoegaze a la PORTISHEAD and MORCHEEBA with a little touch of MBV. There's a lot of compelling stuff coming from the U.K. and Ireland right now in the way of punk and art rock, but this certainly stands out in a very crowded field. On Partisan and HIGHLY RECOMMENDED.
SESSA – Estrela Acesa LP/CD (Mexican Summer) *Black or Ltd. Turquoise Vinyl
This sophomore record from Sergio Sayed (a.k.a. SESSA) embraces the nostalgic sounds of mid century Brazilian music: tropicalia, samba, MPB and bossa nova. Like on his debut, SESSA's music has a gentle, laid-back feel like a JOAO GILBERTO or early 70s JORGE BEN, but with an added element of gospel spirituality that touches on the more commune-ish ashram material from ALICE COLTRANE. This is an excellent record that should draw in fans of both classic Brazilian pop and modern folk. On Mexican Summer and HIGHLY RECOMMENDED!
JOAN SHELLEY – The Spur LP (No Quarter)
The Louisville based singer Joan Shelley teamed up with an impressive crew of musicians including Nathan Salsburg, James Elkington, Meg Baird, Bill Callahan & more to make this beautiful album of tunes. Shelley's songs seem to flow almost effortlessly reminding us of greats like Gillian Welch & Lucinda Williams. RECOMMENDED.
VARIOUS ARTISTS – Super Hits of the 70s: 12 Stellar Covers (Numero Group) *Black or Ltd. Gold Vinyl
A perfectly timed collection of summertime jams from the Numero vaults of private press gems. Super fun covers of classics by STEELY DAN, CARPENTERS, THE BOX TOPS, FLEETWOOD MAC, Neil Diamond & more!
ZOLA JESUS – Arkhon LP/CD/TAPE (Sacred Bones) *Black or Ltd. Indie Exclusive Eco-Mix Color Vinyl
Nika Roza Danilova aka ZOLA JESUS has been pretty public about her disappointment in the music industry over the past few years. So many artists were already struggling because of unfair streaming payouts & then the pandemic hit, cutting out any possibility of earning a living from performing. Danilova routinely vents about these issues online but always comes back around to music being a sort of savior for her. Arkhon is Danilova letting go & letting her art flow freely & the result is a surprisingly positive & even somewhat accessible album. Sure there are goth elements but there are also ballads & bombastic choruses. An impressive album.
OTHER IMPORTANT NEW RELEASES & RESTOCKS
AUTOMATIC – Excess LP/CD (Stones Throw) *Black or Ltd. Blue Vinyl
CAAMP – Lavender Days LP/CD/TAPE (Mom + Pop) *Color Vinyl
CANDY – Heaven is Here LP (Relapse)
COHEED & CAMBRIA – Vaxis II: Window of the Waking Mind LP/CD (Roadrunner)
CONVERGE – Bloodmoon 1 LP (Deathwish) *Color Vinyl, Indie Only
HOLLIE COOK – Happy Hour LP (Merge) *Peak Vinyl Edition
MARTIN COURTNEY – Magic Sign LP (Domino) *Black or Ltd. Color Vinyl
THE CURE – Disintegration LP (Fiction) Back in stock!
MIKEY ERG – Love at Leeds (feat. JEFF ROSENSTOCK) LP (Don Giovanni)
FUNKADELIC – Maggot Brain LP (Westbound) *Back in stock!
CONAN GRAY – Superache LP (Republic)
HATER – Sincere LP (Fire)
JACK JOHNSON – Meet the Moonlight LP (Brushfire)
PHIL LYNOTT & THIN LIZZY – Songs For While I'm Away CD/BLU-RAY/DVD & 2DVD/CD (Mercury)
THE MAGNETIC FIELDS – The House of Tomorrow 12" (Merge) *Peak Vinyl Edition – 30th Anniversary
MEGAN THEE STALLION – Good News LP (300 Entertainment) *Blue/White Vinyl – Finally available on LP!
MUNA – Muna LP/CD (Saddest Factory)
BEN PIRANI & GHOST FUNK'S QUARANTINE ORCHESTRA – Modern Scene 7" (Palmetto ST)
POLIÇA – Madness LP/CD (Memphis Industries)
PORTISHEAD – Dummy LP (Island) back in stock
MICHAEL RAULT – Michael Rault LP (Wick) *Black or Ltd. Blue Vinyl
REDD KROSS – Neurotica 2LP (Merge) *Peak Vinyl Edition – 35th Anniversary
SOCCER MOMMY – Sometimes Forever LP/CD (Loma Vista)
THESE ARMS ARE SNAKES – Easter LP (Jade Tree)
THESE ARMS ARE SNAKES – Oxeneers or the Lion Sleeps… LP (Jade Tree)
TIMBALAND & MAGOO – Indecent Proposal LP (Background)
TIMBALAND & MAGOO – Tim's Bio LP (Background)
TIMBALAND & MAGOO – Welcome to Our World LP (Background)
TSHA – fabric presents TSHA 2LP (fabric) *Yellow Vinyl
TYLER THE CREATOR – Call Me If You Get Lost LP (Columbia)
KANYE WEST – Donda 4LP (Def Jam)
KANYE WEST – Ye LP (Def Jam) *Back in print!
WARREN ZEVON – Preludes 2LP (New West) *Back in print on black vinyl!