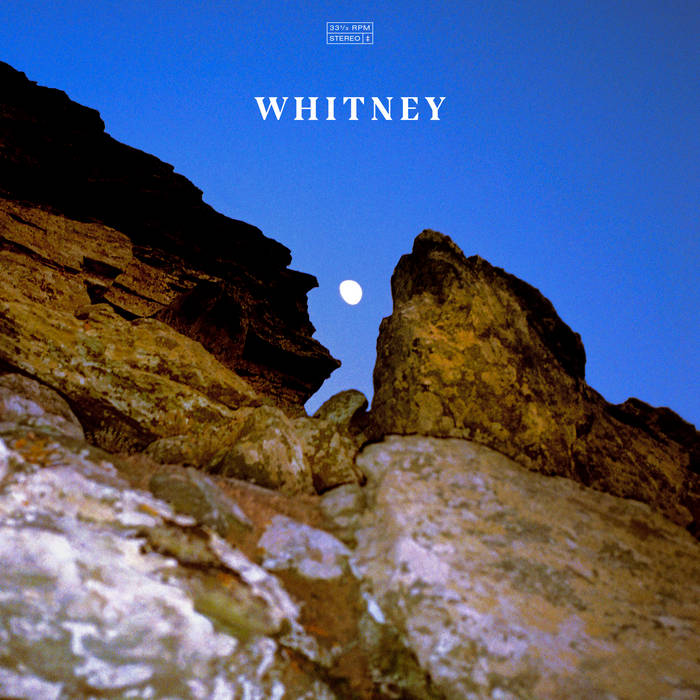 BIG‌ ‌JOANIE‌ ‌-‌ ‌Cranes‌ ‌in‌ ‌the‌ ‌Sky‌ ‌7"‌ ‌(Third‌ ‌Man)‌ ‌limited‌ ‌clear‌ ‌vinyl‌ ‌
Limited‌ ‌edition‌ ‌single‌ ‌&‌ ‌Third‌ ‌Man‌ ‌Records‌ ‌debut‌ ‌by‌ ‌BIG‌ ‌JOANIE,‌ ‌a‌ ‌black‌ ‌feminist‌ ‌punk‌ ‌band‌ ‌from‌ ‌London.‌ ‌Their‌ ‌cover‌ ‌of‌ ‌the‌ ‌SOLANGE‌ ‌track‌ ‌"Cranes‌ ‌in‌ ‌the‌ ‌Sky"‌ ‌should‌ ‌certainly‌ ‌turn‌ ‌some‌ ‌heads‌ ‌with‌ ‌a‌ ‌take‌ ‌that‌ ‌sounds‌ ‌like‌ ‌late‌ ‌90's‌ ‌Touch‌ ‌&‌ ‌Go‌ ‌bands‌ ‌mixed‌ ‌with‌ ‌60s‌ ‌girl‌ ‌group‌ ‌vibes.‌ ‌ ‌
 ‌CHESLEY/ALBINI/MIDYETT/LEA‌ ‌-‌ ‌‌Music‌ ‌From‌ ‌the‌ ‌Film‌ ‌Girl‌ ‌on‌ ‌the‌ ‌Third‌ ‌Floor‌ ‌‌soundtrack‌ ‌ ‌ ‌LP‌ ‌(Touch‌ ‌&‌ ‌Go)‌ ‌
A‌ ‌dark‌ ‌&‌ ‌ominous‌ ‌score‌ ‌for‌ ‌the‌ ‌2019‌ ‌horror‌ ‌film‌ ‌"Girl‌ ‌on‌ ‌the‌ ‌Third‌ ‌Floor"‌ ‌by‌ ‌Steve‌ ‌Albini,‌ ‌Tim‌ ‌Midyett‌ ‌of‌ ‌SILKWORM,‌ ‌Alison‌ ‌Chesley‌ ‌of‌ ‌HELEN‌ ‌MONEY‌ ‌&‌ ‌Gaelynn‌ ‌Lea‌ ‌of‌ ‌THE‌ ‌MURDER‌ ‌CROWS.‌ ‌Albini's‌ ‌guitar‌ ‌tone‌ ‌is‌ ‌immediately‌ ‌recognizable‌ ‌&‌ ‌Midyett's‌ ‌time‌ ‌in‌ ‌the‌ ‌SUNN‌ ‌O)))‌ ‌touring‌ ‌band‌ ‌is‌ ‌apparent‌ ‌in‌ ‌these‌ ‌pieces‌ ‌mixed‌ ‌with‌ ‌noisey‌ ‌guitar‌ ‌&‌ ‌Chesley's‌ ‌cello‌ ‌drones.‌ ‌The‌ ‌18‌ ‌minutes‌ ‌plus‌ ‌song‌ ‌"Irish"‌ ‌sounds‌ ‌like‌ ‌FAIRPORT‌ ‌CONVENTION‌ ‌in‌ ‌the‌ ‌doom‌ ‌realm‌ ‌with‌ ‌haunting‌ ‌vocals‌ ‌by‌ ‌Gaelynn‌ ‌Lea.‌ ‌Some‌ ‌great‌ ‌music‌ ‌that‌ ‌holds‌ ‌up‌ ‌alongside‌ ‌other‌ ‌great‌ ‌contemporary‌ ‌horror‌ ‌soundtracks.‌ ‌RECOMMENDED.‌ ‌ ‌
EDDIE‌ ‌CRISS‌ ‌GROUP‌ ‌-‌ ‌‌Undertaker‌‌ ‌LP‌ ‌(Hozac)‌ 
‌Wow!‌ ‌Fantastic‌ ‌proto-punk/glam‌ ‌from‌ ‌1980‌ ‌featuring‌ ‌MC5's‌ ‌Wayne‌ ‌Kramer‌ ‌on‌ ‌lead‌ ‌guitar!‌ ‌It's‌ ‌constantly‌ ‌baffling‌ ‌to‌ ‌us‌ ‌that‌ ‌records‌ ‌like‌ ‌this‌ ‌exist‌ ‌&‌ ‌we're‌ ‌just‌ ‌hearing‌ ‌them‌ ‌for‌ ‌the‌ ‌first‌ ‌time.‌ ‌Really‌ ‌catchy,‌ ‌melodic‌ ‌songs‌ ‌with‌ ‌crazed‌ ‌soloing‌ ‌by‌ ‌Kramer‌ ‌&‌ ‌tight‌ ‌production‌ ‌by‌ ‌David‌ ‌Peel.‌ ‌Fans‌ ‌of‌ ‌post‌ ‌STOOGES‌ ‌punk,‌ ‌MC5,‌ ‌GG‌ ‌Allin,‌ ‌early‌ ‌NYC‌ ‌punk/glam‌ ‌will‌ ‌absolutely‌ ‌love‌ ‌this.‌ ‌RECOMMENDED.‌ ‌ ‌
ANGEL‌ ‌BAT‌ ‌DAWID‌ ‌-‌ ‌‌Transition‌ ‌East‌ ‌b/w‌ ‌No‌ ‌Space‌ ‌Fo‌ ‌Us‌ ‌‌7"‌ ‌(International‌ ‌Anthem)‌ ‌
ANGEL‌ ‌BAT‌ ‌DAWID‌ ‌follows‌ ‌up‌ ‌her‌ ‌incredible‌ ‌2019‌ ‌album‌ ‌"The‌ ‌Oracle"‌ ‌with‌ ‌this‌ ‌7″‌ ‌recorded‌ ‌alone‌ ‌in‌ ‌her‌ ‌Chicago‌ ‌practice‌ ‌space.‌ ‌Another‌ ‌killer‌ ‌Int'l‌ ‌Anthem‌ ‌release,‌ ‌and‌ ‌a‌ ‌must-buy‌ ‌for‌ ‌any‌ ‌fan‌ ‌of‌ ‌forward-thinking‌ ‌jazz.‌ ‌RECOMMENDED,‌ ‌of‌ ‌course!‌ ‌ ‌
REB‌ ‌FOUNTAIN‌ ‌-‌ ‌‌Reb‌ ‌Fountain‌‌ ‌LP‌ ‌(Flying‌ ‌Nun)‌ 
‌The‌ ‌talented‌ ‌New‌ ‌Zealand‌ ‌musician‌ ‌Reb‌ ‌Fountain‌ ‌returns‌ ‌with‌ ‌this‌ ‌2020‌ ‌album.‌ ‌Dramatic‌ ‌&‌ ‌sometimes‌ ‌dark‌ ‌songs‌ ‌that‌ ‌will‌ ‌appeal‌ ‌to‌ ‌fans‌ ‌of‌ ‌the‌ ‌mellow‌ ‌side‌ ‌of‌ ‌Nick‌ ‌Cave‌ ‌&‌ ‌the‌ ‌Bad‌ ‌Seeds,‌ ‌Sharon‌ ‌Van‌ ‌Etten,‌ ‌Patti‌ ‌Smith‌ ‌Etc…‌ ‌ ‌
HOME‌ ‌BLITZ‌ ‌-‌ ‌‌All‌ ‌Through‌ ‌the‌ ‌Year‌ ‌‌12"‌ ‌(Sophomore‌ ‌Lounge)‌
 ‌More‌ ‌demented‌ ‌power-pop‌ ‌greatness‌ ‌from‌ ‌New‌ ‌Jersey's‌ ‌HOME‌ ‌BLITZ.‌ ‌Like‌ ‌a‌ ‌twisted‌ ‌mix‌ ‌of‌ ‌early‌ ‌90s‌ ‌lo-fi‌ ‌cassette‌ ‌culture,‌ ‌"Dirty‌ ‌Mind"‌ ‌era‌ ‌PRINCE‌ ‌&‌ ‌ROYAL‌ ‌ ‌TRUX‌ ‌&‌ ‌it‌ ‌all‌ ‌works‌ ‌somehow.‌ ‌ ‌
WHITNEY‌ ‌-‌ ‌‌Candid‌‌ ‌LP/CD/TAPE‌ ‌(Secretly‌ ‌Canadian)‌ ‌limited‌ ‌blue‌ ‌or‌ ‌black‌ ‌vinyl‌ ‌
One‌ ‌of‌ ‌Chicago's‌ ‌best‌ ‌bands‌ ‌returns‌ ‌with‌ ‌a‌ ‌collection‌ ‌of‌ ‌covers‌ ‌&‌ ‌they've‌ ‌done‌ ‌a‌ ‌fantastic‌ ‌job‌ ‌of‌ ‌making‌ ‌these‌ ‌songs‌ ‌their‌ ‌own.‌ ‌Katie‌ ‌Crutchfield‌ ‌of‌ ‌WAXAHATCHEE‌ ‌lends‌ ‌some‌ ‌vocals‌ ‌to‌ ‌ ‌the‌ ‌John‌ ‌Denver‌ ‌classic‌ ‌"Take‌ ‌Me‌ ‌Home,‌ ‌Country‌ ‌Roads"‌ ‌&‌ ‌they‌ ‌also‌ ‌take‌ ‌on‌ ‌songs‌ ‌by‌ ‌THE‌ ‌ROCHES,‌ ‌Blaze‌ ‌Foley,‌ ‌Damien‌ ‌Jurado,‌ ‌Brian‌ ‌Eno/David‌ ‌Byrne‌ ‌&‌ ‌more.‌ ‌ ‌RECOMMENDED‌ ‌of‌ ‌course.‌ ‌ ‌Other‌ ‌important‌ ‌new‌ ‌releases3‌ ‌
OTHER IMPORTANT NEW RELEASES
CR18‌ ‌-‌ ‌‌Minecraft‌ ‌Volume‌ ‌Beta‌‌ ‌LP‌ ‌(Ghostly)‌ ‌
TANYA‌ ‌DONNELLY‌ ‌&‌ ‌THE‌ ‌PARKINGTON‌ ‌SISTERS‌ ‌-‌ ‌‌Tanya‌ ‌Donnelly‌ ‌&‌ ‌the‌ ‌Parkington‌ ‌ ‌ ‌Sisters‌‌ ‌LP‌ ‌(American‌ ‌Laundromat)‌ ‌limited‌ ‌color‌ ‌
14TH‌ ‌WISH‌ ‌-‌ ‌‌I‌ ‌Gotta‌ ‌Get‌ ‌Rid‌ ‌of‌ ‌You‌‌ ‌7"‌ ‌(Hozac)‌ ‌ ‌
BILL‌ ‌FRISELL‌ ‌-‌ ‌‌Valentine‌‌ ‌LP‌ ‌(Blue‌ ‌Note)‌ ‌
JERRY‌ ‌GARCIA/‌ ‌JOHN‌ ‌KAHN‌ ‌-‌ ‌‌Garcialive‌ ‌Volume‌ ‌14‌‌ ‌LP‌ ‌(ATO)‌
‌KING‌ ‌GIZZARD‌ ‌&‌ ‌THE‌ ‌LIZARD‌ ‌WIZARD‌ ‌-‌ ‌‌Mild‌ ‌High‌ ‌Club‌‌ ‌LP‌ ‌(yellow/blue‌ ‌splatter‌ ‌reissue)‌ ‌
ZARA‌ ‌McFARLANE‌ ‌-‌ ‌‌Songs‌ ‌of‌ ‌An‌ ‌Unknown‌ ‌Tongue‌ ‌‌LP‌ ‌(Brownswood)‌ ‌
MAC‌ ‌MILLER‌ ‌-‌‌ ‌K.I.D.S.‌‌ ‌LP‌ ‌(Rostrum)‌ ‌
JONATHAN‌ ‌RICHMAN‌ ‌-‌ ‌‌I,‌ ‌Jonathan‌‌ ‌LP‌ ‌(Craft)‌ ‌first‌ ‌ever‌ ‌vinyl‌ ‌release‌ ‌
WHIRYWHIRLD‌ ‌-‌ ‌‌Complete‌ ‌Studio‌ ‌Works‌ ‌1978-1980‌ ‌‌LP‌ ‌(Hozac)‌ ‌ ‌ ‌ ‌