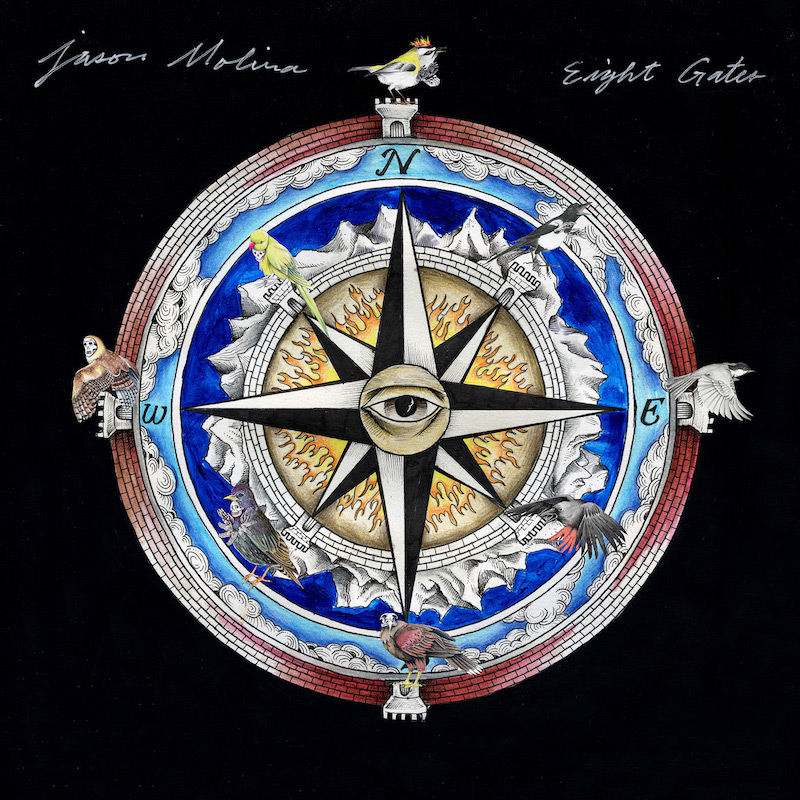 8/7/20 NEW RELEASES
MASAKI BATOH – Smile Jesus Loves You LP (Drag City)
The Japanese psychedelic legend Masaki Batoh is back with a playful new solo album. With help from members of his band GHOST & also FUSHITSUSHA, Batoh has created a mellow psychedelic pop album that will definitely appeal to all fans of Japanese psych & folk.
L-SEVEN – L- Seven LP (Third Man)
Third Man has delivered an excellent LP of previously unreleased material by the early 80s Detroit post-punk band L-SEVEN, not to be confused with the well known 90s group L7. Led by vocalist Larissa Stolarchuk who would later play guitar with LAUGHING HYENAS as Larissa Strickland, L-SEVEN made rhythmic & angular post-punk that had touches of SLITS & ESSENTIAL LOGIC funkiness to it but a darker tone all around. They only released one 7″ at the time & it was the first release on the TOUCH & GO offshoot label Special Forces. RECOMMENDED!
JASON MOLINA – Eight Gates LP/CD (Secretly Canadian) limited color or black vinyl
In the mid 2000s, Jason Molina moved from the Midwest to London. He had already solidified himself as one of the best American songwriters of his generation & he started his first songs in England that would turn out to be his final recordings. Some songs seem fully formed & others are skeletons of songs, mostly acoustic based with his singing as strained & emotional as ever. It's amazing that this exists & it's great that we can all get to hear this now. RECOMMENDED.
BILL NACE – Both LP (Drag City)
The Philadelphia based guitarist & Thurston Moore collaborator & NO/AGE member delivers this excellent slab of guitar improvisations. Cyclical drones & dense noise that will appeal to the more experimental side of SONIC YOUTH, early Xpressway noise like DEAD C etc…
THE STOOGES – Live at Goose Lake August 8th, 1970 (Third Man) limited edition color vinyl in alternate, silk-screened sleeve
50 years later, the final performance by the original line-up of THE STOOGES is released on vinyl. This soundboard recording is raw in exactly the ways you'd hope. There's some video on YouTube with lesser sound quality to give you an idea of how wild it must have been. Iggy & the boys perform "Fun House" in its entirety & of course it's totally crazed. This color vinyl edition is limited to 1000 copies & it comes in a unique, silk-screened sleeve. RECOMMENDED OF COURSE!
WASHED OUT – Purple Noon LP/CD (Sub Pop) Loser edition, first press color vinyl
Ernest Greene & his WASHED OUT Project have returned to Sub Pop for "Purple Noon." Mellow synth pop with that beachy vibe that so many 80s records had. Think SADE, DURAN DURAN, songs playing in the background while Crockett & Tubbs are settling up on a cocainedeal in a bar on Miami Vice. Good summer tunes…
OTHER IMPORTANT NEW RELEASES
BLACKLAB – Abyss LP (New Heavy Sounds) ltd. "cosmic swirl" vinyl
BRONSON – Bronson LP (Ninja Tune) clear vinyl
COLOURED BALLS – Liberate Rock: Singles & More 1972-1975 LP (Just Add Water) vinyl in alternate, silk-screened sleeve
COLOURED BALLS – Rock Your Arse Off! Live at Festival Hall 10 Nov. 1972 LP (Just Add Water) limited colour or black vinyl
GLASS ANIMALS – Dreamland LP (Wolftone) indie only color or black vinyl w/ limited print while supplies last
INVENTIONS – Continuous Portrait LP (Temporary Residence) color vinyl
JACUZZI BOYS – Pits 7" (Third Man)
JAYE JAYLE – Prisyn LP (Sargent House)
PUBLIC EYE – Music for Leisure LP (Pop Wig)
KALYANI ROY – Virtuoso of Sitar Vol. I LP (Vishra)
KALYANI ROY – Virtuoso of Sitar Vol. II LP (Vishra)
LINGO SEINI ET SON GROUPE – Musique Hauka LP (Sahel Sounds)
BROTHER THEOTIS TAYLOR – Brother Theotis Taylor LP (Mississippi)
THAT DOG – Retreat From the Sun LP (Third Man) limited color or black
THAT DOG – Totally Crushed Out LP (Third Man)
THOU – Heathen 2LP (Gilead) 2020 repress!
V/A – Eccentric Funk LP (Numero Group) color vinyl, limited
V/A – The World is a Cafeteria: American Soul Music (And One Song From Ghana) 1955-1998 LP (Cairo)
VIDEO AGE – Pleasure Line LP (Winspear) color vinyl