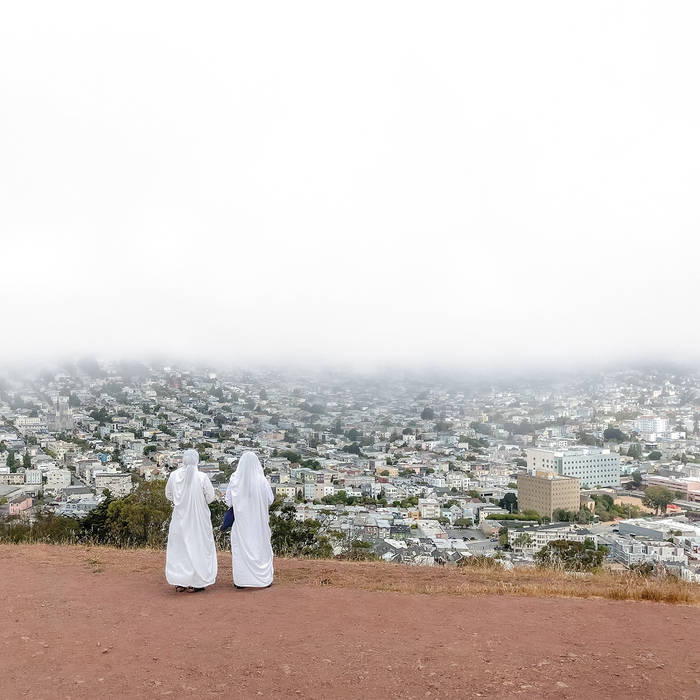 RECKLESS RECORDS 9/16/22 NEW RELEASES
AZIZ & FRIENDS – Waves of Peace LP (Morning Trip)
Wonderful reissue of this 1983 album from the sitar player AZIZ. Gentle synthesizer drone mixed in with sitar, flute & tambura as well as some sounds from nature. Remastered on Morning Trip Records and TOTALLY RECOMMENDED.
THE BETHS – Expert In A Dying Field LP/CD/CS (Carpark) *Ltd. Yellow Vinyl
More crunchy power-pop from this Kiwi quartet on their third LP, refining some of the uptempo, early-WEEZER-y parts of Jump Rope Gazers with wry singer-songwriter influence in the vein of a PHOEBE BRIDGERS or COURTNEY BARNETT. Excellent stuff on Carpark Records – RECOMMENDED!
THE BLACK ANGELS – Wilderness of Mirrors 2LP/CD (Partisan) *Black or Ltd. Indie Exclusive Color Vinyl
The first new album for THE BLACK ANGELS in five years is well worth the wait, as the sun-soaked psychedelia of their previous work gets infused with Mellotron and strings. Still more than a fair share of guitar fuzz on this one tho, often sounding like an OSEES album caught in the middle of a Jodorowsky film. RECOMMENDED!
GLORIA DE OLIVEIRA & DEAN HURLEY – Oceans of Time LP/CD (Sacred Bones) *Ltd. Lavender Swirl Vinyl
Gloria de Oliveira is a German/Brazilian singer & songwriter & Dean Hurley has been collaborating with David Lynch in sound design since 2006. Mellow dream pop with lush, orchestral passages that remind us of COCTEAU TWINS, Julee Cruise etc… RECOMMENDED.
THE DEAD TEXAN – The Dead Texan LP (Kranky) *First time ever on vinyl!
The DEAD TEXAN is a continuation of STARS OF THE LID member ADAM WILTZE's nocturnal musical fumblings; piano and strings give a cinematic field to the guitar and synth processes. FIRST EVER VINYL PRESSING FINALLY IN 2022! HIGHLY, HIGHLY RECOMMENDED!
DEATH CAB FOR CUTIE – Asphalt Meadows LP/CD (Barsuk) *Black or Ltd. Indie Exclusive Pink Vinyl
DEATH CAB FOR CUTIE return after a four year absence, and like most of us nowadays they sound absolutely psyched to be able to get out of the house and play some music with good friends. John Congleton's rich technicolor production perfectly complements Ben Gibbard's bittersweet indie pop jams, which at their best evoke the band's mid-aughts peak but also Reckless faves like NEW ORDER, THE CURE, and ECHO & THE BUNNYMEN. This feels like a statement from a beloved band that still has someting to say. It's our favorite Death Cab album in a real long time. HIGHLY RECOMMENDED!
RANDY HOLDEN – Population III LP/CD (Riding Easy)
40 years after recording the legendary POPULATION II album, the guitar god Randy Holden teamed up with members of CACTUS & drummer Bobby Rondinelli who played with BLACK SABBATH, BLUE OYSTER CULT & RAINBOW to name a few (!!) to make POPULATION III. Now 10 years later those sessions have finally been released. This truly does sound like a logical extension of Holden's classic psych/proto-metal album & this also would have fit right in the 2010 sound ala reformed PENTAGRAM, Brant Bjork etc…RECOMMENDED!
NECROPHOBIC – The Nocturnal Silence LP/CD (Century Media)
ATTENTION 90s SWEDISH DEATH METAL FANS!! This classic from 1993 has been remastered & is finally available again courtesy of Century Media. Fans of other legends like ENTOMBED, DISSECTION, GRAVE, etc…will want to pick this up. RECOMMENDED.
BILL ORCUTT – Music For Four Guitars LP (Palilalia)
On this 2022 album, Bill Orcutt is on the electric guitar & the sounds are trebly & brittle. Four tracks of guitars that sometimes sound randomly layered or at other times like a demented Saharan guitar band, isolated Beefheart guitar tracks or a loop pedal gone rogue. Wild stuff! RECOMMENDED!
YOUNG JESUS – Young Jesus LP (Saddle Creek)
Total "zag" from YOUNG JESUS and John Rossiter (who is now the sole member), who brings his rich tenor to the forefront with a more spacious, lush and spiritually focused sound. Some interesting sound design on this one as well with field recordings and white noise. RECOMMENDED!
OTHER IMPORTANT NEW RELEASES, REISSUES & RESTOCKS
AALIYAH – I Care 4 U 2LP (Blackground) *2021 Reissue – Now available on vinyl!
AALIYAH – Ultimate Aaliyah 3LP (Blackground) *Now available on vinyl!
AHASVER – Causa Sui LP (Lifeforce)
AU SUISSE – Au Suisse LP (City Slang) *Ltd. Indie Exclusive White Vinyl
BEHEMOTH – Opvs Contra Natvram 2LP/CD (Nuclear Blast)
BENT ARCANA – Live Zebulon LP (Castle Face) *Black or Ltd. Color Vinyl
BLACKWINTERWELLS – Crystal Shards LP (Eyeball)
BLOOD INCANTATION – Timewave Zero LP (Century Media) *Now available on vinyl!
PI'ERRE BOURNE – The Life of Pi'erre 5 2LP (Interscope) *Ltd. Clear Vinyl
CLUTCH – Sunrise on Slaughter Beach LP/CS (Weathermaker)
MILES DAVIS – That's What Happened: The Bootleg Series Vol. 7 2LP/3CD (Legacy) *Ltd. White Vinyl
JOHN DENVER – Rocky Mountain High LP (Windstar) *50th Anniversary – Ltd. Blue Vinyl
FAKE PALMS – Lemons LP (Hand Drawn Dracula) *Ltd. Color Vinyl
GREEN DAY – American Idiot 2LP (Warner) *180g, Remastered – Back in stock!
GUIDED BY VOICES – Bee Thousand LP (Scat) *Back in stock!
GWAR – The New Dark Ages 2LP (Pit) *Ltd. Marbled Vinyl
THE HARLEM GOSPEL TRAVELERS – Look Up! LP (Colemine) *Ltd. Blue Vinyl
JACK HARLOW – Come Home The Kids Miss You LP (Atlantic) *Ltd. White Vinyl
THE HEARTBREAKERS – L.A.M.F. LP (Jungle) *RSD Essential – Ltd. Neon Pink/White Vinyl
JESCA HOOP – Order of Romance LP (Memphis Industries) *Ltd. Red Vinyl
INNUMERABLE FORMS – Philosophical Collapse LP (Profound Lore)
J DILLA – B.B.E. 12″ LP (B.B.E.)
J DILLA – Donuts LP (Stones Throw) *"Donut Shop" cover back in stock!
JOJO – The High Road LP (Blackground) *2022 Reissue
JILL KROESEN – I Really Want To Bomb You 1972-1984 LP (Modern Harmonic) *Ltd. Orange Vinyl
LAKE STREET DIVE – Fun Machine: The Sequel CD (Fantasy)
LAUFFEY – Everything I Know About Love LP (AWAL Recordings)
LIARS – They Were Wrong, So We Drowned LP (Mute) *2022 Reissue – Ltd. Recycled Color Vinyl
LISSIE – Carving Canyons LP (Lionboy) *Ltd. Indie Exclusive Color Vinyl
DION LUNADON – Dion Lunadon LP (Agitated)
THE MARS VOLTA – The Mars Volta LP/CD (Clouds Hill)
MASERATI – The Language of Cities 2LP (Temporary Residence) *Ltd. Clear/Red/Yellow Vinyl
THE NERVES – One Way Ticket LP (Alive) *Ltd. Clear Blue Vinyl
POP SMOKE – Faith LP (Republic)
GINNY REDINGTON – Open Wide America: Jingle Workshop LP (Modern Harmonic) *Ltd. White Vinyl
JONATHAN RICHMAN & THE MODERN LOVERS – Rock 'N' Roll With… LP (Omnivore) *Ltd. Color Vinyl
LEANN RIMES – God's Work LP (Everle)
RUN THE JEWELS – RTJ4 2LP (BMG) *Tour Edition – Ltd. Splatter Vinyl
RINA SAWAYAMA – Hold The Girl LP (Dirty Hit) *Ltd. Red Vinyl
700 BLISS – Nothing To Declare CD (Hyperdub)
SPOON – Kill The Moonlight LP (Matador) *20th Anniversary – Ltd. White Vinyl
RICK SPRINGFIELD – Working Class Dog LP (Songvest) *40th Anniversary Special Live Edition
SUMERLANDS – Dreamkiller LP/CD/CS (Relapse) *Ltd. Neon Violet or Ltd. Mustard Color Vinyl
TAKING BACK SUNDAY – Louder Now LP (Warner) *2022 Reissue
TWINART – Instant This/ Instant That: NY NY 1978-1985 2LP (Modern Harmonic) *Ltd. Clear Vinyl
ARTHUR VEROCAI – Arthur Verocai LP (Mr. Bongo) *Remastered – Back in stock!
WHITNEY – Spark LP/CD/CS (Secretly Canadian) *Black, Ltd. White, or Chicago Exclusive Yellow Vinyl