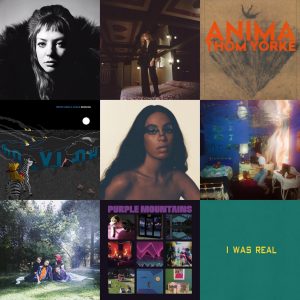 Dylan Sowle
BEST OF 2019
Tim Hecker – Anoyo (Kranky)
Steve Hauschildt – Nonlin (Ghostly International)
Better Oblivion Community Center – Better Oblivion Community Center (Dead Oceans)
Mort Garson – Mother Earth's Plantasia [reissue] (Sacred Bones)
Equip – Cursebreaker X (100% Electronica)
Mike Krol – Power Chords (Merge)
Andrew W.K. – The Wolf [first time on vinyl] (Enjoy The Ride)
Adventure Time: The Complete Series Soundtrack (Mondo)
Amanda Palmer – There Will Be No Intermission (8ft. Records)
Alessandro Cortini – Volume Massimo (Mute)
HONORABLE MENTIONS
Ladytron – Ladytron (Ladytron Music)
Iggy Pop – Free (Loma Vista)
The Flaming Lips – King's Mouth (Warner Records)
LCD Soundsystem – Electric Lady Sessions (DFA)
Sharon Van Etten – Remind Me Tomorrow (Jagjaguwar)
Flying Lotus – Flamagra (Warp)
Thom Yorke – Anima (XL Recordings)
King Gizzard And The Lizard Wizard – Infest The Rats' Nest (Flightless)
Hide – Hell Is Here (Dais Records)
Shrek: Music From The Original Motion Picture [first time on vinyl] (Geffen)
Philip Cerza
Jaime // Brittany Howard
All Mirrors // Angel Olsen
Anak Ko // Jay Som
The Center Won't Hold // Sleater-Kinney
Igor // Tyler The Creator
Ilana (The Creator) // Mdou Moctar
In League With Dragons // The Mountain Goats
LEGACY! LEGACY! // Jamila Woods
Life Metal // SUNN O)))
Miss Universe // Nilüfer Yanya
No Holiday // The Muffs
Norman Fucking Rockwell // Lana Del Rey
On The Line // Jenny Lewis
Pony // Orville Peck
Purple Mountains // Purple Mountains
Remind Me Tomorrow // Sharon Van Etten
Sasami // Sasami
Sound & Fury // Sturgill Simpson
Thrashing Thru The Passion // The Hold Steady
Two Hands // Big Thief
When I Get Home // Solange
J.D. Reager
2019: My Year

New records
1. Toy Trucks Rockets Bells & Poetry lp
Ferocious garage rock/punk rock with big power pop hooks from Memphis, TN.  OG/ex-Reigning Sound.
2. Arthhur Lost In The Walled City cassette
Frenetic and dance-y rock music from Chicago with actual heart.  Amazing live band – so good, in fact, I stole them for myself (very politely). 
3.  Tape Deck One False Step cassette
Weird pop music from Memphis.  They Might Be Giants meets Randy Newman played by a metal band.  So good, in fact, I put it out myself (not as politely).
4.  Heels Good People Even Do Bad Things cd
Sincere and ragged folk-punk duo from Memphis.
5. Tim Heidecker What The Brokenhearted Do lp
Break-up album parody that hits/cuts on numerous fronts.

Old records
1. John Linnell State Songs lp
Re-issue of a wildly underappreciated solo album by the accordion-playing John from They Might be Giants previously only out on cd.  Features a haunting and charmingly out of tune carousel organ and songs so infectious, you may consider actually visiting Utah or Montana. 
2. Bruce Springstone Live at Bedrock 12" single
Sweet, blue collar rock jam that really evokes a certain place and time + a killer sax solo. Dig of the year candidate.
3. In-store plays
In addition to my usual suspects, I got into big Ike & Tina Turner, Dave Clark Five, McCartney Ram album, "Strange" Al Yankovic, Rufus Thomas, the Dillards, The Music Man soundtrack, and Leonard Nimoy kicks this year. 

Live shows
Jenny Slate @ the Vic, Bob Mould @ Metro, Comedy Bang Bang @ Chicago Theater, Riot Fest (Jawbreaker/Descendents/B-52s/Guided By Voices), Ben Ricketts/Heels/Rosey @ Hi-Tone (Memphis)

Neighborhood eats
1. Mixteco fish taco lunch w/ habanero salsa
2. IDOF chicken shawarma plate
3. Bop N Grill bulkogi philly egg roll

Angela Avila
Best of 2019 
(In No Particular Order)
Affront – Demo
TR/ST – The Destroyer-1
Slant – Vain Attempt 7" 
Jackal – EP 7" 
DJ N***a Fox – Cartas Na Manga
Skepta – Ignorance Is Bliss
Felicia Atkinson – The Flower and The Vessel
Sunami – Demo
Hannah Diamond – Reflections
DJ Nate – Take Off Mode
Game – No One Wins
Roy Garrett & Man Parrish – Hot Rod To Hell
Psychos – One Voice
Megan Thee Stallion – Fever
Wild Side – Who The Hell Is Wild Side?
Kedr Livanskiy. – Your Need
Lil Moss – TITU
Eartheater – Trinity
Qual – Cyber Care EP
Firewalker – The Roll Call 7"
Caroline Polachek – Pang
Sandy Alex G. – House of Sugar
REISSUES:
Angela – Fantasy 12"
Dolly Mixture – Demonstration Tapes
The COMES – No Side
Lhasa – Acetabularia/ Acetatechno
Articles of Faith 7"s
Steven Rahman
In no particular order, these are things I liked from this year's release slate:
Adam Deitch Quartet – Egyptian Secrets
Ezra Collective – You Can't Steal My Joy
Benny the Butcher – The Plugs I Met
Injury Reserve – Injury Reserve
Dreamville – Revenge of the Dreamers 3
Da Baby – Baby on Baby
YBN Cordae – Lost Boy
Chance the Rapper – Big Day
Future Teens – Breakup Season
Phum Viphruit – Bangkok Balter Club
Moonchild – Little Ghost
Tank & the Bangas – Green Balloon
Clear Soul Forces – Still
21 Savage – I Am > I Was
Little Brother – May the Lord Watch
RWSKY – Drop It Low For Jesus
Gary Errera
Darkthrone – Old Star
Madonna – Madame X
Iggy Pop – Free
Kedr Livanskiy – Your Need
Alcest – Spiritual Instinct
Equip – Cursebreaker X
Drab Majesty – Modern Mirror
Boy Harsher – Careful
Moodymann – SINNER
Fire-Toolz – Field Whispers (Into the Crystal Palace)
ANTHONY ILLARDE
BEST OF 2019
CURT BOETTCHER & FRIENDS Looking For The Sun (High Moon LP)
CARDIGANS First Band On The Moon (Universal LP)
END RESULT The Seven Year Locust Returns (Alonas Dream LP)
THE FALL Bend Sinister / The Domesday Pay-Off Triad Plus! (Beggars Banquet 2LP)
LEE FIELDS & THE EXPRESSIONS It Rains Love (Big Crown LP)
ARETHA FRANKLIN Amazing Grace Documentary
ARETHA FRANKLIN Songs Of Faith: Aretha Gospel (Geffen LP)
HARLEM GOSPEL TRAVELERS He's On Time (Colemine LP)
DURAND JONES & THE INDICATIONS American Love Call (Dead Oceans LP)
DAMON LOCKS BLACK MONUMENT ENSEMBLE Where Future Unfolds (International Anthem LP)
PETER PERRETT Humanworld (Domino LP)
JESSICA PRATT Quiet Signs (Mexican Summer LP)
MAMMAN SANI La Musique Electronique Du Niger LP (Sahel Sounds)
RAYMOND SCOTT The Jingle Workshop 2LP (Modern Harmonic)
STEREOLAB Mars Audiac Quintet (Elektra 2LP)
VANISHING TWIN The Age of Immunology (Fire LP)
CAETANO VELOSO Caetano Veloso (Third Man LP)
JESSY WILSON Phase (May 3rd LP)
VARIOUS All The Young Droogs (RPM 3CD)
Dillon Guelich 
Titanic Rising – Weyes Blood
Free – Iggy Pop
Pinata – Freddie Gibbs and Madlib
Purple Mountains – Purple Mountains
Infest the Rats Nest – King Gizzard and the Lizard Wizard
Ventura – Anderson Paak
Lookout Low – Twin Peaks
Fly or Die II: Bird Dogs of Paradise – Jaimie Branch
Where Future Unfolds – Damon Locks/Black Monument Ensemble
Stomping off from Greenwood – Greg Ward's Rogue Parade
Waning Days of Babylon – Sci-fi Sleep Cycles (ANGUS)
Forward – Paul Dietrich Jazz Ensemble
Lost in the Walled City – Arthhur (honorable 2018 mention)
Crushing – Julia Jacklin
     My apologies to all of the albums I didn't hear or list
Luke Dahlgren
— a dozen great new albums from the Reckless shelves —
Big Thief – U.F.O.F. (4AD) folk
Delroy Edwards – Wagon Wheels (L.I.E.S.) house
Giant Swan – Giant Swan (Keck) techno
Laurel Halo [mix] – DJ-Kicks (!K7) techno / experimental
Mid-Air Thief – Crumbling (Top Shelf) art pop / psych-folk
Jessica Pratt – Quiet Signs (Mexican Summer) folk
Junius Paul – Ism (International Anthem) jazz
Ana Roxanne – ~~~ (Leaving) ambient / experimental
Vanishing Twin – The Age of Immunology (Fire) art pop / electronic
v/a – CR015 (Chicago Research) industrial / experimental / post-punk
v/a – Eminent Domain (L.I.E.S.) industrial / techno / noise
v/a – Sunny Side Up (Brownswood) jazz
— plus: some reissued materials from this year —
Sachiko Kanenobu – Misora (Light in the Attic) folk
Konk – The Magic Force of Konk: 1981-1988 (Futurismo) funk-punk / no wave
Protomartyr – No Passion All Technique (Domino) post-punk
Arthur Russell – Iowa Dream (Audika) art pop / folk
Laurie Spiegel – The Expanding Universe & Unseen Worlds (Unseen Worlds) ambient / experimental
Jim Sullivan – If the Evening Were Dawn (Light in the Attic) folk
Victrola – Born From the Water: Demos 1983-1985 (Dark Entries) darkwave
v/a – The World of Keith Haring: Influences + Connections (Soul Jazz) disco / electro / punk
— also: check out these great Bandcamp releases —
AceMo – All My Life house
Afrikan Sciences – Centered house / experimental
Dan Derks – Nested & Phylum ambient / experimental
Flesh of the Stars – Mercy doom metal
MoMA Ready – The NYC Dance Project house
Lilly Cozzens
Cate le Bon – Reward
Sharon Van Etten – Remind Me Tomorrow
Andrew Bird – My Finest Work Yet
Grün Wasser – Not Ok With Things
Lana del Ray – NFR!
Michael Kiwanuka – Kiwanuka
Dehd – Water
Aldous Harding – Designer
Weyes Blood – Titanic Rising
Bill Callahan : Shepard in a Sheepskin Vest
Beau Wanzer – Lies121 EP
Panther Modern – Los Angeles 2020 EP
Luke Temple – Taking Chances (single)
James Marlon Magas 
Favorite 2019 releases
Let's face it, 2019 has been a trying one for many. Music is one thing that helps unify us, give us strength to endure, resist and if we're lucky, even thrive. Let music give us power. The surface may be gooey but the underground is alive and well.
David Shettler – Oblivian cassette (Trees USA)
DJ Nigga Fox – Cartas Na Manga 2×12" (Principe)
DJ Fett Burger & Speckgurtel – Red Scorpions 2LP (Clone Royal Oak)
Matt Jencik – Dream Character LP (Hands In the Dark)
Beau Wanzer – BW011 12" (Brew)
Roy Garrett & Man Parrish – Hot Rod to Hell LP (Dark Entries)
Patrick Cowley – Mechanical Fantasy Box LP (Dark Entries)
Freddie Gibbs & Madlib – Bandana LP (RCA/Keep Cool)
Heart of the Ghost – Heart of the Ghost II LP (Dagoretti)
Robert Ashley – Private Parts LP (Lovely Music) reissue
Sun City Girls – Dawn of the Devi LP (Abduction)
Brett Naucke – Electronic Hypnosis Program 12" (Make Noise)
Jason Letkiewicz – The Reflecting Pool LP (Into the Light)
Mort Garson – Plantasia LP (Sacred Bones)
Pauline Oliveros – Reverberations 1 2LP (Important)
Solange – When I Get Home LP (Columbia)
Yutaka Hirose – Nova + 4 2LP (WRWTFWW)
Bill Orcutt – Odds Against Tomorrow LP (Palilalia)
Various Artists – Plastic Dance 2 LP (Cache Cache)
Nate Young – Volume 3: Dance of the Weeping Babe 12" (Lower Floor Music)
Good Fuck – Cherry Tree LP (Goof Duck)
DJ Overdose – Hang In There 12" (Curtis Electronix)
Mukqs – Any% cassette (Doom Trip)
ADULT. – Subsurface / Coming Apart 12" (Dais)
HIDE – Hell Is Here LP (Dais)
Damon Locks Black Monument Ensemble – Where Future Unfolds LP (Outernational Conspiracy)
Incapacitants – Stupid Is Stupid 4LP box (Hospital Productions)
Los Piranas – Historia Natural LP (Glitterbeat)
Wobbly – Monitress CD/cassette (Hausu Mountain)
Teeth Agency – Johnny Mermaid 7" (Teeth Agency)
Wolfmanhattan Project – Blue Gene Stew LP (In the Red)
Madteo – Dropped Out Sunshine LP (DDS)
Steve Hauschildt – Nonlin LP (Ghostly International)
Blood Incantation – Hidden History of the Human Race LP (Century Media)
Things that happened:
Fire_Toolz live at Reckless Records on Record Store Day 2019
Sunn O))) at Rockefeller Chapel
Plantasia live at Garfield Park Conservatory (full disclosure: I was a participant)
Wobbly live at Reckless Records a coupla days ago
Flying Luttenbachers live at Co-Prosperity sphere
Jake Lingan
(Sandy) Alex G- "House of Sugar" (Domino)
Aphex Twin- "Peel Session 2" (Warp)
Satoshi Ashikawa- "Still Way (Wave Novation 2)" reissue (WRWTFWW)
Robert Ashley- "Automatic Writing"  & "Private Parts" reissues (Lovely Music)
Felicia Atkinson- "The Shelter And The Vessel" (Shelter Press)
Autechre Live (Warp)
Ka Baird- "Respires" (RVNG INTL)
Billington/ Shippy/ Wyche- "The Eventual Warp Cat" (No Index)
Blood Orange- "Cupid's Pulse" (Domino)
Blue Gene Tyranny- "Out Of The Blue" reissue (Unseen Worlds)
Blue Gene Tyranny & Peter Gordon- "Trust In Rock" (Unseen Worlds)
Angel Bat Dawid- "The Orcale" (International Anthem)
Dave Dunno- "Bonefire" (self)
Equip- "Cursebreaker X" (100% Electronica)
Euglossine- Coriolis (Hausu Mountain)
Fire-toolZ- "Whisper" (Orange Milk)
Floating Points- "Crush" (Ninja Tune)
M Geddes Gengras- "I Am The Last of That Green and Warm-Hued World (Hausu Mountain)
Gerrit Hatcher- "Burnt Pan Rolling" (Kettle Hole)
Toshifumi Hinata- "Broken Belief" (Music From Memory)
Yutaka Hirose- "Nova +4" (WRWTFWW)
Frank Hurricane and the Hurricanes Of Love- "Life Is Spiritual" (Feeding Tube)
Iona Fortune- "Tao Of I Vol. 2" (Ecstatic)
Peter Ivers- "Becoming Peter Ivers" (RVNG)
Matt Jencik- "Dream Character" (Hands In The Dark)
JPEGMAFIA- "All My Heroes Are Cornballs" (EQT)
KHGB- "KHGB" (No Index)
KVL- "Volume 1" (Astral Spirits)
Lambchop- "This (Is What I Wanted To Tell You)" (Merge)
Craig Leon- "Anthology of Interplanetary Folk Music Vol. 2: The Canon" (RVNG INTL)
Merzbow- "Pulse Demon" reissue (Relapse)
MUKQS- "SD Biomix"  (Orange Milk)
Musica Esporadica- "Musica Esporadica" reissue (Music From Memory)
Brett Naucke- "Electronic Hypnosis Program" (Make Noise)
Nonlocal Forecast- "Bubble Universe" (Hausu Mountain)
Yoshio Ojima- "Une Collection Des Chainons: Music Fro Spiral" Vol. 1 & 2 (WRWTFWW)
Purple Mountains- "Purple Mountains" (Drag City) [RIP DAVID BERMAN]
Purple Pilgrims- "Perfumed Earth" (Flying Nun)
Royal Trux- "White Stuff" (Fat Possum)
Sharkula x MUKQS- "Prune City" (Hausu Mountain)
Solange- "When I Get Home" (Columbia)
Spirits Having Fun- "Auto-Portrait" (Ramp Local)
Carl Stone- "Baroo" & Himalaya" (Unseen Worlds)
Sunn O)))- "Life Metal" & "Pyroclasts" (Southern Lord)
To Live And Shave In L.A.- "Spatters Of A Royal Sperm" (Hanson)
Two Daughters- "Recordings 1979-1981" (VoD)
Vatican Shadow- "Washington Buries Al Qaeda Leader At Sea", "Kuwaiti Airforce" & "Pakistan Military Academy" reissues (Hospital)
Visible Cloaks, Yoshio Ojima & Satsuki Shibano- FRKWYS Vol. 15
Xosar- "The Possessor Possesses Nothing" (Bedouin)
Nilufer Yanya- "Miss Universe" (ATO)
Neil Young- "Tuscaloosa"/ "Colorado" (Reprise)
Zoviet France reissues (VoD)
ZRL- "Physics For Listeners" (Homeroom)
Various- "Midnight In Tokyo Vol. 3" (Studio Mule)
Various- "Outro Tempo II- Electronic And Contemporary Music From Brazil 1984-1996" (Music From Memory)

Zack Caputo
1: Sonic Citadel by Lightning Bolt
The legendary hyper-jazz-metal duo returned after nearly half a decade to drop their most varied & consistent effort in years. Bouncing between some of the most accessible and some of the most violent material they've ever put to tape, this is the kind of record that seems to be becoming more and more rare nowadays: where every single moment of the 2 LP experience is fantastic and worth your time. This is easily one of the best records in a Lightning Bolt's catalog, a discography filled with absolutely required listening.
2: There Existed An Addiction To Blood by Clipping.
Continuing their undying pursuit of pushing the conceptual boundaries of hip-hop music,
Clipping. released this genuinely chilling and immensely well crafted look into the "horror" behind "horrorcore". Featuring some mind-blowing and innovative production ("Run For Your Life" is a true standout, having the beat play from the passing car of a character stalking our protagonist) and relentless flows, There Existed… is truly Clipping.'s crowning achievement so far. The single "Blood Of The Fang" is my vote for song of the year.
3: Bird Box Extended by Trent Reznor & Atticus Ross
I know you're already rolling your eyes because a dusty record store clerk put a seemingly ostentatious 4 LP soundtrack release on their list, but hear me out! Instead of being a stereotypical squawk fest that just repeats the trailer motif or a pale imitation of synth-heavy horror scores of yore, Reznor & Ross created a two hour masterclass in sound design and drawn out tension. Tracks like the chilling, nine minute long "Trespasser" dig deep into your psyche and establish this boxset as their own take on the source material instead of background music for a mediocre film.
4: Volume Massimo by Alessandro Cortini
Yes, it may not be a massive evolution for Cortini's signature soundscapes, but I would argue that such an evolution isn't entirely necessary as his sound is so uniquely his already.  Volume Massimo no doubt finds him refining and perfecting the moods and timbres teased out of his drool-worthy synth collection, adding more layers than previous solo efforts to create a collection of concoctions that are beautiful, haunting, hypnotizing, and altogether virtuosic.
5: The Talkies by Girl Band
While everyone was busy thinking Girl Band had broken up after giving us the brilliant and, I would argue, ahead of its time Holding Hands With Jamie, they were busy creating this nerve shredding collection of new tracks. Diving deeper into moods of anxiety and panic while almost completely removing any climaxes or any sort of catharsis from the tracks, The Talkies feels like a nihilistic allegory for modern times where there is no light at the end of the tunnel, you just have to get used to the darkness.
6: Magdalene by FKA Twigs
I will argue until I'm blue in the face that FKA Twigs gets nowhere near enough credit for how much they helped usher in the current era of pop & R&B music, including breaking down the barrier between the two. Magdalene, their first album in five years, is a beautiful confirmation of this fact. Furthering the experimental sound found on her previous EP, M3LL155X, but pairing it with stronger songwriting and piercingly intimate lyricism, Magdalene is a beautiful achievement that requires multiple listens and every ounce of your attention to truly unravel.
7: NIGHTMARES TO REALITY by HPSHAWTY
SIC Records is slowly becoming one of my favorite modern labels, thanks to the legendary hip-hop reissues they put out this year (including records from Memphis legend Blackout, Bay Area OG C-Bo, and the trailblazing DJ Screw), but tapes like HPSHAWTY's NIGHTMARE TO REALITY show that they're not solely focused on the past. While recalling the unnerving moods and atmospheres of classic Memphis tapes from the likes of Tommy Wright III and DJ Paul, HPSHAWTY updates the sound in a way that elevates it from simply being a carbon copy to a fantastic release that stands on its own. Their collaborative release with KEVINTHECREEP, titled MANHUNT 2 and also on SIC Records, is equally dope.
8: Highway Hypnosis by Sneaks
On their third record, Sneaks takes their minimal, post-punk-like approach and applies it to an unexpected style: trap music. The result is a beautiful & weird release that's as hypnotic as the title suggests. The tracks unfold and evolve, bang and clash in ways that recall M.I.A. or even some of the more tame Alec Empire productions, while Sneaks' repeated mantras and deliveries create an experience truly one of a kind. Sneaks has never stayed in one place for long musically, but if they were to stay with this sound for one more album and flesh it out a little more, I'd be very interested to see what that evolution sounds like.
9: Anima by Thom Yorke
Thom Yorke has always been an amazing songwriter, creating some of the most emotionally resonant and devastating songs of the past couple decades with Radiohead, but his solo albums have never quite scratched the same itch for me personally. This is where Anima comes in, Yorke's best solo album to date. Working with his live performance set up instead of a more concrete studio set up, the tracks on Anima pulse with nervous energy and fantastic grooves, with Yorke always seeming to find just the right pocket for the kick, just the right melody for the vocals, just the right timbre for the synths. It is a little front loaded and tapers off slightly near the end, but the two song run of "Twist" into "Dawn Chorus" (or Side B on the 2LP release) is the best single side of any record this year. 
10: All My Heroes Are Cornballs by JPEGMAFIA
Much has been said about how JPEGMAFIA constantly referred to this album as being  "disappointing" during the press run leading up to its release and it's easy to see where he was coming from. Turning the dial way down from the aggression on his 2018 breakout Veteran, All My Heroes… finds JPEGMAFIA exploring more of the vaporwave sound he helped shape (see Dreamcast Summer Songs, released under his moniker Devon Hendryx if you don't know what I'm talking about) and pairing it with more of the singing and emotional beats he teased previously. While not quite hitting the same sweet spot between experimental and accessible Veteran did, which in turn made it resonate with me so strongly, it's still nowhere near the disappointment Peggy prematurely prepared his audience for. 
Honorable Mentions:
bi/MENTAL by Le Butcherettes
Remind Me Tomorrow by Sharon Van Etten
The Devil You Know by The Coathangers
The Hunchback of Based God by Lil B
uknowwhatimsayin? by Danny Brown
J David Cartwright
In no particular order
Anna Roxanne – ~ ~ ~ (Leaving Records)
Dean Blunt – Zushi (self-released)
Dj Speedsick – Nothing Lasts (Bank)
Gabber Modus Operandi – HOXXXYA (SVBKVLT)
The Arno – Ways Of Perfection (Chicago Research)
AceMoMa – AceMoMa EP (Jenken Recordings)
Mutant Joe – Home Invasion Anthems (Natural Sciences)
Fire-Toolz – Field Whispers [Into The Crystal Palace] (Orange Milk)
Victrola – Born From The Water (Dark Entries)
Angel Bat Dawid – Oracle (International Anthem)
Mr. Grimm – Anxiety (Static Switch)
Monogamy/ SCLT – Monogamy/ SCLY (Reserve Matinee)
Textasy – TEXAS TERRORTECH VOL. 1 (Natural Sciences)
DJ DR-660 – Sex Music (FTP)
Kim Gordon – No Home Record (Matador)
Ben Hegy
Cate Le Bon- reward [mexican summer]
Jamila Woods- Legacy! Legacy! [jagjaguwar]
Joshua Abrams Natural Information Society- mandatory reality  
[eremite records]
Boy Harsher- careful [nude club records]
Nilufer Yanya- miss universe [ato records]
Tyler, the Creator- igor [columbia]
Angel Bat Dawid- oracle [international anthem recording company]
Solange- when i get home [columbia]
Andrew Wasylyk- paralian [athens of the north]
Dj N*gga Fox- cartas na manga [principe]
Ela Orleans- movies for ears [night school]
Equip- cursebreaker x [100% electronica]
Mega Bog- dolphine [paradise of bachelors]
Park Jiha- philos [glitterbeat]
Resavoir- resavoir [international anthem recording company]
Matt Jencik
Big Thief U.F.O.F.
Blood Incantation Hidden History of the Human Race
Blut Aus Nord Hallucinogen
J.R. Bohannon Dusk
Darkthrone Old Star
Delia Derbyshire Dreams reissue
Suzanne Doucet reissues
FACS  Lifelike
Fennesz Agora
Freddie Gibbs & Madlib Bandana
Inoyama land Commissions 1977-2000
Itasca Spring
JAB Erge Herbe
Clarice Jensen Drone Studies
Leviathan Verrater 4LP
Kedr Livanskiy Your Need
Damon Locks & Black Monument Ensemble Where Future Unfolds
Kali Malone Sacrificial Code
Fumio Miyashita Wave: Sounds of the Universe
Kinloch Nelson Partly on Time: Recordings 1968-1970
Nightfell A Sanity Deranged 
Ossuarium Living Tomb
Pan American A Son
Jessica Pratt Quiet Signs
Python Astrological Warfare
Rodan Hat Factory '93
Arthur Russell Iowa dream
75 Dollar Bill I Was Real
Sofia Bolt Sofia Bolt 
Solange When I Get Home
Masahiro Sugaya Horizon Vol. 1 
Thee Speaking Canaries Who Are the Shitbirds Playing? 
Telefon Tel Aviv Dreams Are Not Enough
Tomb Mold Planetary Clairvoyance 
Weyes Blood Titanic Rising
Thom Yorke Anima
Neil Young Tuscaloosa 
Neil Young Colorado
Various Artists Outro Tempo II: Electronic And Contemporary Music From Brazil 1984-1996
Shows
Neko Case at The Vic
The Chills at Empty Bottle
Chromatics at Park West 
Grouper at Pitchfork Midwinter
Itasca/Matchess at The Hideout
Jawbox at Reckless and Metro
The Misfits at AllState Arena 
Peter Murphy 40 years of Bauhaus Ruby Celebration w/ David J at Rockefeller Chapel
Angel Olsen at The Riviera
Pan American at Elastic Arts
Max Richter at Harris Theater
Robyn at Aragon
Shellac at Reckless
Sunn O)))/Papa M at Rockefeller Chapel
Sharon Van Etten at Thalia Hall
This Is Not This Heat at Thalia Hall
Voivod at Thalia Hall
Jozef Van Wissem at Empty Bottle
Weyes Blood at Lincoln Hall
WITCH at Lincoln Hall
Oh yeah, I MET NEIL YOUNG
Casey Campbell
Lightning Bolt: Sonic Citadel
Tim Presley: I Have to Feed Larry's Hawk
Kim Gordon: No Home Record
Ty Segall: First Taste, also the Pig Man Demos Boxset
Reissue of Mort Garson's Plantasia
Oozing Wound: High Anxiety
Dehd: Water
Brbra Bush: Blowie pt 2
Eddie Current Suppression Ring: All in Good Time
Thurston Moore: Spirit Council
Danny Brown: uknowhatimsaying
Oh Sees – Face Stabber
Leo Ciccone
Caterina Barbieri /// Ecstatic Computations
Bibio /// Ribbons
Floating Points /// Crush
Angel Bat Dawid /// The Oracle
Nils Frahm /// All Encores
Steve Hauschildt /// Nonlin
Jefre Cantu-Ledesma /// Tracing Back The Radiance
Loscil /// Lifelike
Topdown Dialectic /// Vol. 2
Telefon Tel Aviv /// Dreams Are Not Enough
Joe Seger
TOP RELEASES FOR 2019
HARD TO NARROW IT.
MIGHT HAVE MISSED SOME.
NO PARTICULAR ORDER.
EVERYTHING THAT BLEW ME AWAY & REISSUES I WAS HAPPY ABOUT.
VANISHING TWIN – AGE OF IMMUNOLOGY (FIRE)
DEAD MEADOW – FEATHERS (REISSUE) (TEKELILI/XEMU)
DOLLY MIXTURE – DEMONSTRATION TAPES (REISSUE) (STATE51)
DOLLY MIXTURE – OTHER MUSIC LP (SEALED)
DUSTER – CAPSULE LOSING CONTACT (NUMERO)
DUSTER – DUSTER (MUDDGUTS)
BIG THIEF – U.F.O.F. (4AD)
BIG THIEF – TWO HANDS (4AD)
LUX – NEW DAY 7″ (LA VIDA ES UN MUS)
SCREAMING SNEAKERS – S/T (GENERATION)
JULIA JACKLIN – CRUSHING (POLYVINYL)
WEYES BLOOD – TITANIC RISING (SUB POP)
POSSIBLE HUMANS – EVERYBODY SPLIT (TROUBLE IN MIND)
BORIS – AKUMA NO UTA (REISSUE) (THIRD MAN)
INSTITUTE – READJUSTING THE LOCKS (SACRED BONES)
MORT GARSON – PLANTASIA (REISSUE) (SACRED BONES)
ABWARTS – AMOK KOMA (REISSUE) (NEATNEATNEAT)
MALARIA! – COMPILED 2.0 (MOABIT)
CHRONOPHAGE – PROLOG FOR TOMORROW (CLETA PATRA)
BRUISED – ROTTEN CODEX (CHICAGO RESEARCH)
PORNO GLOWS – EP (VIOLENT PEST)
NEON – NEON (SQUARE ONE AGAIN)
PUZZLEHEAD – BIG SNIFF (STUCCO)
PARSNIP – WHEN THE TREE BEARS FRUIT (TROUBLE IN MIND)
COMES – NO SIDE (LA VIDA ES UN MUS)
NOSFERATU – SOLUTION A
RAKTA – FALHA COMUM (IRON LUNG)
GROOVE DOMESTIC PRODUCT – DEMO (SELF)
SHANNON LAY – AUGUST (SUBPOP)
JAY SOM – ANAK KO (POLYVINYL)
JESSICA PRATT – QUIET SIGNS (MEXICAN SUMMER)
ITASCA – SPRING (PARADISE OF BACHELORS)
Sean Rowader
King Gizzard and the Lizard Wizard – Infest the Rat's Nest (Thrash Metal / Stoner Rock) [LP on Flightless/ATO] 
-Gizzard's 15th album is a half hour of all-killer-no-filler thrash metal that departs from their signature hazy psychedelia. Infest the Rat's Nest is full of snarling vox, house rattling double bass onslaught drums, djenting guitar hooks and hellish Venusian songwriting. There's no satire going on here, this is clearly a band that just wants to have fun SHREDDING! Favorite track: Self-Immolate 
100 gecs – 1000 gecs (Monster Energy Drink Core / Experimental Electronica) [LP on Dog Show Records] 
-Chicago's Laura Les and Los Angeles' Dylan Brady take all the best parts of 2008 internet culture and blend it up in a happy-nightcore 3AM party rager. These songs are quick, constantly changing direction and absolutely dripping with Monster EnergyTM. Favorite track: hand crushed by a mallet 
Mdou Moctar – Ilana: The Creator (Taureg / Psych-Pop) [LP on Sahel Sounds] 
-Hands down my favorite show of 2019 was Mdou Moctar's April performance at Empty Bottle. Ilana is the first Mdou LP recorded with a full band in-studio, so these tracks carry some extra 'live' magic. Mdou's songwriting reaches a new echelon, as the satisfying compositions outshine the instrumentation and production. Criminally good. Favorite track: Tarhatazed 
Uffie – Tokyo Love Hotel (Electroclash / Dream Pop) [Digital Self Release] 
-Once upon a time. . . when music videos still aired on MTV, when MySpace still mattered, when the most recent Harry Potter film was Goblet of Fire (2006), an electropop prodigy named UFFIE was making waves in the electronica underground. After a handful of singles and a debut LP Uffie seemingly vanished. Until now! After a decade away from the game, Uffie returns with a 7 song EP that is more dreamy and less abrasive than her early stuff. Favorite track: Sharpie
McCafferty – The House with No Doorbell (Emo / Delonge Core) [LP Self Release] 
-Although McCafferty is infamous for dropping off tours, cyclical break-ups (yes plural, the band has been "permanently ended" many times), and ultimately stressing out the fanbase, somehow they always manage to keep new material flowing. The House with No Doorbell isn't as bonafide and aggressive as their 2018 LP, Yarn, but instead shows off the band's ability to craft hooks, melodies, harmonies and overall vocal range. Favorite track: Unforgivable Curse #3
clipping. – There Existed an Addiction to Blood (Hip Hop / Experimental) [2xLP on Sub Pop] 
-In a triumphant return, Clipping drops a 'transmutation of horrorcore' concept record that showcases expert use of samples, noisey production, and absolutely insane flows from Daveed. This record is full of nods to classic horror tropes like 'Carpenter-esque' piano 
on the lead single "Nothing Is Safe." The album finishes with an 18-minute track from Annea Lockwood entitled "Piano Burning", which is… well… a piano burning. Favorite track: Blood of the Fang 
PUP – Morbid Stuff (Pop Punk / Emotional Tinge) [LP on Rise Records] 
-Some bands change, grow, evolve, maybe even devolve… but not PUP. This Canadian pop-punk 4-piece has a thing for consistency and so do their die hard fans. Morbid Stuff feels more like the third installment of a trilogy instead of a completely new album. PUP's third LP is full of "adulting is hard, life can get f***ed" lyrics that are balanced out with upbeat joy-ridden hooks. Favorite track: Sibling Rivalry 
FKA Twigs – Magdalene (Art Pop / Slow Core) [LP on Young Turks] 
-After three years of studio work, the legendary FKA Twigs drops only their second full-length album, Magdalene. Twigs' executively produced this record with collaborations from Skrillex, Michael Uzowuru, Koreless and others as co-producers. This album is incredibly diverse and showcases more vocal acrobatics than we're used to on previous Twigs' releases. Clearly all the time spent crafting this album was worth it as Magdalene is an absolute ascendancy. Favorite track: Home with You 
Raconteurs – Help Us Stranger (Garage / Power-Pop) [LP on Third Man] 
-11 years after Consolers of the Lonely, the superheros of alternative radio stations everywhere, the Raconteurs assemble and return! While fans may have been weary that the return was only a short lived cash-grab, the Raconteurs quickly put those thoughts to rest with some of their best songwriting ever, late night TV performances, and a colossal world-tour. Favorite track: Somedays (I Don't Feel Like Trying) 
Sturgill Simpson – Sound & Fury (Psychedelic Country / Boogie Rock) [LP on Elektra] 
-Railroad foreman turned twangbox extraordinaire, Sturgill Simpson releases a genre-bending country/psych/boogie/synth-rock album accompanied with a full-length anime visual album. This experience is so diverse and inviting that it's no surprise Sturgill is attracting more listeners to the waning and lonely Country section. This album is so dance-able it makes me want to take roller-disco lessons. But most of all, please do not sleep on the Netflix-released visual album with expert cinematography from Masayuki Fujii and Chigi Kanbe. Favorite track: Ronin 
Honorable Mentions
Gang Starr – One Of The Best Yet
Cage The Elephant – Social Cues
King Gizzard & The Lizard Wizard – Fishing For Fishies
Oh Sees – Face Stabber
Blink 182 – Nine
Tom Walczyk
Bob Mould – Sunshine Rock (Merge Records)
Facs- Lifelike (Trouble In Mind)
Luxurious Bags – Frayed Knots (Twisted Village) ** First time ever on vinyl
Shellac – End of Radio (Touch & Go)
** Peel Sessions 1994
LE' Pee- Diabolique (A Records)
** Anton Newcombe + Liminanas
Black Midi – Schlagenheim (Rough Trade)
** Amazing live set at Pitchfork this year
Delta 5 – Singles & Sessions 79- 85
(Kill Rock Stars)
Polvo  – Polvo (Merge Records)
**  Their first 7" record plus a few bonus songs put on one 12"
Peter Perrett – Humanworld (Domino)
** Singer from The Only Ones
Jonathan Fire *Eater – Wolf Songs for Lambs & Tremble Under Boom Lights (reissues on Third Man) ** Members went on to for The Walkmen
Honorable Mentions
Mort Garson – Mother Earth's Plantasia (Sacred Bones)
Duster – Numero Reissues
Ethan D'Ercole
ONLY ONES: "Live in Chicago, 1979"
COLOURED BALLS: "Last Supper, First"
PRINCE: "Originals"
TERRY STAMP: "Fatsticks"
PATRICK COWLEY: "Mechanical Fantasy Box"
HAMMERSMITH GORILLAS: "Why Wait 'til Tomorrow 1974-1981"
SOLANGE: "When I Get Home"
HECKS: "My Star"
MATT JENCIK: "Dream Character"
Yasmin Bashir
Albums of the year: 
Solange- When I Get Home 
Klein- Lifetime
Fka Twigs- Magdalene
Kelsey Lu- Blood
Visible Cloaks, yoshio ojima, and satsuki shibano–Serentiatem
Mega Bog- Dolphin 
Spelling- Mazy Fly
Sasami- Sasami
Injury Reserve- Injury Reserve 
Kedr Livanskiy- Your Need 
P.R. Ryan
2019 Good Albums (In No Particular Order)
Denzel Curry – ZUU (Loma Vista)
Hot Chip – A Bath Full Of Ecstasy (Domino)
Charly Bliss – Young Enough (Barsuk)
Caroline Polachek – Pang (Perpetual Novice)
Alex Cameron – Miami Memory (Secretly Canadian)
Otoboke Beaver – ITEKOMA HITS (Damnably)
Purple Mountains – Purple Mountains (Drag City)
Injury Reserve – Injury Reserve (Loma Vista)
Channel Tres – Black Moses EP (Godmode)
Black Marble – Bigger Than Life (Sacred Bones)
Tyler, The Creator – IGOR (Columbia)
Black Midi – Schlagenheim (Rough Trade)
Katie Dey – Solipsisters (Run For Cover)
Vampire Weekend – Father Of The Bride (Columbia)
Bonnie "Prince" Billy – I Made A Place (Drag City)
Bleached – Don't You Think You've Had Enough? (Dead Oceans)
Empath – Active Listening: Night On Earth (Get Better)
Mike Krol – Power Chords (Merge)
Sandro Perri – Soft Landing (Constellation)
The New Pornographers – In The Morse Code Of Brake Lights (Concord)
Ezra Furman – Twelve Nudes (Bella Union)
Richard Dawson – 2020 (Domino)
Orville Peck – Pony (Sub Pop)
Pure Bathing Culture – Night Pass (Infinite Companion)
Rapsody – Eve (Roc Nation)
Friends of Reckless
Emily Elhaj (Musician/Writer/Reckless alum)
Albums
Brittany Howard – Jaime (ATO)
Aldous Harding – Designer (4AD)
Marvin Gaye – You're the Man (UMG)
Sofia Bolt – Waves (Loantaka)
Girl Ray – Girl (Moshi Moshi)
Arian Shafiee – Pacific Medications (Lillerne)
Jessica Pratt – Quiet Signs (Mexican Summer)
Matt Jencik – Dream Character (Hands in the Dark)
KIM – s/t (Love Lion)
Cate Le Bon – Reward (Mexican Summer)
Hand Habits – placeholder (Saddle Creek)
Sharon Van Etten – Remind Me Tomorrow (Jagjaguwar)
Chris Cohen – s/t (Captured Tracks)
Eric Dolphy – Musical Prophet: The Expanded 1963 New York Studio Sessions (Resonance)
Mac DeMarco – Honey Moon (Haruomi Hosono) (LITA)
Cass McCombs – Tip Of The Sphere (Anti)
Wand – Laughing Matter (Drag City)
Esther Suarez – La Bolognesina (Little Axe)
Solange – When I Get Home (Columbia)
Joshua Abrams & Natural Information Society – Mandatory Reality (Eremite)
Ana da Silva & Phew – Island (Shouting Out Loud)
Beyoncé – Homecoming (Parkwood/Columbia)
Vanishing Twin – The Age Of Immunology (Fire)
V/A – Late Night Tales: Floating Points (Night Time Stories)
75 Dollar Bill – I Was Real (Thin Wrist)
Angel Bat David – The Oracle (Int'l Anthem)
Tool – Fear Inoculum (Dissectional)
Pavo Pavo – Mystery Hour (Bella Union)
Chrissie Hynde – Valve Bone Woe (self)
Common – Let Love (Loma Vista)
Radiohead – III Wind (XL)
Homeshake – Helium (Sinderlyn)
Nick Cave & The Bad Seeds – Ghosteen (Ghosteen)
Beth Gibbons – Henryk Górecki: Symphony No. 3 (Symphony of Sorrowful Songs) (Domino)
Big Thief – U.F.O.F. (4AD)
Rip Hayman "Dreams of India and China: Field Recordings & Repercussions 1973-1986 (Recital)
Reissues
Don Cherry – Brown Rice (Verve)
Anna St. Louis – First Songs (Woodsist)
Johnny Greenwood – There Will Be Blood (Nonesuch)
Neil Young – Dead Man OST (Warner)
Haruomi Hosono (LITA)
Cruising OST (Waxwork)
Duster – Capsule Losing Contact (Numero)
Shows
Sharon Van Etten, Amoeba
Cass McCombs, Amoeba
Mdou Moctar & Marisa Anderson, Zebulon
Chris Cohen, Lodge Room
Aldous Harding, Old Style
Austin McCutchen & Ryley Walker, Zebulon
Cate Le Bon & Mac DeMarco, The Greek
Stereolab & Wand, Ace Theater
Sharon Van Etten & Sofia Bolt, Pappy & Harriet's
Zsela, Brooklyn Steel
Rodrigo Amarante, Palace Theatre
Angel Olsen Tour 2019
DJing Public Records, Brooklyn
Iggy Confidential podcast
Coffee
Coffee Manufactory, Los Angeles
Groundwork, Los Angeles
St. ALi, Melbourne
Congregation, New Orleans
Tandem, Portland, Maine
Maru, Los Angeles
Flat Track, Austin
Monmouth, London
Courier Coffee, Portland, Oregon
Jocelyn Brown (Music Supervisor/Producer)
albums I loved this year: 2019
telefon tel aviv – dreams are not enough galcher lustwerk – information
prince – originals
solange – when i get home
arthur russell – iowa dream
matt jencik – dream character
natural information society – mandatory reality
giant swan – s/t
dj shadow – our pathetic age
alessandro cortini – volume massimo
angel olsen – all mirrors 
helado negro – this is how you smile
raphael saadiq – jimmy lee
charles rumback and ryley walker – little common twist
lizzo – cause i love you
surachai – come, deathless
ana roxane – ~~~
khruangbin – hasta el cielo
jets – zoospa
cellophane garden – relation to the infinite
matana roberts – coin coin chapter 4: memphis
ryne ziemba – cataclysmos
jessica pratt – quiet signs
sault – 5
caterina barbieri – ecstatic computation
same waves – algorithm of desire
here lies man – no ground to walk upon
daniel wohl – etat 
jaimie branch – fly or die II: bird dogs of paradise
minutes unlimited – green data
waajeed – ten toes down ep 
freddie gibbs and madlib – bandana
itasca – spring
dj spinn – da life ep
emmavie – honeymoon
barker – utility
fennesz – agora
nick cave & the bad seeds – ghosteen
resavoir – s/t
baby rose – to myself
kindness – something like a war
75 dollar bill – i was real
hildur gudnadottir – chernobyl ost
brittany howard – jaime
kim gordon – no home record
labrinth – euphoria ost 
clairo – immunity
jenny lewis – on the line
sharon van etten – remind me tomorrow
rafael anton irisarri – solastalgia
robyn – honey
weyes blood – titanic rising
chasms – the mirage
william basinski – on time out of time
kiefer – superbloom
michael kiwanuka – kiwanuka
floating points – crush
black monument ensemble – where future unfolds
hania rani – esja 
carlos nino and friends – bliss on dear oneness
helen money – arriving angels
sunn o))) – life metal
nils frahm – all encores
freddie gibbs and madlib – bandana
sasami – s/t
tyler, the creator – igor
michael vincent waller – moments
nia andrews – no place is safe
laurel halo – dj kicks
andy stott – it should be us
benny sings – city pop
mereba – the jungle is the only way out
bill orcutt – odds against tomorrow
georgia anne muldrow – vweto II
various artists – outro tempo II
Dave Martin (Captured Tracks)
1  Wayne Rogers  – The Air Below (Twisted Village) / Major Stars – Roots Of Confusion Seeds Of Joy (Drag City)
2  Facs – Lifelike (Trouble In Mind)
3  Aquarian Blood – A Love That Leads To War (Goner)
4  75 Dollar Bill – I Was Real (Thin Wrist)
5  Gotobeds – Debt Begins At Thirty (Sub Pop)
6  The Silence – Metaphysical Feedback (Drag City) / Masaki Batoh – Nowhere (Drag City)
7  Gong Gong Gong – Phantom Rhythm (Wharf Cat Records)
8  Rocket 808 – S/T (12XU)
9  Ceremony – In The Spirit World Now (Relapse)
10 Flesh Eaters – I Used To Be Pretty (Yep Roc)
11 David Kilgour – Bobbie Is A Girl (Merge)
12 Matt Jencik – Dream Character (Hands In The Dark)
13 Thurston Moore – Spirit Council (Daydream Library)
14 Joshua Abrams & Natural Information Society – Mandatory Reality (Eremite)
15 Brian Crook with The Renderers – This World Just Eats Me Up Alive (Ba Da Bing)
16 Eddy Current Suppression Ring – All In Good Time (Castle Face)
17 Stefan Christensen – The Upcoming Flame (Bruit Direct Disques)
18 Dead C – Rare Ravers (Ba Da Bing)
19 Cate Le Bon – Reward (Mexican Summer)
20 Sulfate – S/T (Prison Tapes)
21 Hash Redactor – Drecksound (Goner)
22 Mike Donovan – Exurbian Quonset (Drag City)
23 Modern Nature – How To Live (Bella Union)
24 Vivian Girls – Memory (Polyvinyl)
25 XV – S/T (Life Like) 
Reissues
1 Peter Laughner – S/T box (Smog Veil)
2 Rema Rema – Fond Reflections  
3 Peter Jefferies – Last Ticket Home / Clutter (Grapefruit) 
4 Tokyo Flashback – Psychedelic Speed Freaks (Black Editions) 
5 Revenge – S/T (In The Red)
6 The Victims – S/T (In The Red)
7 The Pooh Sticks – S/T 7″ box (Optic Nerve)
8 Scientists – Not For Sale:  Live 1978/1979 (Grown Up Wrong)
9 Makoto Kawashima – Homo Sacer (Black Editions)
10 Country Teasers – The Toe Rag Sessions (Crypt)
11 Jim Shepard – Heavy Action (Ever/Never)
12 The Dum Dum Boys – Let There Be Noise (In The Red)
13 Bill Direen – A Memory of Others O.S.T. (Sophomore Lounge)
14 Jobcentre Rejects Vol 1 & 2 (On The Dole)
15 Cynics – Rock 'N' Roll (Get Hip)
Singles / EPs
1 Hammered Hulls – S/T 7″ (Dischord) 
2 Tyvek – Changing Patterns of Protective Coating – (Doubles Tapes) 
3 The Girl In Times New Viking – S/T (FAH-Q Catalog) 
4 F.U.K. – Road Kill b/w I Got A Head (Hozac) 
5 Too Much – Patent Leather b/w Dyslexia (Merge)
6 Long Hots – Nickle & Dime b/w Give & Take (Third Man)
7 David Nance – Meanwhile b/w Credit Line (Third Man) 
8 Loose Nukes – Demo 7″ (Cruel Noise) & Behind The Screen 7″ (Beach Impediment)
9 Rubber Blanket – New Garbage Truck b/w Pedestrian Bridge (Spacecase Records)
10 Heavy Discipline – S/T (Painkiller) 
11 Skiftande Enheter – S/T (Levande Begravd) & Snubblar genom drömmar (Appetite)
12 Scientists – 9H₂O.SiO₂ (In The Red)
13 Rat Nip – S/T (Self Released)
14 Vivienne Styg – Rose of Texas (Self Released)
15 Stress Group – S/T (Self Released)
Live shows
Ceremony @ Elsewhere
Loose Nukes / L.O.T.I.O.N. – Home Sweet Home
Jon Spencer & the Hitmakers – Rough Trade
Heavy Discipline / Rat Nip / Bad Breeding – Brooklyn Bazaar 
Fucked Up / Haram – Music Hall of Williamsburg
Scientists / Des Demonas – St. Vitus
Warthog / L.O.T.I.O.N. – Asbury Park Brewery
Limousine Beach – The Broadway
Bill Direen – Aeon Bookstore
Major Stars – Nublu
Cynics – Gran Torino
Benni / Sick Thoughts – Poor Boys
75 Dollar Bill & Josh Abrams and Natural Information Society – Roulette 
75 Dollar Bill & Condo Fucks – Union Pool
Public Puberty – The Grove
Hash Redactor – Hart Bar
Steve Gunn / Meg Baird & Mary Lattimore – Bowery Ballroom
Facs – St Vitus
Dark Blue – St Vitus
Gong Gong Gong PS 1
Ex Hex – Bowery Ballroom
Hammered Hulls – Union Pool
Flesh Eaters – Bowery Ballroom
David Nance / Long Hots / Home Blitz – Union Pool
Miss June – Berlin
Cate Le Bon / Dinosaur Jr. / Kurt Vile – Central Park Summerstage
This is Not This Heat – Elsewhere
Warm Drag – some house party
Tyvek – The Glove
Sanhedrin – St Vitus
Brett Andrew Grossman / Reckless Staff Veterinarian
New music (Mildly in order)
1. Angel Olsen "All Mirrors"  (Jagjaguwar)
2. Jessica Pratt "Quiet Signs" (Mexican Summer)
3. The Soft Walls "Not as Bad As It Seems (Soft Music)
4. Yves Jarvis "The Same But By Different Means" (Anti-)
5.  Ada Lea "What We Say In Private" (Saddle Creek)
6. Crumb "Jinx" [self-released]
7. Deem Spencer "Pretty Face" (Vinyl Me, Please)
8. Angelo De Augustine "Tomb" (Asthmatic Kitty)
9. Carla Dal Forna "Look Up Sharp" (Kallista Records)
10. Caterina Barbieri "Ecstatic Computation" (Editions Mego)
11. Deerhunter "Why hasn't everything already disappeared" (4ad)
12. Olden Yolk "Living Theatre" (Trouble in Mind)
13. Panda Bear "Buoy" (Domino)
14. Tim Presley's White Fence "I have to Feed Larry's Hawk (Drag City)
15. Boy Scouts "Free Company" (Anti-)
16. Julianna Barwick "Circumstance Synthesis" (Commend There)
17. Hand Habits "Placeholder" (Saddle Creek)
18 Michael Jon Fink "Celesta" (Cold Blue Music)
19. New Pornographers  "In the Morse Code Of Brake Lights" (Concord)
20. Celer "Vamps" (Patient Sounds International)
21. Julia Shapiro "Perfect Version" (Hardly Art)
22. Sandy (Alex G) "House of Sugar" (Domino)
23. Lizzo "Cuz I Love You" (Atlantic)
24. Florist "Emily Alone" (Double Double Whammy)
25. Bitchin Bajas "Demeter" (Longform Editions)
26. Vanishing Twin "The Age of Immunology" (Fire)
27. Daniel Thorne "Lines of Sight" (Erased Tape Records)
28. Black Belt Eagle Scout "At the Party with my Brown Friends" (Saddle Creek)
29. Dehd "Water" (Fire Talk)
30. Freddie Gibbs, Madlib "Bandana" (Keep Cool)
31. Alessandro Cortini "Volume Massimo" (Mute)
Reissues/ Archive
1. Trey Gruber "Herculean House of Cards" (Numero Group)
2. Cobalt "Astral Travels" (Numero Group)
3. Charlie Megira "Tomorrow's Gone" (Numero Group)
4. Ernest Hood "Neighborhoods"  (Freedom to Spend)
5. Various Artists Kankyō Ongaku (Japanese Ambient, Environmental & New Age Music 1980 – 1990)- (Light in the Attic)
6. Various Artists "You're not from Around Here" (Numero Group)
7. Mort Garson "Mother Earth's Plantasia" (Sacred Bones)
8. The Caretaker "Everywhere, an Empty Bliss" (History always Favours the Winners)
9. Michael O' Shea "Michael O' Shea" (Allchival)
Dan Maloney (Faithful Anchor/Reckless alum)
Favorite Records of the Year
Cate Le Bon- Reward
Purple Mountains- Purple Mountains
Jessica Pratt- Quiet Songs
Aldous Harding- Designer
Tindersticks- No Treasure but Hope
Damon Locks Black Monument Ensemble- Where The Future Unfolds
Freddie Gibbs/Madlib- Bandana
Lana Del Ray- NFR
The Stroppies- Whoosh!
Joshua Abrams and Natural Information Society- Mandatory Reality
Mick Trouble- It's The Mick Trouble LP
Reissues Arthur Russell- Iowa Dream
Ernest Hood- Neighborhoods
Mort Garson- Plantasia
Jim Sullivan- Jim Sullivan
Norma Tanega- Walkin' My Cat Named Dog