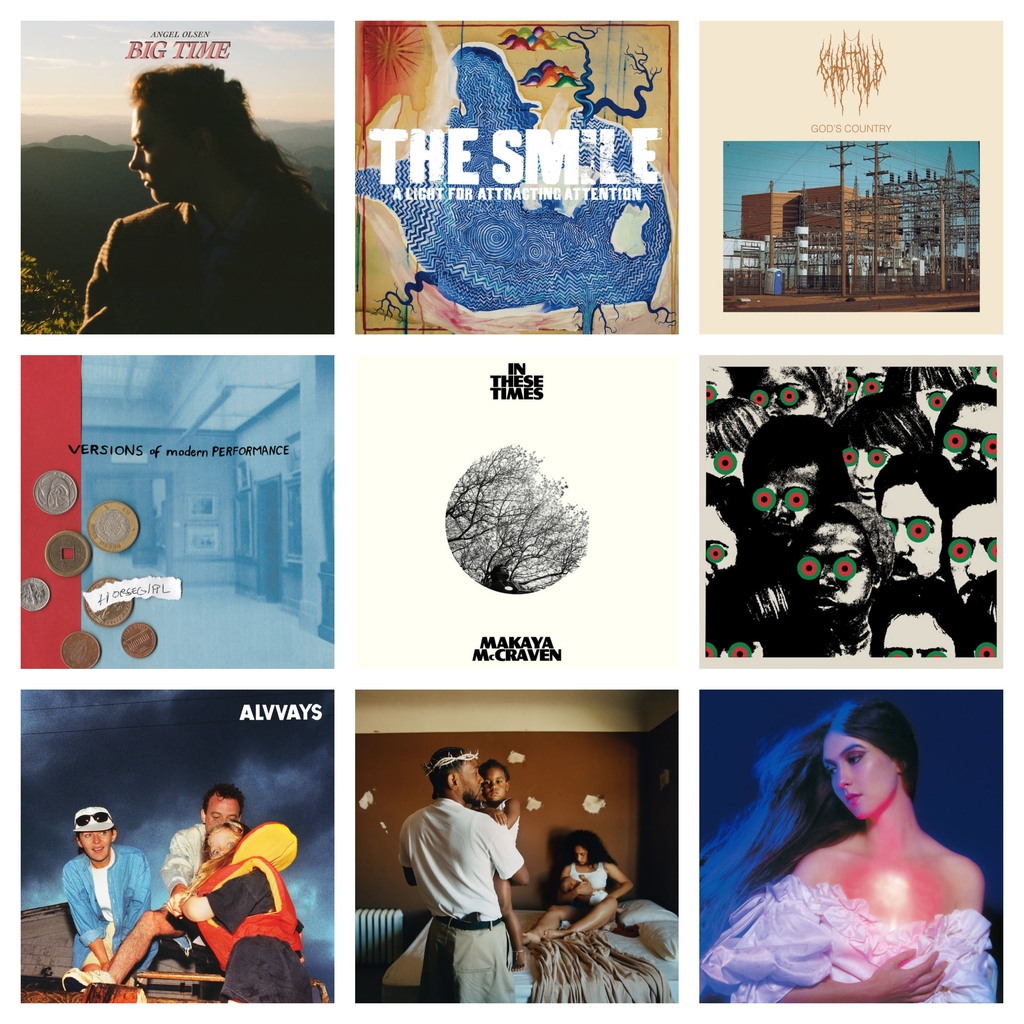 ________
<< RECKLESS RECORDS STAFF – WICKER PARK, BELMONT, and THE LOOP >>
<< SHASTA GILMORE >>
New Releases in 2022:
Smut – How The Light Felt (Bayonet)
Oort Smog – Every Motherfucker Is Your Brother (AKP Recordings)
Lou Reed – Words and Music, May 1965 (Light in the Attic)
New Reissues in 2022:
Liars – They Threw Us All In A Trench And Stuck A Monument On Top (Mute)
Althea & Donna – Uptown Top Ranking (Survival Research)
Strawberry Switchblade – 1982 4-Piece Demo (Night School)
New to Me in 2022:
Peter Gabriel – Peter Gabriel III aka "Melt" (Geffen)
Movies I've Been Too Into in 2022:
The Reflecting Skin (1990, dir. Philip Ridley)
Брат or "Brother" (1997, dir. Aleksei Balabanov)
Concerts of 2022:
of Montreal – Lincoln Hall 10/14
(I went to one concert this year, my first since the shutdown, and it was joyful and jubilant)
________
<< PHILIP CERZA IV >>
A Light for Attracting Attention // The Smile
All of Us Flames // Ezra Furman
And in the Darkness, Hearts Aglow // Weyes Blood
Big Time // Angel Olsen
Bleed Out // The Mountain Goats
Blue Rev // Alvvays
Boat Songs // MJ Lenderman
Cheat Codes // Danger Mouse & Black Thought
Cool It Down // Yeah Yeah Yeahs
Easy Listening // 2nd Grade
Fall in Love Not in Line // Kids On A Crime Spree
Farm to Table // Bartees Strange
God Get Me the Fuck Out of Here // Cold Gawd
God's Country // Chat Pile
I Walked With You a Ways // Plains
In These Times // Makaya McCraven
It Was a Home // Kaina
It's Almost Dry // Pusha T
Life on Earth // Hurray For The Riff Raff
Lucifer on the Sofa // Spoon
Mondays… // Jeff Parker ETA IVtet
PAINLESS // Nilüfer Yanya
SICK! // Earl Sweatshirt
Squeeze // Sasami
You Belong There // Daniel Rossen
"Do You Really Know How I Feel" // Jimmie & Vella
"Little Things" // Big Thief
"Spiders (Kidsmoke)" // Wilco
"That's the Way of the World" // Charles Stepney
"When Something is Wrong With My Baby" // Sam & Dave
________
<< LUKE DAHLGREN >>
NEW MUSIC
Lots of music I enjoyed this year. I tried to narrow it to fifteen releases but this is just the tip of the iceberg.
HIRO AMA – Animal Emotions (PRAH)
Jazzy, organic, not really meant for the dancefloor; this is moreso "morning coffee house music".
BIG THIEF – Dragon New Warm Mountain I Believe in You Boycott Divestment Sanctions That's My Grandma (4AD)
Yes the Tel Aviv show/Instagram defense debacle was a disappointment but the record is undeniable. Adrianne Lenker is probably indie rock's best melody songwriter, and the band navigates the tight-loose spectrum masterfully. As Roland Barthes once said, "Nobody's perfect."
JEREMIAH CHIU & MARIA SOFIA HONER – Recordings from the Åland Islands (International Anthem)
Even as a fan of ambient music I have limited patience for music that emphasizes ~field recordings~. I endorse this album as an exception that proves the rule.
EMISSIVE – City of Rooms (Telephone Explosion)
When they talk about "liquid" synth sounds, this is what they mean.
FELBM – Elements of Nature (Soundway)
I don't know if it's better or worse that the artist's name came from a faulty auto-correct. Regardless, this album scratched the classical minimalism itch. Like children's music from a place that doesn't exist.
HORSE LORDS – Comradely Objects (RVNG Intl.)
Turning a big dial that says "Dissonance" on it and constantly looking back at the audience for approval like a contestant on The Price is Right
TIM JACKIW – Sunset Over Saturn (Offworld)
Timmy J understands that the best dance music is incredibly corny. "Full Moon" is Song of the Year.
NU GENEA – Bar Mediterraneo (NG)
Everytime I listen to Khruangbin, I'm a little disappointed they don't sound more like this record.
PHOTAY & CARLOS NIÑO – An Offering (International Anthem)
Another Int'l Anthem ambient record, and this one is a bit more "cosmic new age". If not for luck and circumstance I feel as though I'd have been more susceptible than most to the influence of a charismatic midcentury guru.
PRATHLOONS – The Kansas Wind (Septic Jukebox)
Forget what I said about "Full Moon". "Chagrin" is Song of the Year.
DAWN RICHARD & SPENCER ZAHN – Pigments (Merge)
I was kinda iffy on Second Line, but I absolutely loved this one. More music should embrace a misty, extraterrestrial atmosphere.
GEORGE RILEY – Running in Waves (PLZ Make It Ruins)
This plus her drum-n-bass mix Interest Rates, A Tape make her the official 2022 Heatseeker of the Year.
SESSA – Estrela Acesa (Mexican Summer)
New bossa nova/MPB that's neither too loungy nor too indebted to the past. Perfect music for staring longingly into the eyes of your lover.
SOICHI TERADA – Asakusa Light (Rush Hour)
Terada is a master. Some of the brightest, most purely enjoyable music I heard all year.
ELI WINTER – Eli Winter (Three Lobed)
I'm an absolute sucker for pretty acoustic guitar, and this does a great job of striking a balance between pastoral Daniel Hecht-sounding stuff and more knotty Gastr del Sol-ish stuff (which makes sense with David Grubbs making an appearance)
COMPILATIONS & REISSUES
TIA BLAKE & HER FOLK-GROUP – Folksongs & Ballads (Ici Bientôt)
PATRICK COWLEY – Malebox (Dark Entries)
WILLIAM DOYLE – The Dream Derealised / Lightnesses I & II / Near Future Residence (Tough Love)
CHARLES STEPNEY – Step on Step (International Anthem)
NORMA TANEGA – I'm the Sky: Studio & Demo Recordings 1964-1971 (Anthology)
V/A – Padang Moonrise: The Birth of the Modern Indonesian Recording Industry 1955-69 (Soundway)
BEST USED FINDS
CHET BAKER – Chet Baker Sings
GARY BARTZ NTU TROOP – Harlem Bush Music: Uhuru
THE BLUE NILE – Hats
DONATO DOZZY – K
HUERCO S – Colonial Patterns / For Those Of You Who Have Never (And Also Those Who Have)
JEFFREE – Jeffree
LAOURA – The Sexotic Laoura Sings
TRIO IRAKITAN – As Vozes E O Ritmo Do Trio Irakitan
V/A – Do You Believe It?: American Soul Music 1960-1972
V/A – Night City Life
________
<< ANDREW MIN >>
Fontaines DC – Skinty Fia
Just Mustard – Heart Under
Momma – Household Name
Yard Act – The Overload
Rosalía – Motomami
Pretty Sick – Makes Me Sick Makes Me Smile
Alvvays – Blue Rev
Jockstrap – I Love You Jennifer B
Yeule – Glitch Princess
Horsegirl – Versions of Modern Performance
________
<< SAM BROWN >>
Southeast of Saturn Vol. 2
S – They are gutting a body of water
Luv 4 Rent – Smino
Voces de Ultratumba – Voces de Ultratumba
Ghost Stories – Phantasia
Roach Friends – Melaina Kol
Flooding Cities – Junk DNA
Working Title for the Album Secret Waters – Cities Aviv
Volume 1 – So Klarity
God Get Me The Fuck Out Of Here – Cold Gawd
Candy Suck – Idi Et Amin
Freestyles (SS22) – Dean Blunt
Man Plays the Horn – Cities Aviv
I Can't Die As Well – Fire-Toolz
Purest Hell – P.H.F.
Easy Weapons (reissue) – Public Acid
________
<< DAVE CARTWRIGHT >>
*in no particular order
Manisdron – Body Of Void
DJ Stingray – F.T.N.W.O.
Worm – Bluenothing
Mutant Beat Dance – No Comfort For Control
Siobhan – Body Double
Dalibor Cruz – Deviance EP
Boy Harsher – The Runner OST
DJ Overdose – Deal Breaker
Rabit – 4am Richmond ave
Bourbonese Qualk – The Spike REISSUE
HVAD – Yug
The Lord – Forest Nocturne
Reinhaudt – ST
Darkthrone – Astral Fortress
Folie 2 – ST
________
<< JON MASSEY >>
2022 YEAR OF POP SONGS
sorry for typos i just love albums so much!!!!
Always – Blue Rev (Polyvinyl) / what dyou say? i think this record owns. so does everybody else. big whoop.
Emperor X – The Lakes of Zone B & C / another gotta-hear-it-to-believe-it banger from our man in berlin. EX makes everybody else singing about politics look like Bono promoting his book at Davos. now with more piano ballads & we love to see it
Soichi Terada – Asakusa Light (Rush Hour) / consummate perfection. i rung in my 30th birthday on an airplane to LA, listening to this album and drinking a tiny airplane bottle of vodka. doesnt get better than that
Mister Goblin – Bunny / mr goblin does the hard work of being in indiana so you don't have to. no working songwriter understands america as well and even if they did they wouldn't have the tunes, the riffs, the extended harmony, the lapel-grapping guts. Damn
Smut – How the Light Felt (Bayonet) / year of pop songs. "after silver leaves"? 10/10 italian_chef_kiss.jpg
Friendship – Love the Stranger (Merge) / yknow how you keep saying you're going to make it out to the beach this summer but then it's october all of a sudden, year after year after–? uh oh. dont cry buddy. be cool. youre in a store
Oren Ambarchi – Shebang (Drag City) / dope that this record seemed to break through to the p4k set a little. reminds me of watching a rainstorm start to happen. incredible
1975 – Being Funny in a Foreign Language / why is this bull shit on here? am i doing a bit? is this band actually good or do they suck ass? is the pastiche hilarious or irritating? i truly dont know folx. all i know is if you are reading this AND you like this band YOU MUST GO LISTEN TO THE BLUE NILE & PREFAB SPROUT. thats a direct order from your superior officer
Ex-Void – Bigger than Before (Don Giovanni) / like i said: year of pop songs
special categories ——-
THE MAHLER 3 AWARD FOR EXTRAORDINARY LENGTH
Richard Dawson – the Ruby Cord / I will probably only ever listen to this twice but holy hell it's wild, disquieting, etc. if you know you know
THE SAM BANKMAN-FRIED AWARD FOR CONFLICT OF INTEREST
Prathloons – The Kansas Wind / Yes ….these are my "buds" But Also this album whips. midwest slow cigarette vibe is back and its better than ever. clarinets? They're Back Too. thank you for your compliance with this aesthetic
THE BETHS AWARD FOR BEST BETHS ALBUM OF THE YEAR
the Beths — Expert in a Dying Field (carpark)
THE "DO YOU HAVE FRANK OCEAN VINYL" AWARDS FOR RECORDS WE DO NOT HAVE IN OUR STORE
The World Without Parking Lots – You'll Have To Take My Word For It / lovely (and, i believe, local?) wintertime singer-songwriter record, really genuinely clever and moving tunes
Shinichi Atobe – Love of Plastic (DDS) / bobbing my head til it falls off
Bats – Blue Cabinet
MUST GRIP REISSUED / ARCHIVAL STUFF:
Tall Dwarfs — Unravelled '81-'02 (Merge)
Charles Stepney — Step on Step (Int'l Anthem)
Hypnotic Guitar of John Ondalo (Mississippi)
Go Sailor – s/t reissue (Slumberland)
fav songs:
Big Thief – "Little Things" – in the end the LP didnt work for me (take no pleasure in reporting this etc etc) but this is one of the best songs i've ever heard
Caroline No – "Anna's on the Radio" from s/t album (Grapefruit)
Empath – "Born 100 Times" from Visitor (Fat Possum)
song of da year: "Freeway in Heaven" by Emperor X i think
a few notable shows:
Stereolab + Fievel Is Glauque @ the riv. listen to fievel is glauque!!!!!
Emperor X @ mustache
The Chills @ sleeping village
friendship / tenci / advance base @ hideout
beth orton @ irish american community center
that's it for me thanks
________
<< BEN HEGY >>
record releases- 2022
Tom Carruthers- non stop rhythms [L.I.E.S.]
Legowelt- tips for life [nightwind records]
Immanuel Wilkins- 7th hand [blue note]
Saba- few good things [pivot gang]
VR SEX- rough dimension [dais]
Josephine Foster- godmother [fire records]
Cate Le Bon- pompeii [mexican summer]
Makaya McCraven- in these times [international anthem recording company]
Sarah Davachi- two sisters [late music]
Horsegirl- versions of modern performance [matador]
Dj Overdose- deal breaker [L.I.E.S.]
Anteloper- pink dolphins [international anthem recording company]
Tony Price- ibm contra [L.I.E.S.]
James Marlon Magas- confusion is my name [midwich]
Anthony Moore- flying doesn't help [drag city]
Broadcast- maida vale sessions [warp]
Lucrecia Dalt- ¡ay! [rvng intl.]
Cheb Terro vs DJ Die Soon- s/t [drownedbylocals]
Carla dal Forno- come around [kallista records]
Weak Signal- war&war [colonel records]
Nik Colk Void- bucked up space [editions mego]
Ron Trent- what do the stars say to you [night time stories]
Working Men's Club- fear fear [heavenly]
Eric Chenaux- say laura [constellation]
Porridge Radio- waterslide diving board, ladder to the sky [secretly canadian]
________
<< LEA BOARD >>
Best Albums of 2022 (In no particular order)
Beyoncé "Renaissance"
Soft Moon "Exister"
Dehd "Blue Skies"
Mitski "Laurel Hell"
The Garden "Horseshit on Route 66"
Blood Incantation "Timewave Zero"
Just Mustard "Heart Under"
Horsegirl "Versions of Modern Performance"
Chat Pile "God's Country"
Weyes Blood "And in the Darkness, Hearts Aglow"
Perfume Genius "Ugly Season"
Yasuaki Shimizu "Kiren"
________
<< JAMIE DRIER >>
Best of 2022
Pan Daijing – Tissues (Pan)
JK Flesh – New Religions Old Rules (Avalanche)
Nik Colk Void – Bucked Up Space (Editions Mego)
Moor Mother – Jazz Codes (Anti)
Kali Malone – Living Torch (Portraits GRM)
E-Saggila – Blaze (Northern Electronics)
Shit & Shine – New Confusion (Rocket Recordings)
Tony Price – IBM Contra (L.I.E.S.)
Lucrecia Dalt – The Seed (Original Score) (Invada)
City Of Caterpillar – Mystic Sisters (Relapse)
700 Bliss – Nothing To Declare (Hyperdub)
Björk – Fossora (One Little Independent)
________
<< SEAN ROWADER >>
Here are my 10 favorite releases from 2022 in no particular order:
King Gizzard and the Lizard Wizard – Ice, Death, Planets, Lungs, Mushrooms and Lava
Horse Lords – Comradely Objects
Charley Crockett – The Man From Waco
Yeule – Glitch Princess
The Chats – Get Fucked
Sam Prekop & John McEntire – Sons Of
The Garden – Horse Shit on Route 66
Vieux Farka Toure & Khruangbin – Ali
Fontaines D.C. – Skinty Fia
King Gizzard and the Lizard Wizard – Omnium Gatherum
________
<< ZACH WAGENFUEHR >>
Raum – Daughter (Yellowelectric)
The Smile – A Light for Attracting Attention (XL)
Alvvays – Blue Rev (Polyvinyl)
MJ Lenderman – Boat Songs (Dear Life)
Perfume Genius – Ugly Season (Matador)
Chat Pile – God's Country (Flenser)
Guided By Voices – Scalping the Guru (Guided By Voices Inc.) *archival
Florist – Florist (Double Double Whammy)
Alex G – God Save the Animals (Domino)
Lucrecia Dalt – ¡Ay! (Rvng)
Horse Lords – Comradely Objects (Rvng)
Skullcrusher – Quiet the Room (Secretly Canadian)
Oren Ambarchi/ Johan Berthling/ Andreas Werliin – Ghosted (Drag City)
supernowhere – Skinless Takes a Flight (Topshelf)
Black Country New Road – Ants From Up There (Ninja Tune)
Sessa – Estrela Acesa (Mexican Summer)
Imprecation – In Nomine Diaboli (Dark Descent)
Patrick Cowley – Malebox (Dark Entries) *archival
Mabe Fratti – Se ve desde aquí (Unheard Of Hope)
Richard Dawson – The Ruby Cord (Domino)
and the rest that we haven't seen or don't have a physical release (yet)…
Francis Harris – Thresholds (Scissor or Thread)
Park Jiha – The Gleam (tak:til)
Knifeplay – Animal Drowning (Topshelf)
Kraus – Eye Escapes (Mutual Skies)
Scarcity – Aveilut (Flenser)
Blindgirls – The Weight of Everything (Zegema Beach)
Sirom – The Liquefied Throne of Simplicity (tak:til)
Anadol – Felicita (Pingipung)
Croatian Amor – Remember Rainbow Bridge (Posh Isolation)
Asian Glow & Weatherday – Weatherglow EP (Longinus)
Post Office Winter – Music Box (Hallogallo)
Mildred – Pt. 2 (self-released)
maya is dead soon – s/t (self-released)
Natalia Lafourcade – De todas las flores (Sony)
Ulla – Hope Sonata EP (Longform)
CS + Kreme – Orange (Trilogy Tapes)
Pontiac Streator – Sone Glo (West Mineral)
Fievel Is Glauque – Flaming Swords (La Loi)
Emperor X – The Lakes of Zones B and C (self-released)
Zguba – Znoj (Loza)
Head In Hand – Unnatural Providence (Mutual Aid)
Puce Mary – You Must Have Been Dreaming (self-released)
________
<< SARAH FRIER >>
Ibibio Sound Machine – Electricity
Cola – Deep In View
The Smile – Light for Attracting Attention
Horsegirl – Versions of Modern Performance
Cate Le Bon – Pompeii
Angel Olsen – Big Time
Khruangbin – Texas Moon
Sofia Bolt – Soft Like a Peach
Dehd – Blue Skies
Kendrick Lamar – Mr. Morale & The Big Steppers
Special Mention: Neil Young's Harvest Time
________
<< STEVEN RAHMAN >>
2022 has been the longest year of my life & these were the records I caught that I wanted to recommend to other people in no particular order…
Gianni Brezzo "Tutto Passa" – There's something so amazingly relaxing about this record. It's the sonic equivalent of a Hot Toddy. It's warm, & comforting, & sophisticated. The feeling of a new favorite place; something you discovered by chance but feels like home…
Saba "Few Good Things" – There aren't many MCs who can channel nostalgia the way that Saba can. On Few Good Things, we get to see Saba challenge, change, & interrogate the ways his success has interacted with the tragedies he & his have experienced over the last few years… The productions here are always soulful, with deep harmonies & even on the hardest songs here, the grooves are creative & enveloping.
Danger Mouse & Black Thought "Cheat Codes" – I'll admit at first, I was a little disappointed that this record wasn't the Tariq Trotter show. This is the closest thing we've ever gotten to a solo full-length from the Roots front man & I was kinda hoping for an hour of Black Thought rapping over straight breakbeats… But this is a collaboration, & the beats that Danger Mouse provides are perfect reminders that Thought can rap over ANYTHING! The rhymes are on point, & the guests are amazing, & it might not be the album I was waiting for, but it is everything I wanted.
J.I.D. "Forever Story" – J.I.D. is a Musician. The Rapper/ Singer is on a mission to make sure you know it. Opening the record with a recorded count-in & bringing a beat switch to almost every track on the record, the record is consistently displaying the care taken to make a piece of art that will stand the test of time… Also… Jiddy can RAP. Non-stop flows, metaphors, similes, imagery, rhymes… magnificent.
The Plosivs "Plosivs" – There's not a whole lot to say about this album. It's just good. Swami John Reis (Hot Snakes, Drive Like Jehu, RftC), & Rob Crow (Pinback) got together with some friends & wrote some rocking, guitar heavy songs & recorded them. 33 minutes of fast, powerful, Pop songs, heavy on the melody, with driving propulsive Rock n' Roll attitude.
Ogi "Monologues EP"
Open Mike Eagle "Component System With the Auto Reverse"
Umi "Forest in the City"
Lucky Daye "Candy Drip"
Dezron Douglas "Atalaya"
Samm Henshaw "Untidy Soul"
Vic Spenser & Small Pro "Mudslide"
Earthgang "Ghetto Gods"
Cecile Mclorin Salvant "Ghost Song"
Smut "How the Light Felt"
________
<< ANTHONY ILLARDE >>
ALTHEA & DONNA Uptown Top Ranking (Survival Research LP)
ARTIFICIAL PEACE Live At The Wilson Center 1982 (Alona's Dream LP)
COLIN BLUNSTONE One Year (Sundazed 2LP)
BODY CAM Body Cam (Violent Pest flexi
BONNIWELL MUSIC MACHINE Dark White (OKtay 45)
BROADCAST Microtonics Vols 1 & 2 (Warp LPs)
ELVIS COSTELLO The Boy Named If (Capitol LP)
TOM DAWES Elusive: The Tom Dawes Jingle Workshop (Modern Harmonic LP)
DUNGUN En Är För Mycket Och Tusen Aldrig Nog (Mexican Summer LP)
ELLA FITZGERALD Ella At The Hollywood Bowl: The Irving Berlin Songbook (Verve LP)
FLY-BI-NITES Found Love (Hyperloop 45)
EMAHOY TSEGE MARIAM GEBRU S/T (Mississippi LP)
DANA GILLESPIE Foolish Seasons (Decca LP)
GUIDED BY VOICES Tremblers And Goggles By Rank (GBVi LP)
HARLOTS OF 42ND STREET Refuse To Be Misused (Sundazed LP)
HANY MEHANNA Music For Airplanes (Souma 2LP)
MELODY'S ECHO CHAMBER Emotional Eternal (Domino LP)
MONOPHONICS Sage Motel (Colemine LP)
ENNIO MORRICONE Sans Mobile Apparent OST (Wewantsounds LP)
KEITH PAPWORTH Hard Hitter (Music De Wolfe LP)
SCOTT PLANT Alone / With Us (Ordinary Weirdos 12″)
PREACHERS Stay Out Of My World (Beatrocket LP)
TEENAGE FANCLUB Bandwagonesque (Sony LP)
TINTERN ABBEY Beeside: The Complete Recordings (Real Gone Music 2LP)
VARIOUS Saturno 2000: La Rebajada De Los Sonideros 1962-1983 (Analog Africa 2LP)
JIM RULAN Corporate Rock Sucks: The Rise and Fall of SST Records (Hachette Books)
DAVE SCOTT SCHWARTZMAN If It's Tuesday This Must Be Walla Walla: The Wacky History of Adrenalin O.D. (DiWulf Publishing)
________
<< KIP MCCABE >>
1. Meshuggah "Immutable"
2. Jóhann Jóhannsson "Drone Mass"
3. Jeff Parker "Forfolks"
4. Makaya McCraven "In These Times"
5. Sam Prekop & John McEntire "Sons of"
666. Bill Callahan & Bonnie 'Prince' Billy "Blind Date Party"
________
<< MATT JENCIK >>
Andy Bell Flicker
Big Thief Dragon New Warm Mountain I Believe in You
Björk Fossora
Tia Blake Folksongs & Ballads reissue
Anna Butterss Activities
Codeine Dessau
Carla Dal Forno Come Around
Darkthrone Astral Fortress
Stella Donnelly Flood
Dream Unending Song of Salvation
Hammered Hulls Careening
jennylee Heart Tax
Jóhann Jóhannsson Drone Mass
Leslie Keffer Perceive
Këkht Aräkh Pale Swordsman & Night of Love reissues
Cate Le Bon Pompeii
James Marlon Magas Confusion Is My Name
Kali Malone Living Torch
Branko Mataja Over Fields & Mountains
Makaya McCraven In These Times
Bill Nace Through a Room
Rachika Nayar Heaven Come Crashing
Angel Olsen Big Time
Bill Orcutt Music for Four Guitars
Jeff Parker Mondays at the Enfield Tennis Academy
Raum Daughter
Lou Reed I'm So Free: the 1971 RCA Demos
Max Roach We Insist! reissue
The Smile A Light For Attracting Attention
Sonic Youth In/Out/In
Phuong Tam Magical Nights: Saigon Surf, Twist & Soul 1964-66
Norma Tanega I'm the Sky: Studio & Demo Recordings 1964-1971
Undeath It's Time…To Rise From the Grave
Christina Vanztou, Michael Harrison & John Also Bennet Christina Vanztou, Michael Harrison &
John Also Bennet
V/A Ghost Riders
Voivod Angel Rat reissue
Voivod Synchro Anarchy
Weyes Blood And in the Darkness, Hearts Aglow!
Worm Bluenothing
You'll Never Get to Heaven Wave Your Moonlight Hat for the Snowfall Train
Neil Young Citizen Kane Jr Blues 1974
Neil Young & Crazy Horse Toast
________
<< TYLER LOPEZ >>
ALBUM OF THE YEAR
BLADEE & ECCO2K – CREST [Year0001]
RUNNER UP
Duster – Together [Numero]
Other Favorites (in somewhat of an order)
DJ Speedsick – Midwest Death Trance [Techno Is The Devil's Music]
Grivo – Omit [Church Road]
Boy Harsher – The Runner [Nude Club]
Dance Gavin Dance – Jackpot Juicer [Rise]
DJ Headwound – Xpiritual [self]
Sadness – Tortuga [self]
Kali Malone – Living Torch [Portraits GRM]
Sarah Davachi – Two Sisters [Late]
Artificial Brain – S/T [Profound Lore]
Mutant Beat Dance – No Comfort for Control [Nation]
Vermin Womb – Retaliation [Closed Casket Activities]
Codeine – Dessau [Numero]
Alex G – God Save the Animals [Domino]
Grave Upheaval / The Funeral Orchestra – Inexistentia [Parasitic]
Kittin & The Hacker – Third Album [Nobody's Bizzness]
Vatican Shadow – Coast Guard Gulf of Blood [Hospital]
Raum – Daughter [Yellowelectric]
Matchess – Sonescent [Drag City]
Ojerum – Reversed Cathedral [Cyclic Law]
Purity Filter – Immortal Spirit [Dismiss Yourself]
Holy Fawn – Dimensional Bleed [Wax Bodega]
Julien Andreas – Bottomfeeder [Magdalena's Apathy]
Astrophysics – Selected & Tragic [self]
Woe Bather – May Loneliness Consume You [self]
deathcrash – Return [Untitled]
Izthmi – Leaving This World, Leaving It All Behind [Satanik Royalty]
Fret – Only for the Weak [L.I.E.S.]
Whatever the Weather – S/T [Ghostly]
Windowshopping – Andromeda [No Agreements]
Rapoon – Can You Hear That Rain [Ultra Gash]
Lilien Rosarian – Every Flower In My Garden [self]
Wiegedood – There's Always Blood at the End of the Road [Century]
Primitive Man – Insurmountable [Closed Casket Activities]
Sarin – S/T [self]
Ekin Fil – Dora Agora [Helen Scarsdale]
PROMO CD OF THE YEAR
Makaya McCraven – In These Times [International Anthem]
________
<< DYLAN SOWLE >>
Albums I liked from this year:
Parannoul/ Asian Glow – "Paraglow" (Longinus)
Yasuaki Shimizu – "Kiren" (Palto Flats)
Various Artists – "Valley Of The Sun: Field Guide To Inner Harmony" (Numero Group)
Chat Pile – "God's Country" (Flenser)
Black Country, New Road – "Ants From Up There" (Ninja Tune)
Big Thief – "Dragon New Warm Mountain I Believe In You" (4AD)
Parannoul – "White Ceiling/ Black Dots Wandering Around" (Longinus)
Drift Heaven – "Final Lap" (Equip's Picks)
Japanese Breakfast – "Sable" (Dead Oceans)
Blood Incantation – "Timewave Zero" (Century Media)
Asian Glow & Weatherday – "Weatherglow" (Longinus)
Wet Leg – "Wet Leg" (Domino)
Spiritualized – "Everything Was Beautiful" (Fat Possum)
Horsegirl – "Versions Of Modern Performance" (Matador)
Danger Mouse & Black Thought – "Cheat Codes" (BMG)
Nouns – "While Of Unsound Mind" (Self-Released)
The Hated – "Best Piece Of Shit Vol. 4" (Numero Group)
Richard Dawson – "The Ruby Cord" (Weird World)
Hole Dweller – "Another Chance At Peace" (Dungeons Deep)
Albums I liked from last year, that I didn't find out about until this year:
Deerhoof – "Actually, You Can" (Joyful Noise)
You'll Never Get To Heaven – "Wave Your Moonlight Hat For The Snowfall Train" (Seance Centre)
Kekht Arakh – "Pale Swordsman" (Sacred Bones)
I don't usually like podcasts, but here is one really good one you should check out:
uswithoutThem – Discussing mewithoutYou songs, track by track & album by album
________
<< TIM QUINLAN >>
Get on the Otherside by Bobby Oroza
Soul Sold Separately by Freddie Gibbs
Tunic (Original Soundtrack) by Lifeformed x Janice Kwan
Diaspora Problems by Soul Glo
Dawn FM by The Weeknd
Few Good Things by Saba
Pathos by Conjurer
Live in LA by Equip
Motomami by Rosalia
False Light by White Ward
AKUMA 3 by Alex & Tokyo Rose
Melt My Eyez See Your Future by Denzel Curry
Reborn by Kavinsky
Vapor Sessions 1 & 2 by OSC
Loud Arriver by Sonja
Ramona Park Broke My Heart by Vince Staples
The Forever Story by JID
Sentimental by Miami Nights 1984
________
<< FRIENDS OF RECKLESS >>
<< ALI BARTHWELL >>
Writer for Last Week Tonight With John Oliver; Contributor to Vulture.com
Beyoncé – Renaissance
Charli XCX – Crash
Florence + The Machine – Dance Fever
Harry Styles – Harry's House
Jessie Ware – "Free Yourself"
Lizzo – Special
Megan Thee Stallion & Dua Lipa – "Sweetest Pie"
Rina Sawayama – Hold The Girl
Rosalía – MOTOMAMI
Trixie Mattel – The Blonde & Pink Albums
________
<< EMILY ELHAJ >>
Love Lion Releases
ALBUMS
Angel Olsen Big Time (Jagjaguwar)
Jeff Parker ETA IVtet Mondays at The ETA (Eremite)
Les Rallizes Dénudés The OZ Tapes (Temporal Drift)
Ernest Hood Back To The Woodlands (Freedom To Spend)
Gewgawly I & Thou NORCO Original Game Soundtrack (Sacred Bones)
Sofia Bolt Soft Like a Peach (self)
Marina Allen Centrifics (Fire)
Andy Bell Flicker (Sonic Cathedral)
Sun's Signature s/t (Partisan)
GOON Hour of Green Evening (Démodé)
The Smile A Light For Attracting Attention (Self Help Tapes)
Steve Gunn Nakama (Matador)
Cloakroom Dissolution Wave (Relapse)
Aldous Harding Warm Chris (4AD)
Daniel Bachman Lonesome Weary Blues (Three Lobed)
Fievel Is Glauque Flaming Swords (Math Interactive)
Steve Gunn Nakama (Matador)
Kendrick Lamar Mr. Morale & The Big Steppers (Aftermath/Interscope)
Elvis Costello & The Imposters The Boy Named If (EMI Capital)
Earthen Sea Ghost Poems (Kranky)
Hurray for the Riff Raff Life on Earth (Nonesuch)
Keeley Forsyth Limbs (Leaf)
Eiko Ishibashi For McCoy (Black Truffle)
Broadcast Maida Vale Sessions (Warp)
v/a I Had the Craziest Dream: Modern Jazz & Hard-Bop in Post War London Vol. 1 & 2 (Death Is Not The End)
v/a Pure Wicked Tune: Rare Groove Blues Dances & House Parties 1985-1992 (Death Is Not The End)
Sault Air (Forever Living Originals)
Sam Burton "Leaving Here Still"
John McGuire Pulse Music (Unseen Worlds)
Luis 057 (Schwyn) (AD93)
Charles Stepney Step on Step (International Anthem)
The Orielles Tableau (Heavenly)
Derya Yıldırım & Grup Şimşek "Darıldım Darıldım" (Bongo Joe)
Voice Actor Sent From My Telephone (Stroom)
Widowspeak The Jacket (Captured Tracks)
Salamanda ashbalkum (Human Pitch)
REISSUES
Beth Gibbons & Rustin Man Out of Season (Go Beat)
Alice In Chains Dirt (Sony)
ONO Kate Cincinnati (American Dreams)
v/a Tender Rhythms And Songs Of Love (Paxico)
Polvo In Prism (Merge)
MAGMA Mekanik Destruktiw Kommandoh (Music On Vinyl)
Bill Fay Still Some Light (Dead Oceans)
Duster Stratosphere & Contemporary Movement (Numero)
Thomas Leer Contradictions (Spittle)
Ruth Polaroid/Roman/Photo (Born Bad)
Carlos Niño & Friends Assortment for Susan's (Leaving)
________
<< MARYA E. GATES >>
Chicago film critic; Contributor to RogerEbert.com, The Playlist and more
Here are my favorite new albums of the year, some impressive reissues, plus some albums I listened to with my boyfriend that he really loved (listed in release order):
Dawn FM by The Weeknd
Ágætis Byrjun by Sigur Rós (repressing)
Brightside by The Lumineers
Laurel Hell by Mitski
Dragon New Warm Mountain I Believe in You by Big Thief
Few Good Things by Saba
Once Twice Melody by Beach House
Aaliyah by Aaliyah (repressing)
Tilt by Confidence Man
The Other Side of Make-Believe by Interpol
Midnights by Taylor Swift
The Car by Arctic Monkeys
And I Have Been by Benjamin Clementine
Only the Strong Survive by Bruce Springsteen
Babylon score album by Justin Hurwitz
________
<< ANDY LARSEN >>
Beggars Group
New
Naujawanan Baider – Khedmat Be Khalq (Radio Khiyaban)
Vivid Oblivion – The Graphic Cabinet (Downwards)
Brannten Schnüre – Das Glück Vermeiden (Quirlschlängle)
Dale Cornish – Traditional Music of South London (The Death of Rave)
The Bug – Absent Riddim (Pressure)
Sarah Davachi – Two Sisters (Late Music)
Girlsperm – Return to Girlsperm (Thrilling Living)
Oren Ambarchi – Shebang (Drag City)
Kali Malone – Living Torch (Portraits GRM)
Valentina Magaletti – La Tempesta Colorata (A Colorful Storm)
V/A – Music From Saharan WhatsApp (Sahel Sounds)
Pan Daijing- Tissues (Pan)
Nový Svět – Desde Infiernos De Flores (Quirlschlängle)
Freundliche Kreisel – Freundliche Kreisel (Stroom.tv)
Reissues/Archival
V/A – The Buntingford Long Playing Album (Siltbreeze)
Ruby Johnson – Ruby Johnson (Mississippi)
Space Machine – Space Tuning Box (Urashima)
Valentina Goncharova – Ocean: Symphony For Electric Violin and Other
Instruments in Ten Parts (Hidden Harmony)
Albert Ayler – Revelations – The Complete ORTF 1970 Fondation Maeght
Recordings (INA, Elemental Music)
V/A – Studio One Music Lab (Soul Jazz)
Sidney Sager – Children of the Stones (Trunk Records)
Ornette Coleman – Genesis of Genius (Craft Recordings, Contemporary Records)
Patrick Cowley – Malebox (Dark Entries)
Alice Coltrane – Ptah, the El Daoud (Verve)
Count Ossie And The Mystic Revelation of Rastafari – Grounation (Soul Jazz)
Drexciya – Neptune's Lair (Tresor Records)
Smelly Feet – Smelly Neu Pollution (Minimum Table Stacks)
________
<< CAM SARRETT >>
Third Man Records Nashville
2022 Music Does Rock List (in no particular order / singles, EPs, albums and reissues)
– Gee Tee "Rock Phone"
– Chronophage "Chronophage"
– Straw Man Army "SOS"
– Panda Bear & Sonic Boom "Reset"
– Ginger Root "Loneliness"
– Total Wife "A Blip"
– MOTO BANDIT "YOU TOO"
– Black Thought & Danger Mouse "Cheat Codes"
– Jockstrap "Glasgow"
– 1-800-Mikey "Pressure"
– Cobra Man "Cool, Nice."
– Guerilla Toss "Famously Alive"
– No windows "Shout (Red Song)"
– MJ Lenderman "Boat Songs"
– Ex Pilots "Too Far"
– Hotline TNT "When You Find Out"
– Broadcast "Maida Vale Sessions"
– The Cat's Miaow "Hollow Inside"
– The Web of Lies "Receiver"
– RMFC "Access"
– Peace de Resistance "Bits and Pieces"
– Rich Ruth "I Survived, It's Over"
________
Here's a playlist collecting our favorite tracks from some of these releases:
If you bought music from us or spent some time in our shops this year, we appreciate your support so much.
We'll see you all again in 2023! — Reckless Records