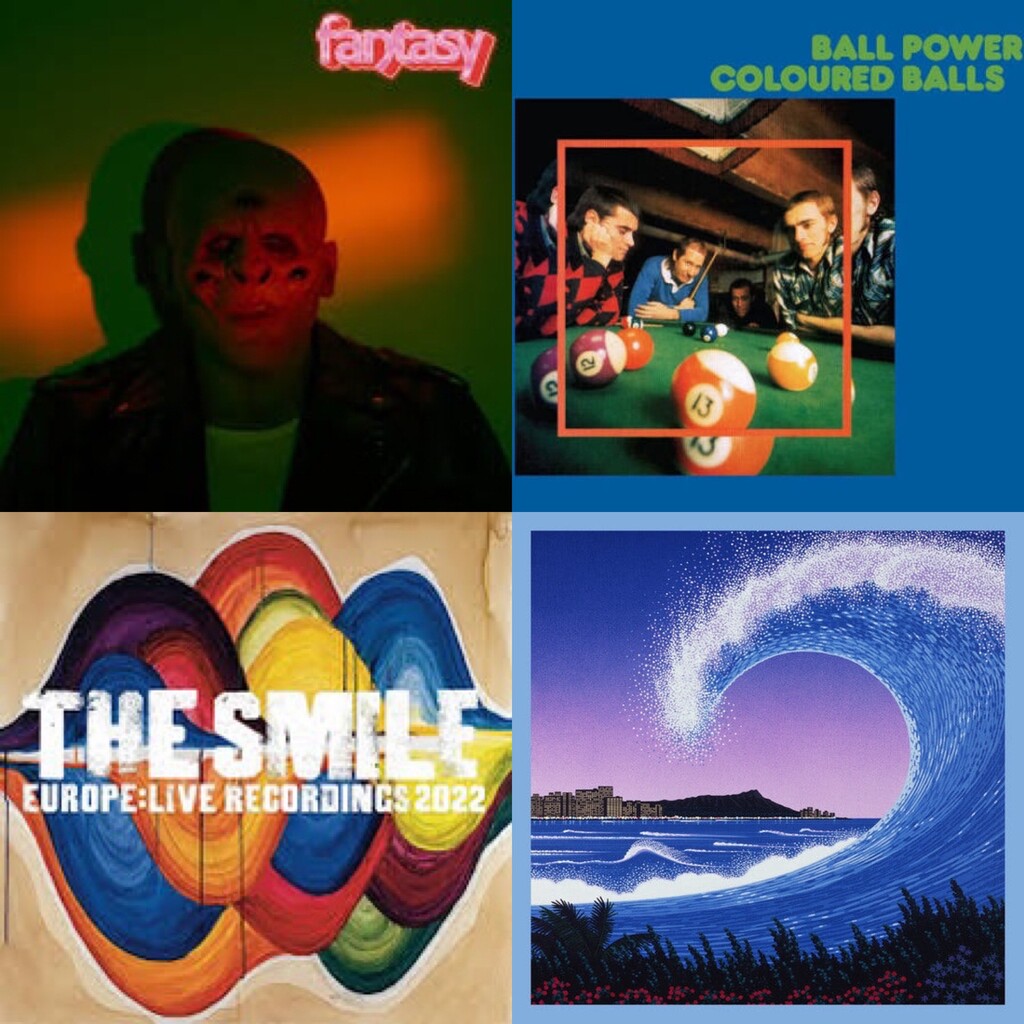 RECKLESS RECORDS 3/10/23 & 3/17/23 NEW RELEASES
BEHERIT – Drawing Down the Moon LP/CD/TAPE (Nuclear War Now)
Finally!! Fancy reissue of some of the most evil music ever put to tape, BEHERIT'S 1993 album "Drawing Down the Moon." Everything about this record totally kicks ass. From the opening spoken intro, you know you're in for something serious. The vibe of this record is totally oppressive, dark & heavy so much so that we wonder if the band even realized if they were onto something this great while they were making this classic metal slab. This is essential listening for any fan of black/death metal specifically bands such as VON, SARCOFAGO, CELTIC FROST etc…LEGENDARY!!!!!!!!! This NWN press comes in a heavy, tip-on gatefold with a thick booklet.
COLOURED BALLS – Ball Power LP (Just Add Water) color or black vinyl
Just Add Water hits it out of the park with this reissue of the 1973 album from Australia's COLOURED BALLS. Like THE SAINTS & RADIO BIRDMAN, COLOURED BALLS played hard rock with hints of what was to come with punk rock & some power pop influence. Lead guitarist Lobby Loyde was the group's wild card, with incredible soloing ala Randy Holden with interesting use of effects. Any fan of Aussie proto-punk & early punk absolutely MUST pick this up. INCREDIBLE!!
DAVID CUNNINGHAM – Grey Scale LP (Superior Viaduct)
First ever reissue of this 1976 album by the Irish artist David Cunningham. Along with a group of non musicians, Cunningham took inspiration from contemporary experimental artists of the era like Gavin Bryars, Michael Nyman, David Toop etc… & managed to create a unique album of modern minimalism. Somewhere between Moondog & Steve Reich, these repetitive minimalist pieces are truly engaging.
ELDER – Innate Passage LP (Armageddon Label)
The Berlin based progressive metal masters return with their 6th album. These guys are at the top of their game here with 5 lengthy tracks of complex but melodic & catchy progressive rock with nods at bands like MASTODON & BARONESS but with their own distinct approach. RECOMMENDED.
FELT – Gold Mine Trash LP (1972)
FELT – Bubblegum Perfume LP (1972)
We're big fans of FELT here at Reckless so any reissue is reason to celebrate. "Gold Mine Trash" focuses on the the Cherry Red Years while "Bubblegum Perfume" documents the Creation years
LONNIE HOLLEY – Oh Me Oh My LP/CD (Jagjaguwar) limited color or black
The 2023 album from the Atlanta based musician/ visual artist Lonnie Holley features has a pretty impressive list of collaborators including Michael Stipe, Moor Mother, Sharon Van Etten & Justin Vernon of BON IVER. Holley's music is difficult to categorize. Combining elements of jazz, blues & spoken word poetry, Holley has created his own style of spiritual music.
LES RALLIZES DENUDES reissues
Temporal Drift's official LES RALLIZES DENUDES reissue series continues with three new releases on the same day. There's been a ton of music released over the years but almost all of it has been unofficial. The band actually only released two proper albums during their 30 year existence.
LES RALLIZES DENUDES – Mizutani LP (Temporal Drift) red vinyl
"Mizutani" is an outlier for the band as they're best known for their scorching, blown-out live recordings but this one is a mellow album of outsider folk tunes featuring the band in a stripped-down duo form recorded in 1970.
LES RALLIZES DENUDES – '77 Live LP (Temporal Drift) clear vinyl
"'77 Live" was recorded in Tokyo in 1977 & displays their famous blown-out, feedback drenched sound perfectly.
LES RALLIZES DENUDES – '67-'69 Studio Et Live LP (Temporal Drift) purple vinyl
"'67-'69" documents the early years of the band & these are the most experimental & far-out recordings from these reissues hinting at what was to come with noise music in Japan & other countries around the world in the coming decades.
NNAMDI – Are You Happy EP (Sooper)
The talented Chicago musician Nnamdi teamed up with his MONOBODY bandmate Lynn to create this EP of electronic nuggets. A mix of straight-ahead auto-tuned electronic pop & some occasional busy programming that remind us of early '00s SQUAREPUSHER/APHEX TWIN.
THE SMILE – Europe: Live Recordings 2022 LP (XL)
If you've been lucky enough to see THE SMILE live then you now that their debut album isn't some sort of studio trickery, those guys can really play that stuff. Actually the band is more energetic live & they tend to stretch out the songs & take more chances which you can hear on those limited & excellent sounding EP. There's a SCORCHING version of Thom's solo track "FeelingPulledApartByHorses" here that really shows what this band can go.
VARIOUS ARTISTS – Blacklips Bar – Androgyns & Deviants: Industrial Romance for Bruised & Battered Angels, 1992-1995 LP (Anthology)
This lovely comp focuses on the Blacklips Performance Cult, a cabaret, drag and DJ night at the Pyramid Club in NYC founded by ANOHNI, Johanna Constantine and Psychotic Eve. Inspired by the queer cabaret culture of interwar Europe, the music and performances here range from surreal & absurd to shocking & emotional. Compiled by ANOHNI herself, this both provided her a career springboard and showcased a vision of queer expression seen in the cultural underground throughout history to today. On Anthology Recordings and HIGHLY RECOMMENDED!
VARIOUS ARTISTS – Pacific Breeze 3: Japanese City Pop, AOR & Boogie 1975- 1987 LP/CD/TAPE (Light in the Attic)
Attention Japanophiles!! Volume 3 of the very popular Pacific Breeze series is now here. City Pop was popular in Japan in the late 70s & early 80s & it's a blend of disco, soft rock/pop & R&B. It's almost like Muzak versions of yacht rock songs but like a lot of things, time has been kind to these unique sounds. RECOMMENDED!
OTHER IMPORTANT NEW RELEASES & RESTOCKS
CAKE – Prolonging the Magic LP (RCA)
MILEY CYRUS – Endless Summer Vacation LP/CD (Columbia)
THE DARK – Dressing the Corpse LP (Scat) color or black vinyl
DRAKE – Honestly Nevermind CD (Republic)
DRAKE & 21 Savage- Her Loss CD (Republic)
FLAMING LIPS – Fight Test LP (Warner)
FLAMING LIPS – Ego Tripping at the Gates of Hell LP (Warner) shipped late arriving next week
M83 – Fantasy LP/CD (Mute) limited color or black vinyl
MAC MILLER – Swimming LP (Warner)
MDOU MOCTAR – Niger EP Vol. 1 12" (Matador) yellow vinyl
MDOU MOCTAR – Niger EP Vol. 2 12" (Matador) green vinyl
THE MODERNS – Suburban Life LP (Busy Bee)
KACEY MUSGRAVES – Same Trailer Different Park LP (MCA) picture disc
THE NUDE PARTY – Rides On LP (New West) black or limited yellow vinyl
THE OFFSPRING – Smash LP (Epitaph) color vinyl
100 GECS – 10000 Gecs LP/CD (Atlantic) limited color or black
PUBLIC IMAGE LIMITED – First Issue LP (LIght in the Attic) available again
RADIOHEAD – Hail to the Thief (XL)
RADIOHEAD – Ok Computer (XL)
RADIOHEAD – The Bends (XL)
RILO KILEY – Take Offs & Landings LP (Barsuk) 20th anniversary ed. now on black vinyl
FRANKIE ROSE – Love As Projection LP (Slumberland)
SHALOM – Sublimation LP (Saddle Creek)
SILK SONIC – Any Evening With Silk Sonic LP (Atlantic) new version w/ bonus track
SLEAFORD MODS – UK Grim LP/CD (Rough Trade) black or limited silver vinyl
SMINO – Love For Rent LP (Motown)
STRAITJACKET – Demented Perverts (Busy Bee)
U2 – Songs of Surrender LP/CD (Island)
UNKNOWN MORTAL ORCHESTRA – V LP/CD/TAPE (Jagjaguwar) "Legendary Edition" LP or regular
VARIOUS ARTISTS – Pacific Breeze: Japanese City Pop, AOR & Boogie 1976-1986
VARIOUS ARTISTS – Pacific Breeze 2: Japanese City Pop, AOR & Boogie 1972- 1986