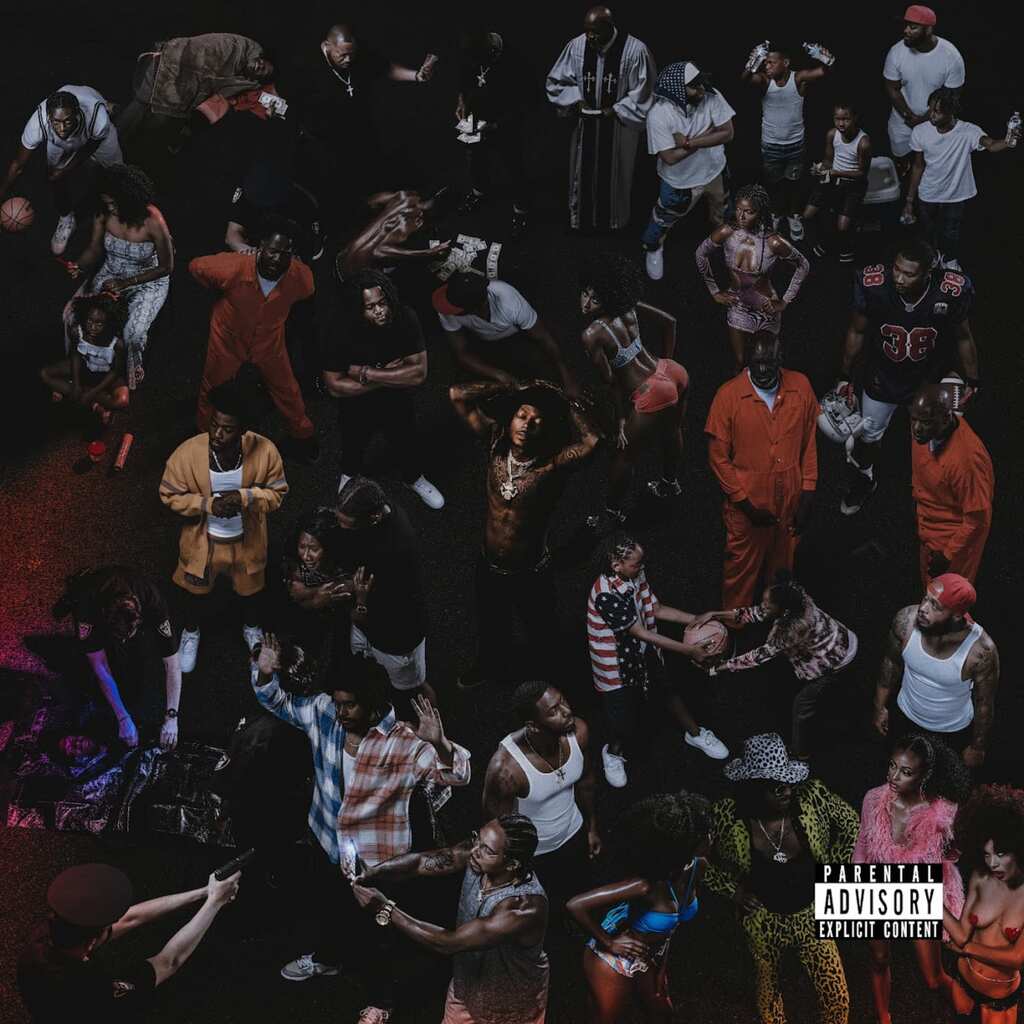 RECKLESS RECORDS 12/16/22 NEW RELEASES
>> JID – The Forever Story 2LP (Dreamville) *One of Reckless' Best of 2022 finally available on vinyl!
Sophomore full length from Atlanta MC J.I.D. is a statement on family & artistic musicianship. The heart of The Forever Story is J.I.D. & his desire to make something more musical & expansive. There are beat changes on a number of tracks, & new flows & rhyme schemes all over the record. Also worth mentioning is the effort & work shown in Jiddy's singing voice which really on display here. J.I.D. is one of the most interesting & talented rappers at work today & these are some of his best… RECOMMENDED!
>> JOHN McGUIRE – Pulse Music 2LP (Unseen Worlds)
Late 70's recordings by John McGuire, a composer that studied with Stockhausen & Penderecki in Europe. Beautiful & rhythmic electronic pulses that vary in speed over the course of the pieces. Imagine Steve Reich's compositions run through some 70s computer software & you might be able to imagine what this sounds like. RECOMMENDED!
>> MOTRIK – Artificial Head LP (Jealous Butcher) *Ltd. Green Vinyl
Nice physical edition of this 2020 album from Portland neo-psych band MOTRIK. With a name like that you know what sort of rhythms to expect. Think MINAMI DEUTSCH, GOAT, the chiller side of the OSEES and of course NEU. RECOMMENDED!
>> PANDA BEAR – Person Pitch 2LP (Domino) *2022 Reissue
NICE. Domino blesses us with a repress of PANDA BEAR's magnum opus, still as fresh as ever 15 years later. Here's what we had to say about it when it came out back in 2007: NOAH LENNOX (of ANIMAL COLLECTIVE fame) returns with his third solo release. This album replaces some of the acoustic elements of previous albums and introduces some samplers & electronics. Full of texture & synthesized sounds this album is a playful addition to LENNOX's busy arrangements. An album that would surely make BRIAN WILSON proud, as it is non-stop, beautiful vocal harmonies. No lush/orchestral pop fan should be without this one! HIGHEST RECOMMENDATION!
>> VARIOUS – Síntesis Moderna: An Alternative Vision of Argentinean Music 3LP (Soundway)
The latest Soundway compilation follows down the path of Doing it in Lagos and Ritmo Fantasia, focusing on synth-pop, boogie and early house from Argentina. Beautiful balearic grooves across the ocean that go in enjoyable directions. Compiled by Ric Piccolo & Ariel Harari and HIGHLY RECOMMENDED!
OTHER IMPORTANT NEW RELEASES, REISSUES & RESTOCKS
BARRY ADAMSON – I Will Set You Free LP (Mute) *Reissue – Ltd. Curacao Color Vinyl
BARRY ADAMSON – Know Where to Run 2LP (Mute) *Reissue – Ltd. Silver Vinyl w/ book
ANGELS & AIRWAVES – Chasing Shadows/ The Dream Walker/ Love Pt. 1/ Of Nightmares/ Stomping the Phantom Brake Pedal LPs (Rise) *Ltd. Indie Exclusive Color Vinyl – Sold separately, check for availabilty
ATREYU – Suicide Notes & Butterfly Kisses LP (Craft) *20th Anniversary Reissue
AUDIOSLAVE – Audioslave 2LP (Epic) *Reissue – Back in stock!
BLINK-182 – Enema of the State LP (Geffen) *180g, 2016 Reissue – Back in stock!
BRAINTICKET – Live in Rome 1973 LP (Cleopatra) *Ltd. Splatter Vinyl
PETER BRODERICK – Piano Works Vol. 1: Floating in Tucker's Basement 2LP (Erased Tapes)
BO BURNHAM – Inside 3LP (Mercury) *Ltd. Deluxe Edition w/ book & bonus outtakes
JOHN CARPENTER – Halloween Kills (Soundtrack) LP (Sacred Bones) *Ltd. "Art" Edition – Redfire Vinyl
NICK CAVE & THE BAD SEEDS – The Firstborn is Dead/ From Her to Eternity/ Tender Prey LPs (BMG) *180g, Reissues
COI LERAY – Trendsetter 2LP (Republic) *Now available on vinyl
NATALIE COLE – Unforgettable With Love 2LP (Craft) *30th Anniversary – Ltd. Purple Vinyl
THE CRIBS – The Cribs LP (Sonic Blew) *Reissue, Deluxe Edition – Ltd. Pink Vinyl
CRUMBSUCKERS – Beast on My Back LP (Combat) *Remastered
TOM DELONGE – To The Stars… Demos, Odds & Ends LP (Rise) *Ltd. Indie Exclusive Lemonade Vinyl
DEVASTATION – Idolatry LP (Combat) *Remastered – Ltd. Red Vinyl
DUSTER – Duster LP/CD/CS (Numero Group) *Ltd. "Seaglass Wave" Color Vinyl
DANNY ELFMAN – Spider-Man (Original Score) LP (Columbia) *180g – Ltd. Gold Vinyl
TERENCE FIXMER – Shifting Signals 2LP (Mute)
NEAL FRANCIS – Sentimental Garbage LP (ATO) *Ltd. White Vinyl
THE GET UP KIDS – Four Minute Mile LP (Doghouse) *Reissue – Ltd. Indie Exclusive Cream Vinyl
GRATEFUL DEAD – Dick's Picks Vol. 33: 10/9 & 10/10/76, Oakland Coliseum Stadium 8LP (Real Gone) *180g, #'D
HIATUS KAIYOTE – Tawk Tomahawk LP (Brainfeeder) *2022 Reissue – Ltd. Red Vinyl w/ 7″
JAY JAY JOHNSON – The Eminent Jay Jay Johnson Vol. 1 LP (Blue Note) *Classic Vinyl Series
THE KILLERS – Pressure Machine 3LP (Island) *Deluxe Edition
TOBI LOU – Non-Perishable LP (Empire) *Ltd. Milky Clear Vinyl
MILLY – Eternal Ring LP (Dangerbird) *Ltd. Orange Crush Vinyl
NECROPHOBIC – Womb of Lilithu 2LP (Century Media) *180g, Remastered
NIGO – I Know Nigo! LP (Republic) *Now available on vinyl
THE 1975 – The 1975 LP (Interscope) *Back in stock!
PRIMUS – Primus & The Chocolate Factory LP (ATO) *Reissue – Ltd. Gold Vinyl
QUEEN – News of the World LP (Hollywood) *180g, Half Speed Mastered
RAMMSTEIN – Adieu 10″ (Universal)
JESSIE REYEZ – Yessie LP (Island)
RM (fka Rap Monster of BTS) – Indigo CD (Big Hit) *Special Book Edition
SAGE FRANCIS – Personal Journals 2LP (Sage Francis) *20th Anniversary – Ltd. Color Vinyl
PHAROAH SANDERS – Karma LP (Verve) *Acoustic Sounds Series
SIGUR ROS – ( ) 2LP (Krunk) *20th Anniversary, Remastered
>> STRANGE RANGER – No Light In Heaven LP (Firetalk) *Black or Ltd. Red Vinyl
THE SWORD – Apochyphon LP (Craft) *10th Anniversary – Ltd. Yellow Vinyl
>> SZA – Ctrl 2LP (RCA) *Back in stock – We hope we can provide an SOS LP update soon!
TENCI – A Swollen River, A Well Overflowing LP/CD/CS (Keeled Scales) *Clear Vinyl or Chicago Exclusive Yellow Vinyl
TENO AFRIKA – Where You Are LP (Awesome Tapes from Africa)
T.P. ORCHESTRE POLY RYTHMO – Afro-Funk Vol. 1 LP (Acid Jazz)
TRICOT – A N D LP (Top Shelf) *Reissue – Ltd. Brown in Tan Vinyl
TRICOT – T O P LP (Top Shelf) *Reissue – Ltd. Tan "Galaxy" Vinyl
>> THE WATERSONS – Frost & Fire: A Calendar of Ritual & Magical Songs LP (Topic) *Remastered
WEEN – Paintin' the Town Brown: Live '90-'98 3LP (ATO) *Ltd. Brown Vinyl
WOODS OF DESOLATIONS – The Falling Mist LP (Season of Mist) *Ltd. 600
YUNA – Yuna LP (Fader Label) *Reissue
FRANK ZAPPA – The Grand Wazoo LP (Zappa) *50th Anniversary – 180g, Remastered
FRANK ZAPPA – Waka/ Jawaka LP (Zappa) *50th Anniversary – 180g, Remastered
>> ZENIZEN – P.O.C. aka Proof of Concept LP (Top Shelf) *Ltd. Pink & Maroon Vinyl
VARIOUS – Fraggle Rock: Back to the Rock (Soundtrack) LP (Lakeshore) *Picture Disc
VARIOUS – Sacred Bones Presents Ya Ho Wha LP (Sacred Bones) *Ltd. Gold Vinyl
**Titles preceded by >> have descriptions available in store or at https://reckless.com