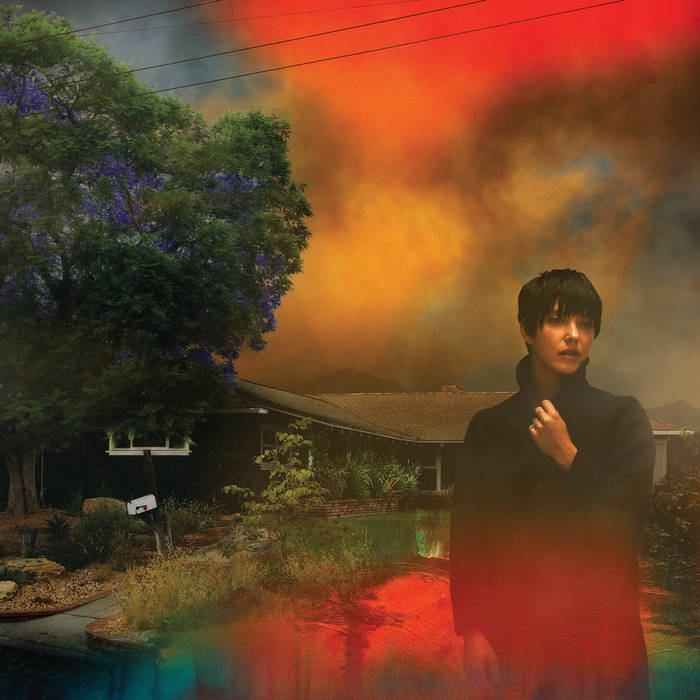 5/6/22 NEW RELEASES
SAADA BONAIRE – 1992 LP/CD (Captured Tracks)
We were really big fans of the 80s recordings that Captured Tracks released by the German new wave/dance group SAADA BONAIRE. The project existed into the mid 90s but their later recordings were thought to be lost until a cassette was recently discovered in a basement in Berlin. These songs display new directions the project was headed before it dissolved with trip-hop, house & early 90s R&B sounds mixed in with their 80s new wave/new romantic vibes. 
PAN AMERICAN – The Patience Fader LP (Kranky) now on vinyl
The former LABRADFORD member Mark Nelson returns with a new PAN AMERICAN album for 2022. Recorded over the past 2 pandemic years, "The Patient Fader" is a collection of dusty ambient Americana guitar pieces & longing sounds of verb'd out pedal steel. This reminds us of some of our all-time favorite ambient guitar music on the great David Sylvian & Holger Czukay albums, DIRTY THREE guitarist Mick Turner's playing etc…RECOMMENDED.
NORMA TANEGA – I'm the Sky: Studio & Demo Recordings, 1964-1971 LP/CD (Anthology)
What a great collection here from the California folk singer NORMA TANEGA, most known for her 1966 album "Walking My Cat Named Dog" and the cut "You're Dead". This partially covers her time from the Village coffee house scene to the release of that first album, while it also focuses on her time in London and making both an unreleased second album "Snow Cycles" and a cult favorite third, "I Don't Think It Will Hurt If You Smile". The material here ranges from simple, unadorned folk pop tunes to rich Americana rock. Fans of KAREN DALTON, JUDEE SILL, BILL FAY and LAURA NYRO will find a lot to love here! HIGHLY RECOMMENDED!
SHARON VAN ETTEN – We've Been Going About This All Wrong LP/CD limited color or black vinyl
Sharon Van Etten has been one of the best songwriters for the past decade or so & "We've Been Going About This All Wrong" is her 6th album.Recorded at her home in L.A. this one is a slightly darker album which isn't surprising as it was recorded during the pandemic. Most of the songs are synth driven pop songs with deep & introspective lyrics. RECOMMENDED.
WARPAINT – Radiate Like This LP/CD (Virgin)
The talented quartet WARPAINT are back with their first album in six years & their first on Virgin. As always the backbone of the band is the rhythm section of Stella Mozgawa & Jenny Lee Lindberg who make their polyrhythmic beats sound almost effortless. The album has a mostly mellow vibe & the songs grab you quickly. Another great one from this excellent band. RECOMMENDED.
NEIL YOUNG – Citizen Kane JR. Blues 1974 (Live at the Bottom Line) CD (Reprise) vinyl coming later
If you ask any Neil head about their favorite bootlegs,this legendary show from the Bottom Line in 1974 will almost certainly come up. The surprise show at this small club was recorded just before the release of the classic "On the Beach" album & a number of those songs are featured here along with a few other classics. This one is an audience recording so it's on the lo-fi side for a legit release but it works for the mellow almost downer vibe of the set list. Some of the stage banter has been sadly cut out including the famous "honey slides" story but supposedly you can hear that on the archives site. We're so glad this show is finally available in a legit form. RECOMMENDED.
OTHER IMPORTANT NEW RELEASES & RESTOCKS
TERRY ALLEN & THE PANHANDLE MYSTERY BAND – Bloodlines LP/CD (Paradise of Bachelors)
TERRY ALLEN & THE PANHANDLE MYSTERY BAND – Smoking the Dummy LP/CD (Paradise of Bachelors)
ARCADE FIRE – We LP/CD (Columbia) limited indie only white vinyl or black
AURORA – The Gods We Can Touch LP/CD (Glassnote)
BEACH HOUSE – Teen Dream LP (Sub Pop) back in print
BELLE & SEBASTIAN – A Bit of Previous LP/CD (Matador) indie only alternate artwork
BLACK CROWES – 1972 (Arrow Records) very limited
!!! – Let it Be Blue
CULTURE – Two Sevens Clash LP (VP Music) RSD Essential color vinyl
DAFT PUNK – Alive 1997 LP (Daft Punk) we received a very limited amount of this one
DAFT PUNK – Homework LP (Daft Punk)
THE DECEMBERISTS – The Tain / 5 Songs LP (Jealous Butcher) reissue
BILL FAY – Still Some Light: Part 2 LP/CD (Dead Oceans)
IBEYI – Spell 31 LP/CD (XL)
J DILLA – Donuts LP (Stones Throw) back in stock with the "smile" cover!
ELI KESZLER – The Scary of Sixty-First LP (Deeper Into Movies) soundtrack, red vinyl
TOM MORELLO – Atlas Underground Flood LP (Mom + Pop) blue vinyl
NIGHT TEMPO – Ladies in the City LP (Universal)
JERRY PAPER – Free Time LP (Stones Throw) limited tri-color vinyl
PENGUIN CAFE – A Matter of Life… 2021 LP (Erased Tapes) clear vinyl remaster
PINK MOUNTAINTOPS – Peacocks Pools (ATO)
POSSESSED – Seven Churches LP (Century Media) green vinyl reissue
RUN THE JEWELS – Run the Jewels II LP (Mass Appeal) RSD Essential color vinyl
STAPLES JR. SINGERS – When Do We Get Paid (Luaka Bop) remastered)
SUNFLOWER BEAN – Handful of Sugar LP/CD (Mom + Pop) orange vinyl
RICHARD THOMPSON – Music From Grizzly Man LP/CD (No Quarter)
SUKI WATERHOUSE – I Can't Let Go LP/CD (Sub Pop) metallic gold vinyl "Loser Edition"
KANYE WEST – Late Registration LP (Rocafella) back in stock
THE WHO – A Quick One LP (half speed master)
THE WHO – My Generation LP (half speed master)
NEIL YOUNG – Dorothy Chandler Pavilion 1971 CD (Reprise
NEIL YOUNG – Royce Hall 1971 CD (Reprise