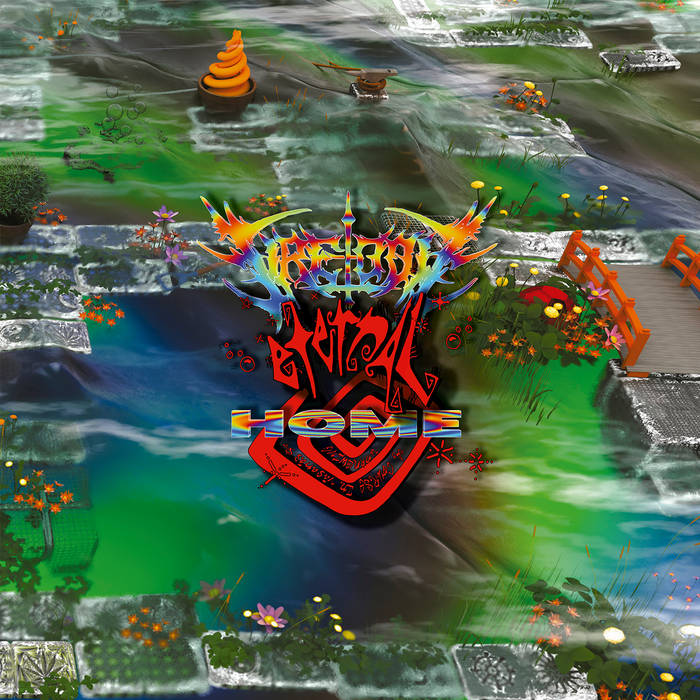 12/10/21 NEW RELEASES & RESTOCKS
ART BLAKEY & THE JAZZ MESSENGERS – First Flight to Tokyo: Lost 1961 Recordings LP (Blue Note)
After the discovery & release this year of an unknown live recording of "A Love Supreme" by John Coltrane comes this recently discovered live recording of Art Blakey & the Jazz Messengers from Tokyo in 1961. The stellar group featured Wayne Shorter, Lee Morgan, Bobby Timmons & Jymie Merritt & the album opens up with an energetic drum solo followed by the group making their way through a few classic tunes. A really cool set with a thorough book. RECOMMENDED!
FIRE-TOOLZ – Eternal Home LP (Hausu Mountain) color vinyl
Massive new record from Angel Marcloid, who recorded this over the course of 2020 as the COVID pandemic hit Chicago. Blending black metal vocals, heavy post-metal instrumentation, video game soundtrack synths, bright hyperpop arrangement and some touches of straight-up indie rock guitar jangle, "Eternal Home" pulls from the most diverse sources yet in a FIRE-TOOLZ record. But these sounds find a way to mesh, and when taken together the heavier musical pieces are inverted from aggressive into meditative. Fans of disparate artists like EQUIP, 100 GECS, JAMES FERRARO and even MAYHEM and DARKTHRONE can find something to love here!
JEFF PARKER – Forfolks LP (International Anthem) limited color or black vinyl
Guitarist Jeff Parker is one of the most important Chicago musicians of the last two decades. Now based in L.A., Parker has performed with TORTOISE, CHICAGO UNDERGROUND TRIO & more recently Makaya McCraven along with his numerous solo projects. This one recorded in L.A. is a collection of solo guitar pieces that includes a Thelonious Monk cover, reinterpretations of some old songs & the standard "My Ideal." As usual Parker's tone is fantastic & he's experimenting a lot with loops & pedals in ways that remind us of PAPA M's "Live From a Shark Cage" with a more loose, more improvised feel. RECOMMENDED.
RIKI – Gold LP (Dais) color or black vinyl
The L.A. based synth pop artist returns with another collection of great new romantic/new wave inspired songs. With some fantastic production & mixing by Josh Eustis of TELEFON TEL AVIV, RIKI has made an album that makes the futuristic sounds of the 80s sound futurist again. Fans of SAADA BONAIRE, early ROXY MUSIC, DURAN DURAN, STRAWBERRY SWITCHBLADE etc… will love this. RECOMMENDED.
VERSUS – Let's Electrify! LP (Teenbeat)
The NYC band VERSUS were one of the finest early 90s indie rock bands. Named after the MISSION OF BURMA album, VERSUS blended elements of the more melodic side of SONIC YOUTH with popular indie rock of the era like PAVEMENT & SEBADOH. These songs still sound incredibly exciting today. RECOMMENDED!
NEIL YOUNG – Barn LP/CD (Reprise) regular, special edition or deluxe box set
You'd never guess from the title but Neil Young's 2021 album with Crazy Horse was recorded in a barn. The barn was built in Colorado in the 1850s & recently restored by Young. This version of Crazy Horse once again features Nils Lofgren as Frank Sampedro seems to be permanently retired. This has a nice mix of dirty rockers & mellow numbers & at nearly 80 years young (pun intended), Neil & the band show no signs of slowing down. 
OTHER IMPORTANT NEW RELEASES & RESTOCKS
AEON STATION – Observatory LP/CD (Sub Pop)
APRIL MAGAZINE – If the Ceiling Were a Kite, Vol. 1 LP (Tough Love)
THE BAND – Cahoots LP/CD/BOX SET (Capitol) 50th Anniversary
BARDO POND – Amanita LP (Matador) deluxe reissue
BRIA – Cuntry Covers Vol. 1 LP/CD/TAPE (Sub Pop)
COMMON – Beautiful Revolution PT. 2 LP/CD (Loma Vista)
KENNY COX & THE CONTEMPORARY JAZZ QUINTET – Introducing LP (Blue Note) classic vinyl series
DEAR LAIKA – Pluperfect Mind LP (NNA Tapes) color vinyl
DMX – Legacy LP (Def Jam)
FOODMAN – Yasuragi Land LP (Hyperdub)
GHOST BATH – Self Loather LP (Nuclear Blast)
GOBLIN – The Horror Original Soundtracks 10LP box set (Cinevox) Wicker Park
GREEN DAY – BBC Sessions LP/CD (Reprise) limited color or black vinyl
MARGO GURYAN – 29 Demos LP (Modern Harmonic)
CURTIS HARDING – If Words Were Flowers LP (Anti-) color or black vinyl
HOLDY STEADY – Open Door Policy LP (Thirty Tigers) pink vinyl
MICHAEL HURLEY – Time of the Foxgloves LP/CD (No Quarter)
KING KRULE – You Heat Me Up, You Cool Me Down LP (True Panther)
JOHN PRINE 33 ⅓ BOOK by Erin Osmon SIGNED COPIES!!
FELA KUTI – Vinyl Box Set 5 LP (Knitting Factory) curated by Chris Martin
LADY GAGA – Born This Way: 10TH Anniversary 3LP (Interscope)
THE LILYS – Better Can't Make Your Life Better LP (Sundazed) remastered!
MADVILLAIN – Madvillainy LP (Stones Throw) back in stock!
ENNIO MORRICONE – Dollars, Dust & Pistoleros: The Westerns Anthology 10LP box set (Cinevox) Wicker Park
NARROW HEAD – Satisfaction LP (Run For Cover)
HERBIE NICHOLS – The Prophetic Herbie Nichols LP (Blue Note)
NIRVANA – Nevermind LP (Geffen) standard LP back in stock
CHUCK PROPHET – No Other Love LP (New West) remastered
RADIOHEAD – Kid A Mnesia 3LP (XL) now on black vinyl!
JIMMY SMITH – Home Cookin' LP (Blue Note) classic vinyl series
SPOON – Wild 7" (Matador)
SUFJAN STEVENS – Songs for Christmas LP box set (Asthmatic Kitty)
MOSES SUMNEY – Live From Blackalachia LP (Tuntum)
SUN RA & HIS ARKESTRA – Omniverse LP (Modern Harmonic) color vinyl
VARIOUS ARTISTS – Flag Day (Soundtrack) LP (Republic)
VARIOUS ARTISTS – Licorice Pizza (Soundtrack) LP (Republic)