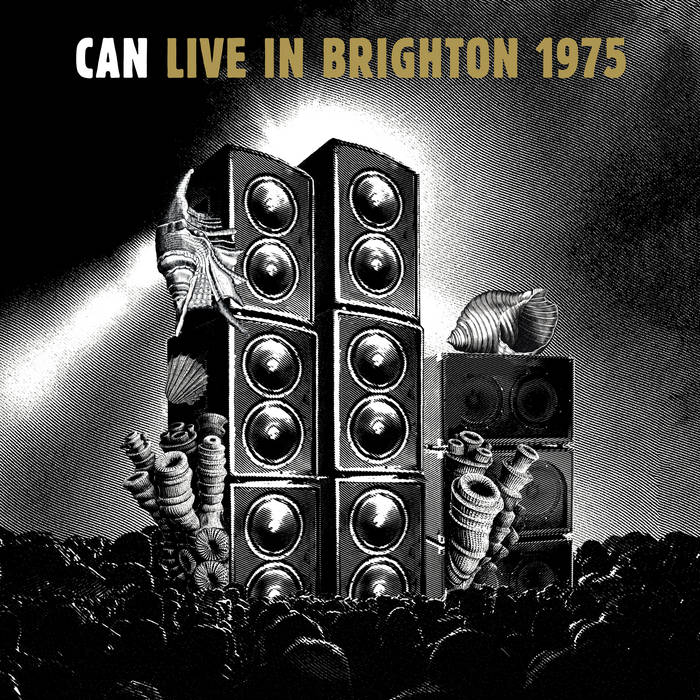 11/19/21 NEW RELEASES & RESTOCKS
CAN – Live in Brighton 1975 (Mute)
The second volume of the CAN live series goes back to 1975 with this killer set from Brighton. CAN's shows were famously mostly improvised & despite the fact that they'd just released "Landed" there isn't really much recognizable from the album. Like the first volume, this sounds surprisingly good considering it's technically a bootleg. Just more proof that these guys were one of the best bands of the 20th century. RECOMMENDED!
JOHN DU CANN – The World's Not Big Enough LP (Just Add Water) available again!
John Du Cann played with a number of great bands of varying styles over the years including THE ATTACK, ANDROMEDA & ATOMIC ROOSTER. This album recorded in 1977 & produced by Francis Rossi of STATUS QUO has never been released on vinyl until now. It's a crazy mix of glam, punk, new wave & prog with songs that sound like a mix of T. REX, BOWIE, ROXY MUSIC & SLADE with CARS esque synth leads & stellar guitar playing. WILD STUFF!!
EQUIP – EQUIP 64 TAPE (Equip Picks)
Chicago vaporwave pioneer & Reckless ex-pat Kevin Hein is back as EQUIP with another amazing collection of music. This time Hein is exploring the magical realms & worlds of Nintendo 64 games like Super Mario, Super Smash Bros, Zelda: Ocarina of Time &more. Fantastic stuff!!!
THE OFFSET – Spectacles LP (Trouble In Mind)
THE OFFSET were a band from Beijing & this 10th anniversary reissue comes to us courtesy of the fine Chicago label Trouble in Mind. The band features guitarist Tom Ng who would go on to form the excellent GONG GONG GONG & the two bands are similar with minimalist percussion, dissonant guitars & jagged rhythms. Fans of everything from early SONIC YOUTH, THE FALL, contemporary Aussie post-punk, NYC no wave etc… will flip for this.RECOMMENDED!!
SLOPPY JANE – Madison LP/CD (Saddest Factory) limited color or black vinyl
SLOPPY JANE is the project of the New York based musician Haley Dahl. This album on Phoebe Bridgers Saddest Factory Records is a mix of playful indie folk rock with some songs that reminded us of everything from FLEETWOOD MAC to PINK FLOYD's acoustic songs (believe it or not) & Nilsson. No joke the album was recorded in a cave & they lowered a piano down into the cave on cables to make the record & you can hear dripping water & everything. WILD!
MACIE STEWART – Mouth Full of Glass LP (Orindal) now on color vinyl!
Over the past five years or so, Macie Stewart has become of the most vital members of the Chicago music community with her band OHMME & collaborations with artists such as CIRCUIT DES YEUX & Ben Lamar Gay among many others. Her debut solo album is a nice mix of Laurel Canyon esque folk rock & experimental pop. The album features other Chicago talents such as Sen Morimoto, Ben Lamar Gay & more. RECOMMENDED!
TASHA – Tell Me What You Miss the Most LP/CD/TAPE (Father Daughter)
The second album from the talented Chicago singer/songwriter is a wonderful mix of folky acoustic tunes & jazz-influenced pop songs. The whole album has a laid-back & almost dreamy feel, & Tasha's silky voice really draws you into the record. A really fantastic collection of songs.
OTHER IMPORTANT NEW RELEASES & RESTOCKS
PHOEBE BRIDGERS – Punisher LP (Dead Oceans) back in stock!!
CLAIRE CRONIN – Bloodless LP (Orindal)
ANDREW GABBARD – Homemade LP (Karma Chief)
GEESE – Projector LP/CD (Partisan)
OSEES – Levitation Sessions II LP (Reverb Appreciation Society) limited color vinyl
BEN PIRANI – More Than a Memory 7" (Colemine) 2 different versions
DAVID LEE ROTH – Diamond Dave LP (Magna Carta)
SIGUR ROS – Med Sud I Eyrum Vi Spilum Endalaust LP (Krunk) classic back in print!
SIGUR ROS – Valtari LP (Krunk) classic back in print!
SONGS: OHIA – Songs: Ohia LP (Secretly Canadian) color vinyl Secretly 25th pressing
VINCE STAPLES – Vince Staples CD (Motown) vinyl coming next year
GILLIAN WELCH & DAVID RAWLINGS – All the Good Times Past LP (Acony) limited
JAMIRE WILLIAMS – But Only After You Have Suffered LP (International Anthem)
ZERO BOYS – Vicious Circle LP (Secretly Canadian) color vinyl Secretly 25th pressing